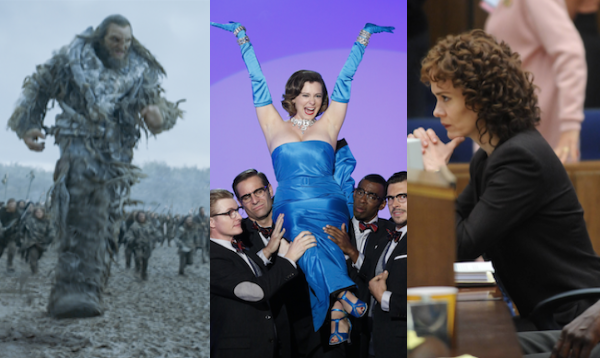 Once again, we here at tvDownload forwent the traditional "Best of" lists for television, and instead are taking things yearbook-style: we've asked several contributors to help us pick shows, characters and actors that fit into the superlative model, and will be rolling out the awards through the holiday season. Today's nominees are for Biggest Heart, Most Musically Inclined, and Cutest Couple That Never Was.
Biggest Heart
DREW GRANT: I'm at the part of the year where my brain is officially slush. Like I'm looking at this category–which I suggested!– and wondering what the fuck I was thinking. "Biggest heart?" What does that even mean? Someone super charitable? Forgiving? Nice? After the disaster that was 2016, does "Biggest Heart" even count as a superlative, or is it just a weakness to be stamped out?
That being said, Rory (Evan Peters) from American Horror Story: My Roanoke Nightmare seemed like a really sweet kid.
VICTORIA EDEL: The CW Superhero-verse. These are the nicest people on TV. I didn't watch Batman vs Superman, because I have taste, but I imagine it is the opposite of this.
NICK ROSS: Rebecca Bunch, Crazy Ex-Girlfriend I don't believe in destiny or fate unless Rachel Bloom sings about it.
TOM BATTEN: You could debate whether John Stone's motives in helping Naz on The Night Of were careerist or altruistic, but that he went back and took that cat out of the kill shelter, allergies be damned, makes him a total hero.
VINNIE MANCUSO: Wun Wun the Giant from Game of Thrones. I know what you're thinking. Because Wun Wun is a giant, he literally has the largest heart on television. This is true, but also fuck you this man (giant) is a hero. Two bastards got into a squabble over Westeros' draftiest vacation home and Wun Wun didn't complain, he just flung horses and smashed bodies until he was so filled with arrows he died. Davos Seaworth's septuagenarian ass survived Game of Thrones' biggest battle, somehow, but Wun Wun didn't make it because Wun Wun put Jon Snow's army on his back while Jon was busy drowning in a mud puddle. Sweet plan, Jon! I will never get over this.
 NOAM COHEN: Garnet, Steven Universe. SU may be a show involving sentient gems from another planet, but at the center is a story about raising a son, with Garnet as its beating heart. She's also quite literally made of love. (spoilers!)
EMMA FRASER: The kids from Stranger Things and their commitment to friendship which resulted in a collapsed on top of each other hug that not only showed their heart, but made mine swell by about three sizes.
JAKE FLORES: The Red Death from The Venture Bros. Sometimes we all need an entirely flayed man with a terrifying red skull for a head to sit us down and give us a Mr. Belvedere style pep talk about never giving up. I wish this dude was around right now to talk me through writing jokes about TV at 6 in the morning before riding off on a Ramsey Bolton dream unicorn.
JOSHUA DUDLEY: I don't know how you could give this to anyone but Kimmy Schmidt. When life hands her lemons, she hands life the biggest goofiest grin you've ever seen.
DANA SCHWARTZ: The Crown. Okay, hear me out. I know The Crown seems to be, well, almost the opposite of biggest heart. The more accurate descriptor would be coldest, stiffest, most constrained heart. After all, these are the people who cast out the abdicated king for marrying a divorcee, who keep Margaret away from the man she wants to marry, who see Phillip "I didn't realize I would be marrying the Queen of England, I guess" Mountbatten as husband material. But beneath layers and layers of gilded finery, there's Queen Elizabeth, the beating heart that made this beautiful show one of my favorites of 2016.
Most Musically Inclined
VICTORIA EDEL: Rachel Bloom. Not only is Crazy Ex-Girlfriend one of the best television shows, but the songs also stand on their own. "You Stupid Bitch" is a great shower jam, FYI.
DREW GRANT: I'm totally going to be the outlier here with my pick of Crazy Ex-Girlfriend. So let's get more specific: Santino Fontana as Greg Serrano on Crazy Ex-Girlfriend. To get even more specific, Greg's swan song and nothing else, ever.
[youtube https://www.youtube.com/watch?v=b-tAiOVMYFY]
NICK ROSS: Marvel's Luke Cage Music was the heart and soul of this show. Finally, a superhero show I could bob my head to. Plus, that Notorious B.I.G. poster.
NOAM COHEN: Steven Universe. This season's musical episode, Mr. Greg, was a work of genius, but the songs peppered throughout the series are consistently the cleverest and most touching on TV. Love me some Rachel Bloom, but she doesn't touch the genius of SU's songs.
DANA SCHWARTZ: Steven Universe. Rebecca Sugar consistently writes the sweetest, most memorable melodies on television. I spent full days playing "It's Over, Isn't It?" on repeat. This show makes me want to get a ukulele.
[youtube https://www.youtube.com/watch?v=5T5rCSmduaY]
EMMA FRASER: Issa's "Broken Pussy" rap has been stuck in my head on and off since I watched the Insecure pilot and 2016 is the year where inappropriate songs become ear worms. See also Crazy Ex-Girlfriend's super catchy "I Gave You a UTI."   
LORRAINE DUFFY MERKL: Superstore's Dina (Lauren Ash) She sang a song (in Spanish no less) in season one's third episode, "Shots & Salsa", and I can't believe they don't let her do so every episode.
VINNIE MANCUSO: The old-timey piano thing-a-majig from Westworld. It's my opinion that the saloon piano had the most fully-realized, richest character arc on this entire show. It started off familiar, even comforting — is that a jaunty cover of "Paint it Black" I hear? How delightful! — and then descended into autonomous madness, until it was playing Radiohead, nothing but Radiohead, and not even clever Radiohead. Fucking "Paranoid Android" on-the-nose-ass Radiohead. I can't prove it (yet) but I firmly believe this was a crucial part of Robert Ford's plan. And it all started, with a villain named saloon piano.
JAKE FLORES: The Casio Keyboard from Stranger Things. I would rewatch Stranger Things with just like, the pre programmed auto play button on this thing. Imagine Joyce Byers at maximum anxiety, clutching a ball of tangled up Christmas lights, the camera slowly pans out of the Byers residence, and the Keyboard Cat song plays. It would still be pretty good. 2016 sucked for humans but it was great for synthesizers.
Cutest Couple that Never Was
VINNIE MANCUSO: First off, I really, really have to call into question the fact that this was a real high-school superlative. Like, can you imagine if the last thing to happen your senior year was your classmates agreeing en masse that you blew your chance to fuck someone?
But anyway, my pick is Trevor Noah and Tomi Lahren. Two star cross'd lovers — he, the South-African host of a liberal-leaning comedy show and she, the blonde, screeching embodiment of your uncle's Facebook comment history — separate but for a single interview, and then no more.
VICTORIA EDEL: Greg and Rebecca, Crazy Ex-Girlfriend. They almost had it all. It's probably for the best that they didn't.
DREW GRANT: Marcia Clark and Chris Darden, as represented by Sarah Paulson and Sterling K. Brown in The People v. O.J. Simpson.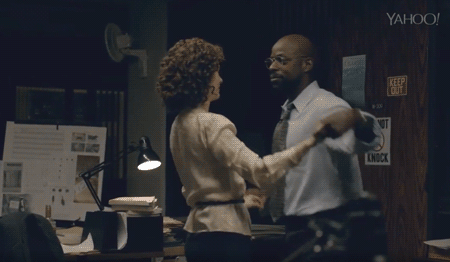 Yes, I realize this is my second Sarah Paulson GIF IN THIS ARTICLE. But come on guys, how can you not love the fact that this show posited that O.J. got away with murder in part because the prosecution was just TOO full of sexual tension?
EMMA FRASER: Marcia Clark and Chris Darden on The People v. O.J. Simpson: American Crime Story. Never did I expect that this show would be one where I would yell "KISS HIM" but then Chris and Marcia happened. There was late night dancing in the office, defending haircuts and a hotel corridor moment with so much eye banging. Sadly no actual banging.
TOM BATTEN: The funniest episode of the latest season of You're The Worst saw brother's-in-Law Vernon and Paul lost in the woods, discussing their failings as men and husbands, their difficult lives with their complicated wives, and fantasizing about running away to Mexico. They don't end up going, but what a spin-off that would have been.
NICK ROSS: Kevin Can Wait and Audiences More like Kevin can't.
DANA SCHWARTZ: Supergirl and The Flash. Come on, just admit that with their gorgeous hair and perfect faces, these two would be an adorable blur alongside each other. Especially if it means more crossover episodes.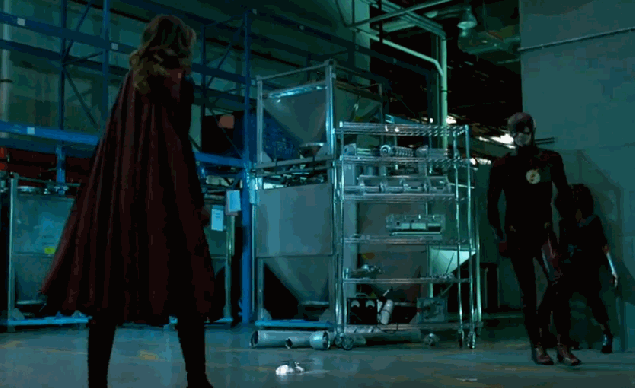 VICTORIA EDEL: Greg and Rebecca, Crazy Ex-Girlfriend. They almost had it all. It's probably for the best that they didn't.
NOAM COHEN: Sherlock and Joan Watson, from Elementary. Their interplay is adorable, but somehow they still avoid the will-they-won't-they cliche of most shows. I think the show may actually go the distance without ever getting its leads together, which is awesome.
LORRAINE DUFFY MERKL: Younger's Liza Miller (Sutton Foster) and Charles Brooks (Peter Hermann) There's an attraction and mutual respect, but will he still find her alluring when he realizes she's not a fawning 20-something?
JAKE FLORES: Hillary Clinton from Broad City and America. Ah yes, America, the one that got away. We were rooting for you two to make it work, but in love and Stranger Things, the crazy ones like America always go with some dangerous idiot.