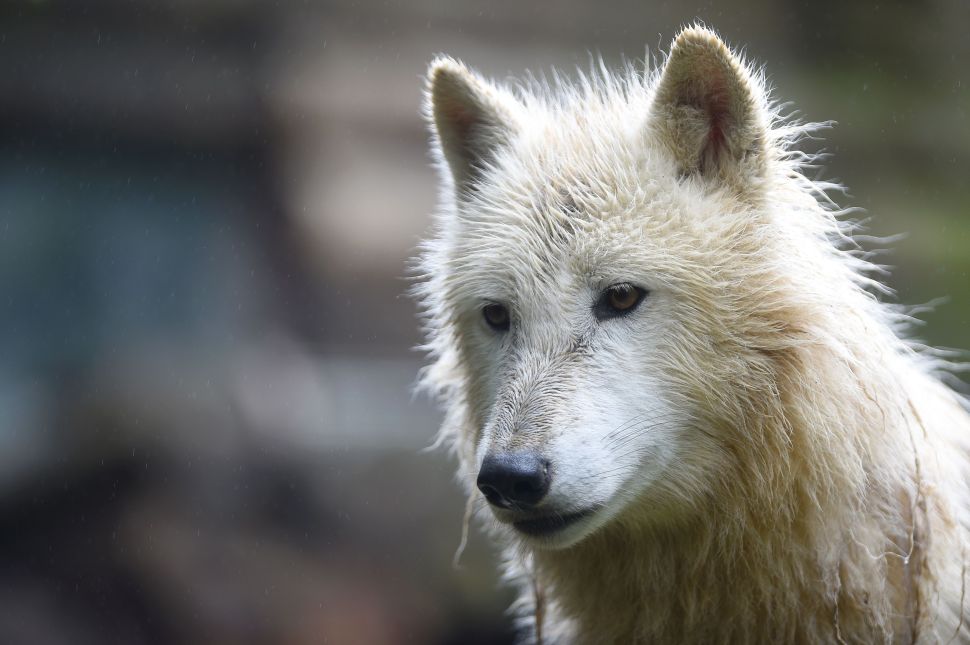 There's a wolf on Twitter, and it tweets when the humans scream.
Dan Sheehan is a stand-up comedian based in Chicago. Around the time he graduated from college, he set up an OK Cupid profile based on an image he found on the internet of a wolf in a suit, but the company immediately took the fake profile down. In creating it, though, Sheehan found its voice, posted some screenshots of the profile on Facebook and his friends really responded to this yelling wolf, trying to fit in.
In 2013, he reincarnated the OK Cupid idea into a Twitter account, @SICKOFWOLVES. Three out of four Observer reporters who sit at desks right by mine think the feed is super fun. For those who love internet native humor, get obsessed now, memorize tweets, lie in wait for your friends to bring it up and spring upon them with proof that you already knew. This is what the web is for.
Early in 2016, his tweets were getting a dozen or so retweets. Now, they are getting hundreds. He's also added a store where people can get buttons, t-shirts and hats that let others know that they too are not wolves. As of this writing, the account has 30,504 followers. We talked to the comedian who writes it, and he is definitely a human being. The following phone interview has been edited and condensed:
Is this your first faux Twitter account or your first one to take off?
I had one in college. I went to the University of Missouri. There was a local campus celebrity, a campus preacher, and I made one for him. This is my first one of this scale for sure. 
What's the origin story of @SICKOFWOLVES?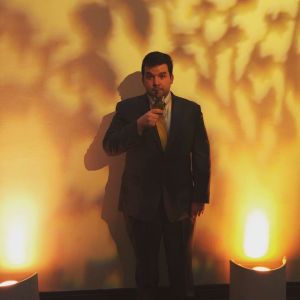 Honestly, I had just graduated from college when I first made it. The account has actually been around for a while. I had always thought animals doing people things is pretty funny. Rather than just like an animal wearing a hat, what if an animal was trying to pass in human society?
So, to me, it was funny as a wolf, which would be one that would have the most difficult time. A lot of it was just trying to think of putting this animal in very difficult situations for it to be in.
I ended up using it as an outlet for a lot of feelings at the time. I think a lot of people, especially young people, are masquerading, trying to pretend that they have every bit of society figured out. 
When did it get traction?
After about a year I dropped it for a bit. I was working on other projects. I'd moved to Chicago to be a stand-up comic. In 2015 I picked it up again. About this time last year I started to see real traffic coming in on it. It went from 1,000 followers, mostly my friends and other comics I know, and all the sudden it was this large group of strangers. 
Did you ever get a big retweet or boost from something that seemed to make a difference?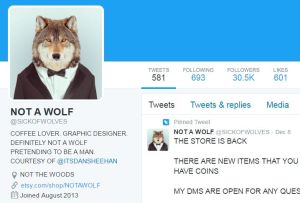 The comedian Tig Notaro does this thing where she lets other comedians run her Twitter account for one day. I was able to run it for one day in December 2015, and I retweeted the wolf twitter on it. 
How were you able to connect with her?
I've never actually met her. The way it works is comedians pass it from person to person. So another comedian I know passed it to me. I think the whole conceit of it is she doesn't want to use Twitter.  
Did you draw inspiration from other fictional Twiter characters who tweet in all caps, such as @DRUNKHULK or Matt Fraction's @HOBODARKSEID?
Not really. Doing it, sometimes people would say it reminded them of Weird Twitter. So I learned about Weird Twitter and I kind of got to dive into that world.
So are you a part of Weird Twitter?
I'm not sure. I'm not sure what really constitutes Weird Twitter. It's always kind of been it's own thing. I don't really communicate with other accounts a lot, and I feel like that's a big part of Weird Twitter.
SEE ALSO: The web forums at Something Awful spawned Weird Twitter. The site also spawned this virtual conqueror and leader of thousands.
What advice do you have for other fictional accounts? 
Make sure that, whatever the joke you are trying to tell is, that you can tell it in a lot of different ways for a long time. There was a while there when I thought I seemed to be doing it for myself because it didn't seem to be picking up any traction. 
What's been your biggest hit?
I think I can credit a lot of the weird cultural anxiety right now with a lot of the success of it. I think a lot of people are trying to fit into a situation where they don't have everything figured out. 
Where and how do you picture the wolf that isn't a wolf?
I always kind of imagine him just really carefully trying to be a person in every day life. Just riding a bus and sitting there in a trenchcoat with a big hat on. Very clearly a wolf and everyone reacting to him like he's a wolf. 
How does it feel to have a fictional character bigger than your own account?
Makes sense, I guess. In a lot of ways I feel like I use it to present a lot of my most unfiltered thoughts. It's me at my anxious and most confused.
There's a lot of weird things we do every day that when you really look at them you think: well this is bizarre. Today would look strange even to human society a couple hundred years ago, so it makes sense to filter society through this character. 
So what's your deal out there in the real world? 
I'm a standup comic based in Chicago. I do some writing, but mostly it's standup. 
I run a storytelling show and podcast called We Still Like You. People tell really embarrassing stories and the audience shouts: "We still like you." 
Give us a fun fact.
Interestingly, I talk about animals a lot. I went to multiple zoo camps growing up. I've always really liked nature. I know more animal facts than I'd like to admit. 
So are you really a wolf masquerading as a man?
I'm not sure I can reveal that at this time. I won't say yes or no.
Seriously, though, are you a wolf?
Between you and me, definitely.