Three years ago, jewelry designer Hannah Keefe was "messing around in the studio" when she stumbled upon a concept that would go on to generate some serious buzz.
"I make really crazy, detailed, maximalist jewelry under my line Hannah K and I wanted something that could be an antidote to that," Keefe explains. "Rather than being really decorative and detailed, I wanted something that was conceptual, substantial and permanent." That's how Keefe came up with the idea for an extremely simple gold bracelet; she wanted it to be whisper-thin and streamlined, without any excess adornment.
"That seems about as minimal and reductive to the essence of jewelry as it could be," she explained. So as not to interrupt the bracelet's continuous loop with a telltale clasp, Keefe simply wrapped a gold wire around her wrist and soldered the ends together. The bracelet was tight enough that she couldn't remove it; and three years later, she still hasn't. She's since affixed another bracelet to the other wrist, attracted by the balance of the matching cuffs.
The idea of permanent jewelry isn't new—it's a long-held tradition for certain tribal cultures—but it's rare to encounter a style that requires commitment in today's age of fast fashion. Cartier's iconic Love Bracelet, was created in the 1970's and is the closest contemporary example of such a concept, as it can only be removed with a Cartier screwdriver.
In the few years since Keefe soldered a bracelet around each of her wrists, the designer has garnered quiet attention from jewelry insiders. The owner of cult-favorite jewelry store Broken English, Laura Freedman, was one of the first to ask Keefe to create her own set of permanent bracelets after visiting the designer's L.A. studio.
"I thought it was the most unique thing I had ever seen," says Freedman. "I loved it because it was like a tattoo—representing whatever meaning you want to attach to it. Ever since then, we have been doing exclusive events with her and her welded bracelets."
Last week, Keefe traveled to Broken English's Crosby Street location in Manhattan to affix eager New Yorkers with her permanent wares. The designer, who launched her Hannah K line ten years ago after having studied metalsmithing and jewelry design at art school, admits that branding is not her forte. In fact, her events with Broken English are the easiest way to track her down; Keefe doesn't have a website or a Facebook page, let alone an Instagram, though she has earned herself a hashtag or two (#hannahkeefe and #hannahk). Most of her bracelet clients have found her by admiring the bracelet on someone else, then asking for Keefe's website address, but receiving, instead, her personal email.
"It has grown through my email, which is insane," she admits. "People usually come to my studio; they search me out."
Conventional marketing practices aside, the sense of mystery around Keefe only heightens the allure for her devoted customers. Whereas a Cartier Love bracelet is a status symbol, available to anyone willing to shell at least $6,300 for the most basic style, Keefe's bracelet is discrete, minimal, and truly exclusive. Even arriving at her studio in an industrial part of Los Angeles can be daunting, Keefe jokes, as it's "next to the woodshop and past the butcher."
Keefe's bracelets are a special one-off project, a diversion from the Hannah K line, which the designer calls her "bread and butter." Due to the bracelets' assemblage on the body, they can't be purchased in a store, making them that much more covetable for the select few who know about them.
The project represents the flip side of luxury, for the consumer who would choose the Tesla over the Ferrari. Keefe may be social media shy, but the jeweler is invigorated by her private face-to-face bracelet appointments, which break up the monotony of her regular studio production.
"It's a way to meet people and change up my daily schedule," she says. "When I'm working on Hannah K, I work alone, so [for the bracelets] it's cool because I have an appointment, and it just shakes it up. It means I have to brush my hair and wear real clothes."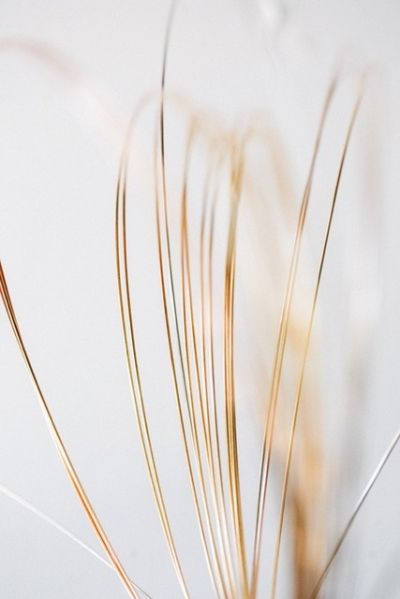 Keefe's bracelet "tattoos" attract a disparate crowd: fellow metalsmiths interested in the concept, mothers and daughters commemorating their bond through the act of permanent art, and even the bondage crowd, who liken the bracelets to gold handcuffs. These clients are overwhelmingly female, though they range widely in age, orientation and ethnicity.
Ultimately, the bracelet can be cut off, though that's beside the point. "It's about the act of having it put on," says Keefe, "and the decision to spend a good part of your life with it. It's about permanency and the nature of jewelry.
For more information on Hannah Keefe and her designs, visit BrokenEnglishJewelry.com.