I have reviewed 10 subscription meal services. Go here to check out the Observer's full guide to these companies, which includes an infographic that will help you decide which is right for you based on your diet and other preferences. 
Typical restaurant food delivery will always be in style, but services that deliver the ingredients to create your own meals at home have recently surged in popularity—the industry is now valued at $5 billion. You've probably heard of some of the biggest names in the business like Plated, Hello Fresh and Blue Apron, which have collectively raised more than $527.9 million in investments over the past three years. The clear demand for a home-cooked meal without the hassle has led to the launch of more competitors such as Home Chef, Purple Carrot (which specializes in vegan food) and Peach Dish (which serves Southern-inspired meals). We tried all of these and found that some are better than others, and one is way above the rest.
These companies all promise a few things, mainly delicious food and convenience. But while they're all focusing on sending temperature controlled, pre-portioned ingredients right to your doorstep, nutrition and ingredient quality isn't at the top of all of their priority lists. So we decided to try a few subscription meal kits focusing on this.
First, we tried Green Chef, which serves only organic food and uses eco-friendly packaging. Then, we tried Sun Basket, which also serves only organic food and keeps all meals less than 800 calories. Lastly, we tried Chef'd, which has specific health and weight loss plans serving food by Atkins, Weight Watchers and the American Diabetes Association
SEE ALSO: We Tried Martha Stewart's New Blue Apron Competitor—And it Was Really, Really Good
I wanted to get a sense of how these companies compare to each other as well as the more well-known services that aren't health-focused and serving organic food. What I found is that for any customer, some of these are great alternatives to Blue Apron and the like—the prices are generally about the same and the food is good too. But not all of these healthy alternatives are created equal. One of the following three is way above the rest, and another is not something I'd recommend at all.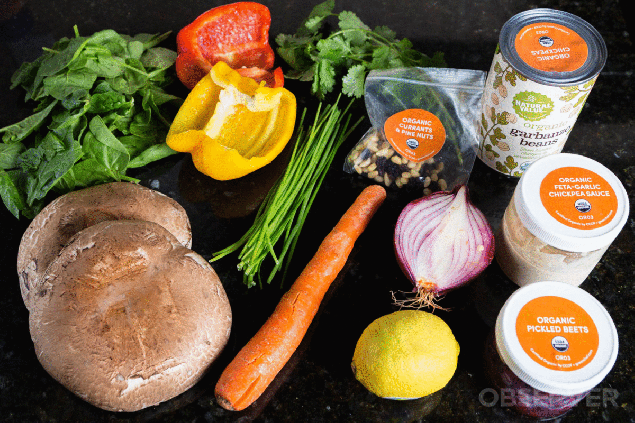 The price:
-For two: Per serving, $10.49 for vegetarian, $11.99 for omnivore or vegan, $13.49 for carnivore or gluten-free, $14.99 for Paleo
-Family plan: Per serving, $11.99 for omnivore and $12.99 for carnivore
-Shipping: $9 per box
The plan:
The two person plan includes three meals, each with two servings. The four person plan includes two meals, each with four servings. With Green Chef, you choose the type of box you want but don't have control over the specific meals (although you can choose meat preferences for the non-veggie boxes).
Recipes I tried:
I tried both the vegetarian and carnivore boxes. 
1) Baharat portobellos with chickpeas, pickled beet and carrot & spinach salad
2) Broccolini penne alfredo with sun-dried tomatoes, bell pepper and pine nuts
3) Mediterranean flatbread with artichokes, spinach, arugula peperonata and olives
4) Pesto orzo steak with fennel, squash and blue cheese
5) Mediterranean tuna burger with green beans, fennel salad and red pepper ketchup
Pros and cons of my experience:
+I was immediately turned off to Green Chef when I opened my first box and saw the most obscene amount of packaging I ever encountered for one of these companies, but this was resolved by the time I tried my second box. There was less packaging and it was eco-friendly.
+The recipes were generally healthy and were no more than 750 calories per serving.
+The recipes were detailed and easy to follow.
+Some of the food was OK. While nothing to rave about, I did like the penne dish and Mediterranean flatbread.
-Some of the food was a lot less OK. The veggies in the steak dish were flavorless, and cooking the steak for the time listed in the recipe made it come out extremely rare.
-While the ingredients were color coded, they weren't separated into bags or boxes by recipe and it took quite a while to sort everything.
-Many of the dishes involved the same ingredients like fennel and sun-dried tomatoes, and most had a side salad. The lack of diversity was disappointing, especially since I didn't choose these meals.
-The meals took longer to make than the recipe cards stated.
-Only calorie information was listed on the recipe card, while other services list full nutrition facts.
-The price is steep. Most of these services come out to about $10-$11 per serving.
In general, I would not recommend Green Chef over other meal kits because 1) others have better food 2) others have better prices and 3) I don't like that I don't choose my own meals. Some people prefer when meals are chosen for them because of the convenience, but we do present a better option for this below.
My rating:
2/5
The price:
-$11.49 per serving
-Shipping: $5.99 per box
The plan:
With Sun Basket, you plans include three meals, and you can choose the exact meals you want or follow the Chef's Choice, Paleo, Gluten-Free, Vegetarian or Rise & Shine (2 dinners + 2 breakfast recipes) plans. You can swap out meals, and weekly deliveries are on Mondays, Tuesdays or Wednesdays. You can skip a week or cancel at any time. Unfortunately, Sun Basket is not yet available in Alaska, Hawaii, Kansas, Minnesota, Montana, North Dakota, Nebraska or South Dakota.
Recipes I tried:
1) Eastern Mediterranean eggplant with pita and tzatziki
2) Grilled sirloins with sautéed peppers and arugula pesto
3) Zucchini and ricotta torta with mixed greens
4) Summer flatbreads with herbed Greek yogurt
5) Korean-style Hodo Soy tofu burgers with kimchi slaw
6) Fresh corn and black bean tacos with Cotija cheese
Pros and cons of my experience:
+The food was delicious. I especially enjoyed the summer flatbread and torta.
+The food spans many different cuisines and cultures and has a lot of variety in terms of flavors and how it's served. While many of these services mostly rely on burgers, pasta and meats (or alternative) with a veggie side, Sunbasket makes great use of soups, flatbreads, torta and more.
+While not the cheapest, the price is great for the quality.
-The weekly options are limited, with only eight dinners to choose from for each box.
-The directions were mostly clear but could've been clearer. For example, at one point I was instructed to "cut the cucumber," but there were two and I was unsure if I should cut both or needed to save one.
-Only calorie information was listed on the recipe card, while other services list full nutrition facts.
I would definitely use Sun Basket again and recommend it to anyone looking to try a subscription meal service, especially those looking for healthy and organic meals. The food was delicious, and while there aren't a ton of options available each week, all of the meals are so inventive that you'll have a hard time choosing from the eight. There is a ton of variety in all the ways that matter.
My rating:
4.5/5
The price:
-$9 to $17 per serving when you choose a meal plan
-Prices for a la carte breakfast, lunch and dinner varies by meal: For two, prices range from $5 to $24.50 per serving; for four, prices range from $6 to $17.25 per serving; for eight, prices range from $3 to $18.75 per serving. There are also sides, desserts and kid's meals beginning at $2 per serving
-Shipping: $10 or free on orders over $40
The plan:
Chef'd has multiple options for ordering meals. The first is their meal plans, which focus on gourmet and healthier diet foods. The available plans include Atkins, Weight Watchers, The New York Times Cooking, Spoon University, American Diabetes Association and Tone It Up Fresh. After selecting a plan, you answer questions about your allergens, desired proteins and how many servings (2 to 4) and meals (up to 7) you want to receive weekly. Then every week, you're offered suggestions, which you can swap out. You can also skip weeks and opt out at anytime.
You can also shop meals a la carte by simply adding items to your cart and checking out as you would on any e-commerce site. For both methods, you can choose your delivery day, including Saturdays. In some markets, you can even have the food delivered the next day.
Recipes I tried:
1) Mint lamb chops with sweet potato croquettes
2) Chicken pad thai
3) Mujadara
Pros and cons of my experience:
+The food was pretty decent. The lamb chop dish was especially tasty.
+Cooking the meals was relatively simple. The pad thai was a breeze.
+Extras like skill level, spice level and beer/wine pairings are listed online when you choose your meals.
-The prices vary, a lot. The lamb chops were $18 per serving, which is a bit much since other companies that don't charge different prices by meal also serve lamb for their standard $10 or so per serving.
-While variety is nice, there are just so many recipes. It feels overwhelming at times, especially when you're also having to consider the varying prices.
My rating:
3.5/5
And the winner is…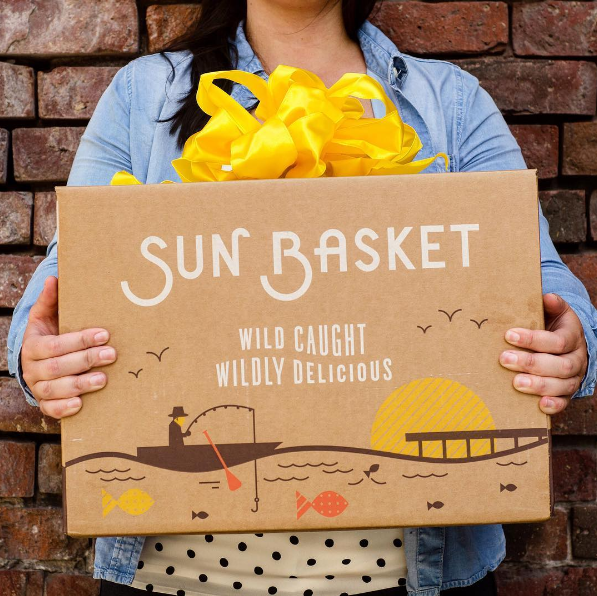 Sun Basket wins because the food is just that good. I actually gave it a higher rating than Peach Dish, the winner of my first article testing and comparing meal kits. They're priced about the same, as well. But Sun Basket was simply the most delicious, and I really appreciate how often it deviated from dishes like pasta and meat-with-a-veggie, which seem to be staples of the subscription meal service industry.
Chef'd does deserve some recognition as well, for it has variety and options that are seemingly endless. On the other hand, this comes with some challenges. I could spend forever picking meals, and it's a little overwhelming to sort through so many recipes and also calculate their costs. Where they also fall short is price. While you can get some dinners (like Asian lettuce wraps, meatballs with green beans or spinach fettuccine) at the price of other kits, most Chef'd meals with salmon, beef or even chicken will run you closer to $20 per serving. But their partnerships with Weight Watchers and Atkins are a great feature for those looking to not just eat healthy, but follow specific diets.