New Year's Eve has the potential to be a more tasteful version of Halloween—dress up, put on the makeup you usually steer clear of, and adopt a decidedly DGAF attitude for one night of debauchery as you drink (or not) your way into the new year.
Sequined and sparkling dresses are not for everyone, but you know what can be? Shimmery eyes. New Year's Eve is the perfect opportunity to say YES to glitter. Think of it as a way to express your optimism for a bright 2017!
Here are a few ways to get the look:
"A bit of glitter right in the center of the eyelid—use the silvery-slate grey on the top right of Smith & Cult's Book of Eyes quad in Soft Shock ($44)—is an elegant way to incorporate sparkle into your New Year's Eve look," said Smith & Cult Beauty Ambassador, Sarah Maxwell. "Add a touch of shimmer along the brow bone (applied by tapping in lightly with your ring finger)," she suggests, "this allows you to sparkle all night long without looking shiny. Smith & Cult Book of Eyes Eye Quad in Soft Shock is perfect for subtle yet glittery glamour." Another tip for keeping your glitter level in check? "I suggest using metallic shadows in natural shades with shine that mimic your skin tone," Smith & Cult Beauty Ambassador, Ashlee Glazer suggested for a more subdued look.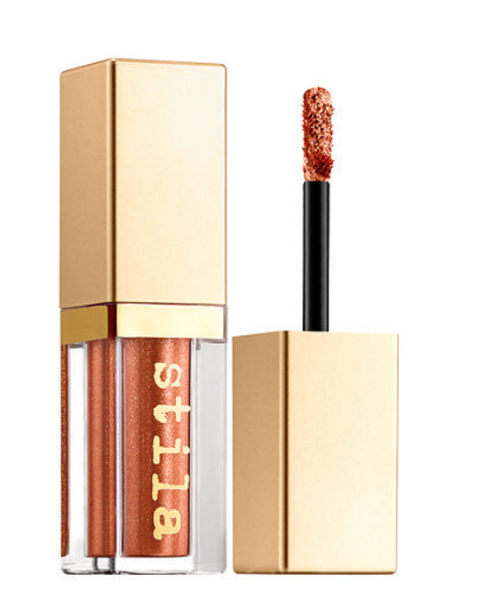 Stila's newest launch is as perfectly peak NYE as they come. The Magnificent Metals Glitter & Glow Liquid Eyeshadow ($24) comes in eight shades that manage to pack a seriously glittery punch, without looking too obvious. The liquid texture avoids any of the icky fallout of powders that aren't quite fine enough. "Touch and tap the built in wand applicator directly to your eyelids to add mega-watt high shine disco ball glamour to your makeup in an instant," Sarah Lucero, Stila's lead makeup artist explained.
Also in the cream school: Giorgio Armani's eye tints. The brand's Beauty Face Designer, Tim Quinn, recommends blending the Waterproof Smooth Silk Eye Pencil ($30) and Eye Tint #4, Emeraude ($39), a gorgeous emerald hue, at the lashline blended up. Use #7, Shadow at the lashline, smudge some bronzer into the creases of your eyes to add dimension, and finish with "many coats" of Eccentrico mascara ($32).
For an otherworldly look, Butter London's Glazen Eye Gloss ($24) is totally unique in texture—it's like a jelly lip gloss in an eyeshadow pan, and you only need the teensiest amount on your fingertip to give your eyelids a celestial sheen.
If you want to go the less saturated route, but still coat your eyelids with a bit of sparkle, you can't go wrong with Kevyn Aucoin's Loose Shimmer Shadow ($29)—it's unique rollerball applicator allows for a wash of shimmer, as opposed to a confetti explosion.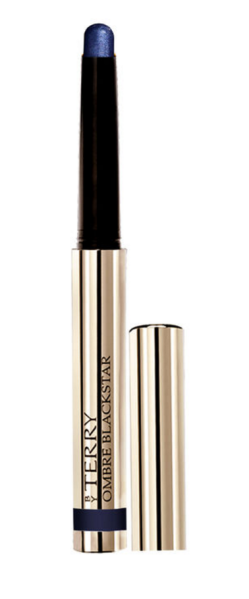 If you do not trust yourself with anything as complex as a palette, or even a quad, spring for eyeshadow sticks, one of the best inventions of modern makeup. For extreme ease, you can Amazon Prime Eyeko's Me & My Shadow to yourself before NYE. trèStiQue's travel-friendly Shadow Crayons (currently marked down from $26 to $15) are perfect for intermittent touch-ups and sexy, slightly messy looks, thanks to the smudging sponge included with the dual-ended stick. For smokier color options, stock up on ByTerry's to-die-for Ombre Blackstar Eyeshadow ($44)—a classic in shades from pale and subtle pinks to bold and smoky olive and navy. It's a must-have beyond NYE, anyways.
For the glitter-loving minimalist, keep your dosage small and use only liner, wing it out as much as you wish for drama. Try Jane's Water Resistant Liquid Eye Liner in Metallic Nude ($11) or Too Cool for School's Glam Rock Extreme Color Eyes Eyeliner which comes in 3 chic, wintery hues.