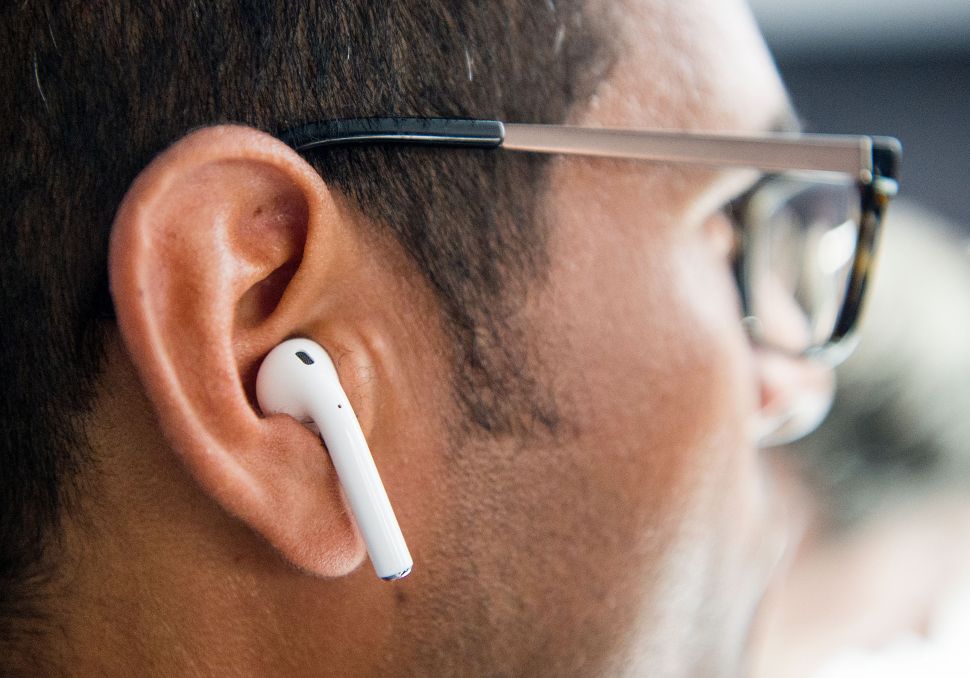 Wearable computing has had a tough couple of years: the Google Glass spawned the anti-"glasshole" movement, Jeb Bush proclaimed that the Apple Watch "requires a lot more work than it needs to" and said "the battery goes out too quick," and anyone caught wearing Snap's Spectacles is just an idiot who likes EDM. 
While these devices have been getting all of the press, 2016 quietly set the stage for the useful and, well, wearable wearable. The first truly mainstream wearable doesn't project something over your field of view, put a screen on your wrist, or simply give you another option for capturing video of you toasting your friends over brunch—it speaks to you.
A number of developments have devices like Apple's AirPods poised to be the must-buy gadget of 2017.
First, consider that audio consumption is natural. There is no forced behavior change like wearing sunglasses indoors or forcing a millennial who has quite possibly never worn a watch strap one on. An audio piece—especially a light, wireless and attractive one, like Apple's AirPods—can be worn and spoken to with minimal disruption.
An audio-based wearable leverages software that has been in development for years, and has been improving, so there is no lag time between hardware release and the point at which developers catch up with useful software. Apple, Google, Amazon and Microsoft all have smart assistants that would love to (and can) help with your day-to-day. Siri could gently nudge you about the upcoming event in your calendar, remind you to stand and get a few more steps in, and allow you to handle your iMessage inbox without taking your phone out—all of the basic functions that the Apple Watch promised, but failed to deliver in a smooth and Apple-like experience. For evidence of demand for those features, look no further than the fact that Apple has sold more than 13 million Apple Watches despite negative reviews. After a successful initial launch, demonstrating need for the aforementioned features, sales cratered 72 percent from 2015 to 2016. People were willing to give the product a chance, but ultimately found the execution lacking.
If you want proof that this is the direction Apple will be heading, look no further than the omission of the headphone jack on the iPhone 7. Apple wants users to go wireless because fewer wires mean you might leave your AirPods in. If you leave your AirPods in, Siri can become an integral part of your life.
It isn't just the big players who are ready to whisper sweet nothings all day: the Angel-stage investment climate is white-hot for those working on smart assistants, artificial intelligence and conversational bots. It seems clear that these companies are poised to innovate and that they're going to give Apple, Google, Amazon and Microsoft a run for their money. Or, more likely, join them when the space heats up for mergers and acquisitions in a few quarters.
After a decade dominated by larger and ever-improving screens, we've finally contracted screen fatigue. It's audio's turn now. But get ready for your HD retina Air Pods coming to a Christmas tree near you, December 2020.
Andrew J. Chapin is a technology entrepreneur in San Francisco and a Boston Red Sox fan. Follow him on Twitter: @andrewjchapin.