"After preliminary niceties I suggested to our host that the U.S. government's position toward Cuba was stupid, unrealistic, and worse, ineffective, especially—sotto voice—since the Bay of Pigs fiasco."
Fidel Castro, who died on November 25th, was alive and well when Mary Hemingway (1908 – 1986), the widow of Ernest Hemingway, who had lived in Cuba for years, spoke those words.  The occasion, as Mary Hemingway notes in her memoir, How It Was, was a 1962 White House dinner at which she had been seated next to President John Kennedy.
Kennedy was furious with Mary Hemingway, but as his biographer Robert Dallek notes, "her point was not entirely lost on him." JFK did not try for a second Cuban invasion, and in the fall of 1962, he settled the Cuban missile crisis without going to war with the Soviet Union.
Mary Hemingway's criticism is relevant today because the improvement in American-Cuban relations that the Obama administration has made possible is in jeopardy. President-elect Donald Trump has threatened to reverse President Obama's policy of engagement with Cuba unless the Cuban government is willing to make "a better deal" for the Cuban people and Cuban Americans.
Trump needs someone to speak to him about today's Cuba with the same candor Mary Hemingway addressed President Kennedy. Given the president-elect's reluctance to brook dissent, the difficulty is imagining how he would ever meet the equivalent of a Mary Hemingway.
In 1962 Mary Hemingway was not simply the widow of America's most famous twentieth-century novelist.  She had been a distinguished reporter for Time in Europe during World War II.  There she had a firsthand knowledge of war and its consequence, and she used that experience wisely over the years. She never let her opposition to President Kennedy's Cuba policy turn her into a Castro supporter or a public opponent of JFK.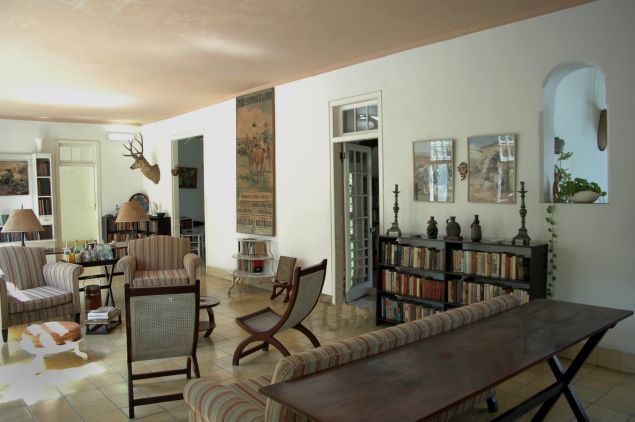 Ernest Hemingway had lived in Cuba from the time he bought his house, Finca Vigia, there in 1940 until 1960. Mary married him in Cuba in 1946 and had came to know the island and its people.  She was aware that the widely circulated 1960 photos of her husband and Castro meeting at a marlin fishing tournament in Cuba held in Hemingway's honor did not mean that her husband endorsed Castro, and her own meeting with Castro in 1961, when she was seeking to remove her husband's papers and personal property from Finca Vigia, did not change her opinion of the Cuban leader's impact on his country.  Castro was personally charming, but getting her husband's letters and property back to the United States proved to be an ordeal in post-revolutionary Cuba.
In criticizing Kennedy when she had the chance to talk with him, Mary Hemingway was making the point that it is possible for a president to make a bad situation worse. In doing so, she was taking advantage of the admiration Kennedy and her husband had for each other.  The first chapter of JFK's Pulitzer Prize winning political history, Profiles in Courage, begins with him quoting Hemingway on the virtues of "grace under pressure," and after he was elected president, Kennedy invited Hemingway to his inaugural.
Hemingway was too sick at the time to travel to Washington, but after watching Kennedy deliver his Inaugural Address on television, Hemingway wrote him, "I was sure our President would stand any of the heat to come as he had taken the cold of that day."
Mary Hemingway's final link to President Kennedy began in 1964 when, through the journalist William Walton, a friend of hers and the Kennedys, she contacted Jacqueline Kennedy and offered to donate her husband's papers to the future John F. Kennedy Library in Boston.  The donation was settled in 1968, and in 1980 the Hemingway Room at the JFK Library was opened by Jacqueline Kennedy.
The contentious meeting between Mary Hemingway and John Kennedy  had over time resolved itself far better than either party could have predicted. Today it's hard to imagine such a result for America and Cuba if Donald Trump is truly determined to pick a fight with Raul Castro.
Nicolaus Mills chairs the literature department at Sarah Lawrence College. He is currently at work on a book about Ernest Hemingway and his World War II circle.