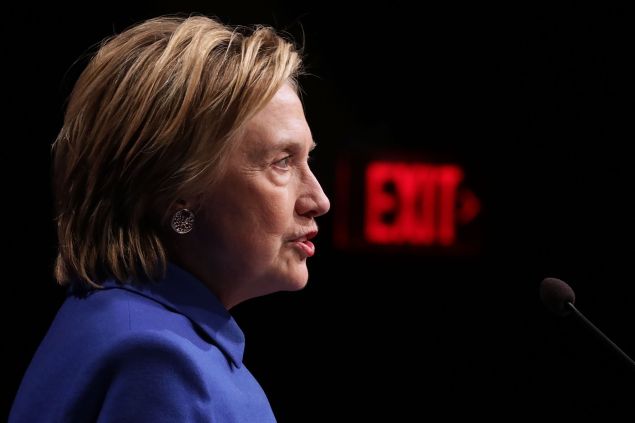 As the Democratic Party continues to process the unexpected defeat of Hillary Clinton by Republican nominee Donald Trump earlier this month, New York Democrats find themselves at a standstill as they try to determine the way forward.
Those the Observer spoke to agreed the party is going through a difficult period, and that Clinton failed to attract voters despite adopting progressive policies put forward by her primary opponent, Vermont Sen. Bernie Sanders—and some pointed out many were not motivated to come to the polls at all. But they disagree over who's to blame and whether revamping the party is enough to ensure its survival.
Trump won 306 electoral votes, while Clinton captured 232, even though she leads in the popular vote by around 2.5 million votes. To get the Democrats back to the magic number 270, New York pols proposed several different directions their party could take.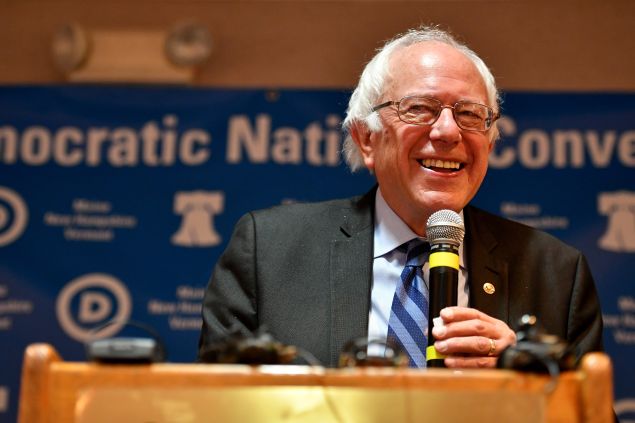 Refeel the Bern?
Queens State Senator James Sanders, one of two Albany lawmakers who backed Sanders in the primaries, said Clinton was "nowhere near the perfect candidate" but that he voted for her—in part to break the glass ceiling. And although he asserted she had to suffer through "dirty tricks" by the Federal Bureau of investigation,  a constant barrage of Wikileaks email dumps and Russian President Vladimir Putin's alleged interference, he said more blame lay with the Democratic National Committee's "dirty business against Bernie."
People on the left and the right still associated her with Wall Street and the 1 percent, he said, arguing the democratic socialist from Vermont "perhaps could have negotiated those waters far better."
"Instead of attacking third parties and attacking Bernie and attacking anything, we need to own this," Sanders said. "We need to own this. We need to look at the process that anointed Hillary long ago and said, 'Don't confuse me with the facts.' Their position was, 'We've anointed Hillary. Don't confuse me with the facts. I want what I want and I will not be confused with the facts.'"
The state senator compared Sanders' struggles to his own tough primary for re-election in which his opponent out-raised and outspent him, thanks to support from the Queens Democratic Party machine and local powerbroker Rev. Floyd Flake, a former congressman and pastor. He insisted he still won because "the people on the bottom are not going to be dictated to"—why Trump triumphed despite being "a billionaire misogynist who spends his time bilking American workers."
He believes Sanders and Massachusetts Sen. Elizabeth Warren, a progressive Democrat, "will be the standard bearer of the progressive wing" of the party.
"Of course we'll survive—the question becomes will we thrive? Can we afford another shellacking?" Sanders said. "Can we afford to become tone-deaf and blind to the will of the American people? I mean, remember all of these parties grew out of rejections of parties that came before them."
Councilman Ritchie Torres, another Sanders supporter, argued Clinton was seen as standing to the right of Trump on trade despite having a more egalitarian platform overall. And he said there's a compelling argument that Sanders could have won, but that it's "impossible to know" whether he would have had "substantial enough showing to overcome the Trump tsunami."
Trump won the key battleground states of Florida and Ohio—both states President Barack Obama carried twice, and where Clinton had tried to bolster her numbers by increasing turnout among Latinos and African-Americans. 
"[Obama] had a) the advantage of a historic African-American showing, and b) the advantage of shapeless opponent in Mitt Romney who came to be seen in the 2012 election as a caricature of vulture capitalism," Torres said. "And so it's far easier to win the Midwestern white working class vote when your opponent is private equity-personified Mitt Romney rather than a Jacksonian populist like Donald Trump."
Still, the councilman argued the future of the party is the left-wing column that Sanders led. The aim, he argued is to build that progressive movement until "it effectively assumes control"—in the same way that the Tea Party "has built power within the Republican establishment."
"There's no question that the 2016 election marks the death of the Democratic establishment, which is an opportunity for a progressive organization to shift the Democratic Party in a decisively progressive direction," Torres continued.
A Minority Majority
But many have blamed Trump's success on pure prejudice, as he staked much of his candidacy on plans to build a wall on the Mexican border, deport undocumented immigrants and bar Muslims from entering the country—and attracted support from the Ku Klux Klan and other groups and figures associated with white nationalism. Council Speaker Melissa Mark-Viverito, a prominent New York City surrogate for Clinton, railed against the Queens-born businessman as a "racist" during the contest.
The solution for the party now, she asserted to the Observer, is to make Minnesota Congressman Keith Ellison the DNC's first black, Muslim chairman. Last month, her Progressive Caucus formally endorsed Ellison's bid to lead the party into 2018 and beyond, citing the need for "a leader who will stand firm against hatred, bias, discrimination, anti-Semitism, Islamophobia."
Speaking to the Observer, Mark-Viverito argued that Ellison has the experiences and integrity necessary to reach into disgruntled communities.
"When you campaign on fear mongering, it's easy to win that way," Mark-Viverito told the Observer following a rally. "You're reaching into the depths of the despair and the frustration that people have and the scapegoating that comes out of that."
On the other hand, Assemblyman Charles Barron—a former Black Panther Party member who did not vote for any candidates in the primary or general election—argued the DNC was part of the problem. But he asserted the main mistake was nominating Clinton in the first place, and for assuming minorities would support her. 
"They misread—as they always do—black people in America," he said. "They thought they can insultingly tell us, 'Vote for Hillary to stop Trump' or a greater insult: Barack Obama coming and saying it's an insult to his legacy to not vote for legacy."
Barron hopes to ditch the Democrats entirely and begin a a black- and brown-led party, something he attempted in his ill-fated 2010 run for governor on the "Peace and Freedom Party" line.
"The Bible talks about the plague," Barron said. "I hope the lord sends a plague on both their houses—the Democrats and Republicans."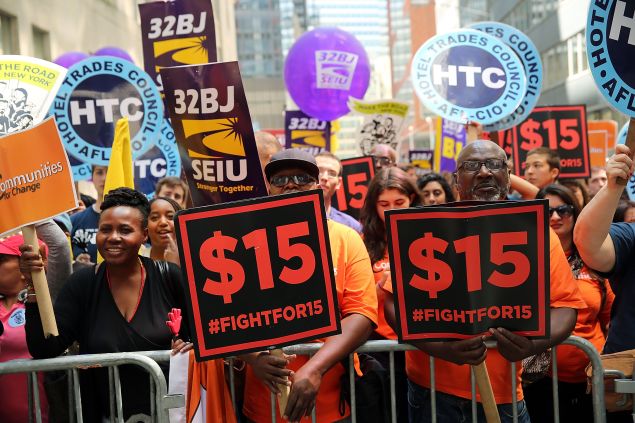 Look to Labor 
But State Senator Diane Savino, who represents parts of southern Brooklyn and Staten Island's North Shore, said that while Trump's message "may have energized" racist segments of the country, she cautioned against the "shortsighted and wrong" assumption that prejudice completely explained the election results.
Indeed, on Staten Island, with its large number of union households, Trump won 57 percent of the vote—or 95,612 votes—to Clinton's 40 percent, or 67,561 votes, according to the New York State Board of Elections. Savino argued Trump was speaking to issues that resonated with union members, adding that labor leaders struggled to explain to their membership why Clinton was the preferable pick.
"I still don't think he knows what the hell he's talking about, but he talked about it," Savino, who backed the former first lady in the primary, said. "But nobody in the Democratic Party except for Bernie Sanders has talked about these issues in a long time."
"Facts are always debatable, feelings are never wrong," Savino continued, urging the party to listen carefully to voters because they are "trying to tell you something."
She blasted the party for ignoring state and local politics for several years now. The institutional problem, she suggested, reached all the way into the upper echelons of the Democratic National Committee.
"What have they done other than be a laughingstock to show that they can't even protect their own emails?" Savino said.
Similarly, Public Advocate Letitia James argued the party needs to get back "those Reagan Democrats, Obama Democrats" Trump peeled off with promises to restore manufacturing in the Rust Belt.
"We should not take them for granted, and we should continue to bring the rural South, the Midwest and urban centers together and take back the Democratic Party," James said during a New York Law School breakfast speech.
And Mayor Bill de Blasio—who excitedly told a crowd outside the Javits Center on election night his former boss would prevail—later conceded that she lacked a "progressive populist economic message. (This clashed with his earlier declarations that her "platform is the most progressive of any Democratic nominee in many decades").
"I think the important thing is that, be a clear progressive with a vision for restoring this party at the grassroots and pushing an economist populist platform," de Blasio told NY1's Errol Louis, arguing that such a vision would win blue collar voters of all races.
Disclosure: Donald Trump is the father-in-law of Jared Kushner, the publisher of Observer Media.