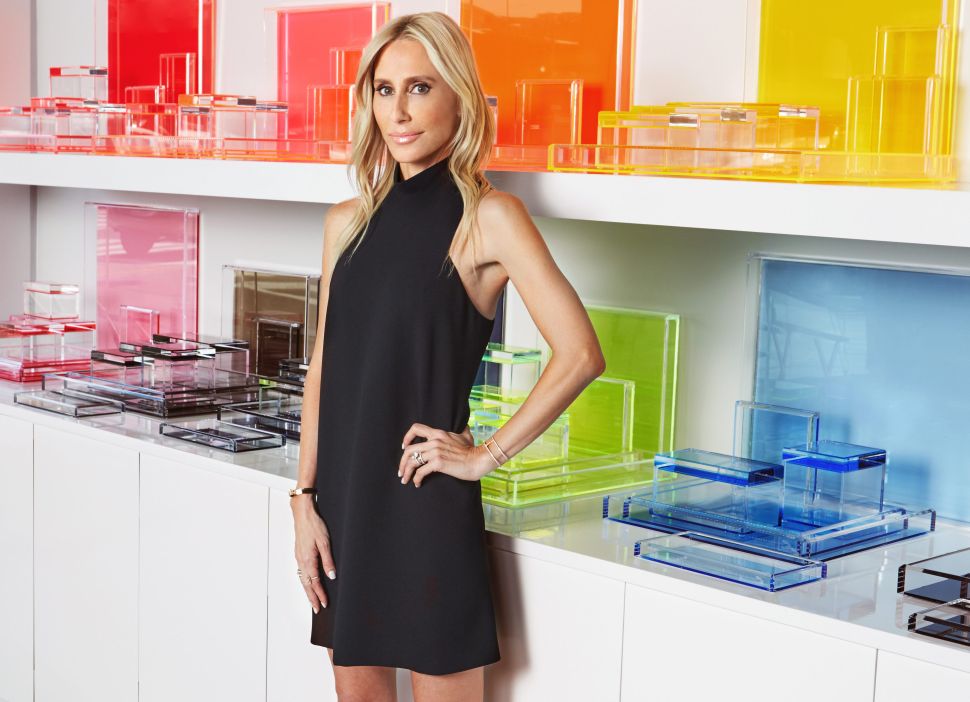 Earlier this year, Alexandra Von Furstenberg opened her second boutique in LA's West Hollywood design district, a 1,500-square foot glossy-floored showroom on Robertson Boulevard, displaying her colorful neon acrylic home furniture and accessories. From her AVF desk, which retails for $16,800, to her $150 neon valet trays, the brand has a slew of A-lister fans.
Furstenberg, who is the former daughter-in-law of fashion tycoon Diane Von Furstenberg, served as DVF's creative director and, later, as director of image for 10 years. During her tenure under DVF, Alexandra re-launched the wrap dress, and was responsible for breathing life into the brand.
After leaving DVF, Alexandra moved to Los Angeles and focused on her passion, designing for the home. Upon starting Alexandra Von Furstenberg LLC, she was drawn to lucite, but saw that it had almost vanished in home design. She dove into it anyway, and her first collection was born. She put out her second nine-piece collection called "Voltage" in 2009.
In addition to a booming business, Von Furstenberg has two teenage children with her ex-husband Prince Alexander Von Furstenberg. Furstenberg married designer Dax Miller on July 7, 2015 at their home in LA.
Furstenberg talked to Observer about her growing an iconic brand, her style inspiration, and how she manages to keep her sanity in a hectic business world.
Tell me about your latest store opening—how does it feel to expand? It feels great—not only to have twice the square footage to showcase accessories, but the be right in the heart of the West Hollywood design district.
Where do you get inspiration for your designs? A lot of my inspiration comes from gems and beautiful vintage cars. I love grills on cars. I did a couple of tables that mimic old grills. Prints, wood grains—just things that catch my eye. There are certain things I love—art fairs, car shows—but as far as nature is concerned, it could be the shapes the clouds are making. It can come from anything.
'Email, to me, is a Monday through Friday thing.'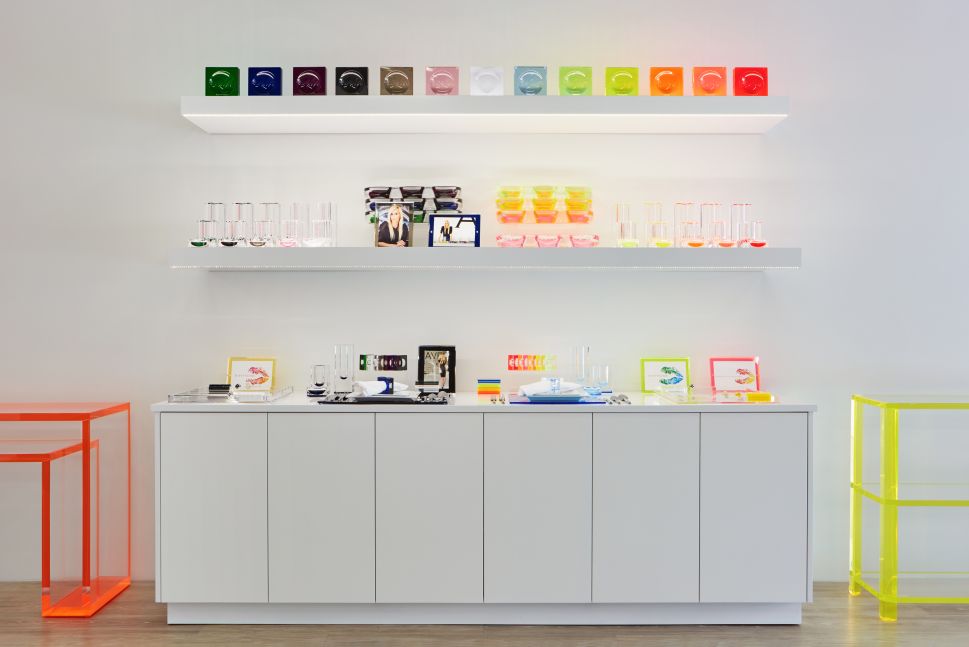 Grills, really? Vintage cars are works of art and I find it is a pleasing shape, the way they used to make cars.
Do you own any vintage cars? I do not own any vintage cars, funnily enough. I have always wanted to, but I would not want to be responsible. I am frightened a little by them.
What basic should every woman own? A great pair of jeans; jeans that you feel sexy in, that flatter your figure. They can be ripped, or not ripped, or flared or tapered. Denim is the go-to….
What five essentials do you keep on your desk? My desk is an AVF desk and I use my Bloomin' Vase, which is a pen holder. I have a little bowl, my mini infinity bowl which I put gum/chicklets in it. I buy giant containers, and pour them in there. I chew gum a lot! I have a little valet tray, which I put my phone in. I have a phone that I plug into my cell phone, like an old fashioned phone. I have a couple of other little things, prototypes that I am working on. A coaster and water next to my computer.
Having a home office—a chic one—starts with a desk. Why acrylic, what feel does that give an office? When I moved to LA almost 12 years ago… I just left the fashion industry and… I wanted to make my mark. I knew that I could not go back to fashion—that was already taken care of in the family. Furniture was another passion of mine, and when I was trying to figure out what kind of furniture, and what would make it different, and make it unique… lucite had gone dormant, and I do not think anyone had used in since the '70s and early '80s. So I played around, and for whatever reason this is the material that came to me. I know it is very difficult to work with, and very expensive, which is why it is not used a lot. But it is very beautiful and functioning art to me.
Is there anything you do as soon as you get to your desk every morning? Check emails! I do not read my emails at night, or on the weekends, so definitely when I come down to the office, emails are the first thing for me; voicemails and anything like that as well, then I check my calendar.
How do you find balance? Not answering emails at night, or over the weekends. It is absolutely the key. If you need me over the weekend, send me a text, but I do not check emails. If there is not a fire, there is nothing that can't wait until after the weekend.
Have you always been that way? More recently as my company has gotten bigger and my kids are a bit a older. That doesn't mean I don't have my phone or check Instagram. But for some reason, email to me is a Monday through Friday thing.
How would you describe your style? California casual, but modern. I do not wear a lot of print. I tend to wear a lot of black, white, grey and neutral, soft pink or beige. Not bohemian—slightly structured.
Ashley Dillahunty writes about travel, food, fashion and beauty. Ashley is the former West Coast bureau chief of In Touch Weekly and Life and Style and an on-air entertainment and fashion correspondent for E! News, Access Hollywood, Extra, The Insider, KTLA, CNN, MSNBC and others. Ashley also is a consultant for fashion and lifestyle brands.