Kate Bush's influence on modern pop music is so pervasive it's impossible to quantify.
So when the legendary singer infamously took a 35-year sabbatical from touring after 1979, it made her return to playing concerts in 2014 all the more an occasion of celebration for press and her loyal fans. But while Bush runs her career entirely at her own pace, she never stopped releasing music.
The British chanteuse came back stronger than ever with the release of her Before the Dawn on November 25, a live album culled from 22 sold-out shows at London's Hammersmith Apollo.
In the years since her absence from the stage, Bush's influence has blossomed throughout pop music in a way no one could have predicted; with everyone from Lorde to Big Boi inspired by her catalogue, she may just be the most influential pop singer of the last three decades, her sound spreading across oceans and time zones to take root in the work of countless artists. 
With that in mind, we've put together a playlist that epitomizes just how ubiquitous Kate Bush's remarkable influence has been across all of modern pop music.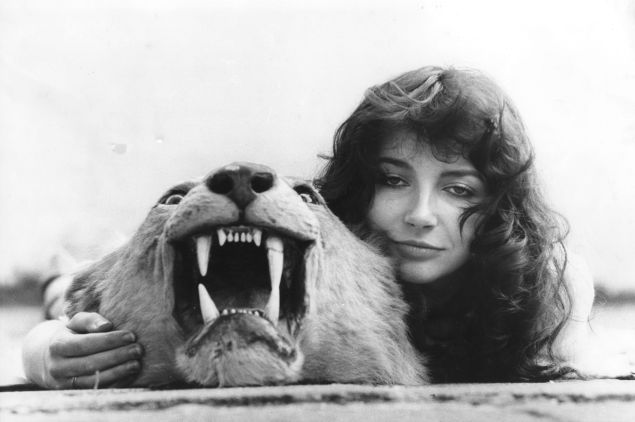 The Rhythm of Youth: Lorde
Like Bush, Lorde was groomed from a young age to play the art-pop ingenue. She is brilliant, offbeat, mysterious. While aimed at the pop market in a way the Bush never was, Lorde broke with convention and followed her compass, shattering the hip-hop-pop patriarchy in the process.
Lorde also possesses an air of detachment. Like Bush, this served her well as fame's bright lights encroached. She seems to work defiantly at her own pace, unencumbered by expectations.
[youtube https://www.youtube.com/watch?v=f2JuxM-snGc&w=560&h=315]
Obscured by Clouds: Sia
Sia keeps fame at arm's length, hidden behind a two-tone fringe. Like Bush, she sought out the spotlight only to push it away. However, Sia operates from within the paradigm of Top 40, eschewing the kind of experimentation Bush favors. Still, Sia is an enigma with an otherworldly voice, and that combination is one which followers of Kate Bush understand.
[youtube https://www.youtube.com/watch?v=GKSRyLdjsPA&w=560&h=315]
The Voice: Florence and the Machine
The long unruly locks, the histrionic vocals, the sense of bombast and literary notions: few artists betray the influence of Bush like Florence Welch. She may be the heiress apparent to Bush's legacy as the queen of art-pop. On "Dog Days Are Over" and "Shake it Out," Welch captures the same kind of ecstatic release as Bush did on "Running Up That Hill" and "Hounds of Love." Welch proves that hits can be hip.
[youtube https://www.youtube.com/watch?v=iWOyfLBYtuU&w=560&h=315]
Fashionista: Lady Gaga
Gaga's hunger for celebrity may seem in direct opposition to Kate Bush's near-agoraphobic behavior for the three decades preceding her sold-out string of U.K. shows.
Still, the queen of the little monsters pushes fashion boundaries (meat-dress, anyone?), harkening back to Bush's own legacy of costumery. Gaga's audacity in writing "The Manifesto of Mother Monster" also seems like something of which the English singer might approve.
[youtube https://www.youtube.com/watch?v=DaZ006Aglc8&w=560&h=315]
Lone Wolves: Chelsea Wolfe/Zola Jesus/Grimes
This new crop of artists are a few generations removed from Bush's heyday, yet display her continuing influence. In the near-operatic vocal squiggles of Grimes we hear the theatricality Bush personified.
Zola Jesus occupies a space on the darker end of the spectrum, marrying gothic aesthetics to a lo-fi sound.
Chelsea Wolfe pushes the envelope even further, integrating metallic elements into her sound. The approach earned her a coveted spot on a Game of Thrones promo.
All three of these ladies model the same kind of steely-eyed self-possession that made Bush such a sensation.
[youtube https://www.youtube.com/watch?v=LGouEbnpd_k&w=560&h=315]
English Roses: Bat For Lashes/Carina Round/Imogen Heap
Bush was true witchy woman, and that aspect of her appeal must be in the U.K. water supply. Natasha Khan, otherwise known as Bat for Lashes, combines cool detachment with electronic experimentation. Sexwitch, her new project, runs with the Celtic priestess vibe Bush pioneered.
Eclectic solo artist Carina Round has toured with the likes of Annie Lennox and Tears for Fears. On her quieter numbers, Round's voice is a calming presence, much like Bush on Peter Gabriel's "Don't Give Up."
Imogen Heap, a woman of eccentric dress and expansive ambitions, shares Bush's love for the grand statement and monomaniacal studio control. From studio construction to obsessive self-documentation, Heap is a creative wildfire.
[youtube https://www.youtube.com/watch?v=JmYG012MsOg&w=560&h=315]
Piano Women: Amanda Palmer/Tori Amos/Fiona Apple
The image of Bush playing a grand piano remains iconic. Laura Nyro and Carole King may have come first, but Bush made piano-bench-poise a look and a statement of purpose.
These three artists all entered into renown in front of the 88. And if Amos was the most obviously Bush-influenced, both Apple and Palmer have followed in her footsteps with iconoclastic (and occasionally baffling) artistic choices.
[youtube https://www.youtube.com/watch?v=dyE2MLq24OE&w=560&h=315]
Kindred Spirit: Jane Siberry
Collaborator of both Peter Gabriel and Brian Eno, Siberry dropped fully formed into Canadian public consciousness in the early '80s. In fact, it's easy to think of Siberry as the Great White North's answer to Bush.
Like Bush, she took years off between releases but has been on a creative roll as of late.
Siberry also gets Bonus Bush points for once staging elaborate concerts, complete with headset mic and choreography. But this restless artist marches defiantly to her singular esoteric rhythm, now touring mostly solo and earning the respect of KD Lang in the process.  
[youtube https://www.youtube.com/watch?v=QfZzkhfz89c&w=560&h=315]
Don't You Know You're Queen? Perfume Genius/Rufus Wainwright/Antony and the Johnsons
These three artists—who grapple with issues of sexual and gender identity—all bear the hallmarks of Bush's influence.
Mike Hadreas, the brainchild behind Perfume Genius, uses his glammed-up image and music as tools of both attraction and repulsion. The vocal/piano compositions that first brought Perfume Genius notice show that art-school flair works across the chromosomal divide.
Despite his love of opera and theatricality, Wainwright possesses less of an obvious connection to Bush. However, the Montreal-born singer/songwriter has both piano chops and humor to spare—both very much in keeping with Bush's template.
Anohni, singer and focal point of Antony and the Johnsons has one of those rare voices, like Bush's, which evokes an emotional response through its timbre alone. Words become secondary to Anohni's delivery, which softly commands attention.
[youtube https://www.youtube.com/watch?v=Z7OSSUwPVM4&w=560&h=315]
Boi Wonder: Big Boi (Outkast)
One might guess that Andre 3000 would be the Kate Bush fan in Outkast. Actually, it's the less flamboyant Antwan "Big Boi" Patton who touts the U.K. singer whenever and wherever. Patton calls Bush his dream collaborator and has been known to rock a "Babooshka" ringtone.
Musically, Big Boi's ceaseless sense of adventure echoes that of his idol; the hip-hop producer even collaborated with the Atlanta Ballet on a show entitled big.
[youtube https://www.youtube.com/watch?v=rWsvkW6rKkQ&w=560&h=315]