For almost any occasion, an iPhone functions as a decent timekeeping device, as it's always within an arm's reach and it always tells the accurate time. However, that reasoning can quickly fall apart when said iPhone is lost, stolen or simply misplaced.
Such was the case for me, a twenty-something who has used my phone as a stand-in for a watch since I was in middle school. But that was before I left my phone behind at the office Christmas party and struggled to be on time for the subsequent 12 hours, which required my attendance at other parties and an early morning workout class. It was then that I realized it was time to invest in a big girl watch. And nothing would do but a Gomelsky.
First of all, I adore the name of this female-focused watch collection from Shinola. It sounds like the name of a smart, cool girl who wears gold wire-rimmed glasses, is well versed in ancient Greek literature and modern day politics, but also sidelines as a DJ. She's someone who throws a killer party and also handwrites thank you notes. Basically, I want to be this person.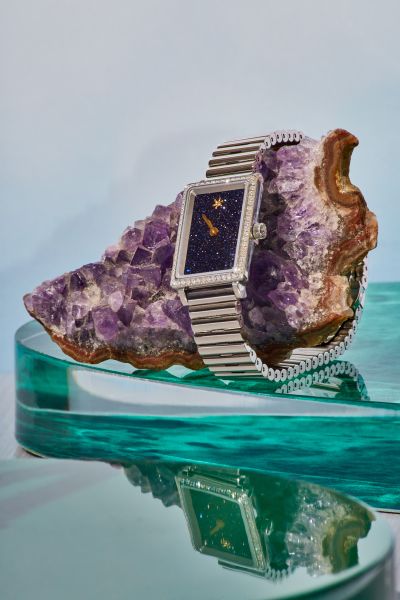 I also really like how Shinola describes the Gomelsky collection. According to the Detroit brand, it's all about "a female-focused luxury timepiece that celebrates the women in our lives who are defined by their spirits and not by what they wear."
However, I would not be upset if someone chose to define me by the rectangular Shirley Fromer on my wrist, particularly one that features a retro gold bracelet and a malachite stone dial, a combination that can only be described as groovy. Surely one would assume that I am cool, based on the round Agnes Varis style, which features a millennial pink mother of pearl dial, a tan alligator strap and not one, but 12 baguette diamonds.
Even some of the less complicated styles could woo me, like a sleek 32mm round gold dial with a stainless steel, featuring dashes of gold in the place of numbers. Or the chunkier 38mm Grace Lightfoot, with a yellow mother of pearl dial and some chunky gold hardware.
Needless to say, the Gomelsky watches are both timely and timeless, and they will hopefully keep me on time the next time I have a tech issue.