Rock's legends are as static as rock, inert faces from folk tales told by your fathers and mothers, sputtering to life to make soggy pop and B+ blues and being hailed for their vitality, like Buzz Aldrin doing a cameo on a sitcom. Leave them on Golgotha, I say, honor them in myth and death.
Then someone hands you a telescope, and you examine the skies above and beyond the crosses. You find a star system of magical music.
You find a band that utterly commands the last 40 years of artistic rock, without question or peer; you find a band, generally thought of as an "underground" act, who need to be spoken of in the same ecstatic and epochal tones used when we discuss the Beatles or Pink Floyd (or, more recently, U2 and Radiohead). You find a band that's made records of superlative quality and depth for five decades, and beyond every possible expectation and precedent, continue to do so.
You find Wire.
Here is a band whose enthralling sense of aural sensuality, hypnomesmeric rhythm and lilting melody gives them one foot in the world of Branca and Terry Riley, and another in the world of chanson, bubblegum and the most chest-purring folk; here is a band whose have a consistency, a near-perfection in their craft, that is almost literary, much less Beatles-esque.
Wire's first three albums, Pink Flag (1977), Chairs Missing (1978) and 154 (1979), are three of the greatest albums of all time.
What made these albums nonpareil was a blend of concept and execution.
The concept, in very rough terms, was this: uniquely amongst the first-generation U.K. punk acts, Wire were not influenced by Dr. Feelgood, Mott the Hoople, the Kinks, the Stones, the Dolls, and Mick Ronson. Instead, they used the basic "idea" of punk—barre chords, minimal soloing, (frequently) hurried tempos, urgent or abbreviated vocals, enormously basic rhythm section—and applied it to music that was informed by Krautrock, Soft Machine, pre-Dark Side Floyd (both the Syd Barrett era but more pertinently the spatial Mettle/Umma Gumma variety), Third Ear Band, Amon Duul II, etcetera.
[youtube https://www.youtube.com/watch?v=tNVdziest58&w=560&h=315]
Wire then applied a consistent structural ethos: streamlined, taut, embracing beauty but adoring clean lines, it resembled the ideas of Bauhaus (the art/architecture movement, not the band) and the Neue Sachlichkeit movement of roughly the same period ("Neue Sachlichkeit" translates, very roughly, as "New Matter of Factness"). Indeed, Wire '77 – '79 were brilliantly matter-of-fact, something you can't say about virtually any other art rock band.
Wire then matched this theoretical stuff with remarkable execution: precise, roaring but compact, whirring and tick-tocking, as a rule they refused to play any unnecessary note or deliver any superfluous lyric. It was punk rock that was virtually detached itself from the chaos and slobber of punk rock.
I am not going to describe the contents of Pink Flag, Chairs Missing, or 154 in any depth. Let's just say that the first album is a loud skeleton, the second cracks the skeleton and fills it with some flowers and tears, and the third album disassembles the skeleton, lays it at the center of an empty operating theatre, and takes a step back, nodding sagely.
And then, after these three releases, Wire broke up, or in actuality, went on hiatus. They got back together half a decade later, and they've been an ongoing project, with some hiccups and breaks, since then (this is an oversimplified description of Wire's spells of inactivity and activity, but what's most important for us is that they've been together more-or-less continuously from 2011 to the present).
And then, starting in 2012, they did it all again.
In the last three and a half years, Wire has released three albums (2013's Change Becomes Us, 2014's Wire, and the recent Nocturnal Koreans) that equal the astonishing quality level of their first three.
As I said, they did it all again.
[youtube https://www.youtube.com/watch?v=CWyij_m08U0?list=PLveuZX7euwEcIPR68inwQ5Ofyypz9YZ3l&w=560&h=315]
"That's what I think," Colin Newman, Wire's primary vocalist and co-guitarist, told the Observer. "And I think the world is catching up with us."
Stop for a moment and consider Wire's achievement. What if Paul McCartney, back in 2003 or 2005 (I am adjusting for equivalent age, y'see), made three straight albums that were inarguably as good as Rubber Soul, Revolver, and Sgt. Pepper's? Honestly, aside from Scott Walker, I can't think of another artist who returned to their full creative stride over 40 years after they started.
Is Newman aware of how notable this achievement is? Does he know how rare and good Wire's recent work is?
"Of course," Newman says. "When you reach a certain age, you become like another kind of minority. I would say people like us—three members of the band are in their 60s—can be classified as being like gay people, or black people, or women, though women are actually the majority, but…and you have to engage with that mindset. So you have to prove—over prove—that you're able to do the job. And it's a challenge. And Wire is laying down a challenge."
"And the challenge is, the heritage industry is appalling. All it does is drag rockers back from wherever they've got to, brings them back, sticks them up on a pedestal for five minutes where everyone looks at them and goes, 'Oh, they're not as good as they were when they were younger.' And that's it. Now, Wire is by no means perfect, and since we're individuals, it can be quite difficult to negotiate being in the band, but I think that the ambition has to be very high, I think it has to be about making the best possible records that we can."
Colin Newman has also just re-released his first three solo albums: A – Z(1980), provisionally entitled the singing fish (1981), and Not To (1982).
"I have to admit I don't feel particularly close to them right now," Newman notes. "I'm quite critical as a person; I'm really mainly interested in new things, I'm actually working on the next Wire record right this moment, I'm sitting in the studio."
Then why re-release them now?
"Basically, now is just convenient. I'll be quite honest, and say that I'm releasing them because I can. I have a friend who works for Beggar's Banquet, and about three or four years ago he said, 'Y'know, Beggar's are letting some of their artists have their old catalog back, physical, and vinyl.' And I thought, 'Yeah! I can put that out at some point.' Next year is Wire's, y'know, 19 billionth anniversary, so if I don't get it out this year, it probably will be 2018 before it gets out. So that explains the timing. This just fits into my schedule, really."
[youtube https://www.youtube.com/watch?v=i-eH45_Xq9Q?list=PLcjYhoIioUH4WqeY2CLSP6FAl_HDsmmVg&w=560&h=315]
1982's provisionally entitled the singing fish is the most fully realized and satisfying of Newman's early solo albums. Made up of 12 tracks (all titled "Fish," but with numbers after the word) it's an epic, in its own way, of restraint and passion. Rather then sounding like an aside to his or Wire's career, it has a gravity that makes it stand very much on its own. Singing fish brings Erik Satie into the Wire age with a healthy nod towards Krautrock, and it's a delightful and fascinating record.
(I would go out on a limb and say that singing fish and It Seems, a 1988 album that's not included amongst the current re-releases, are the most essential of Newman's solo material [Ed: Agree to disagree—A-Z is incredible in its own right]. It Seems is fresh and compact and memorable, and although it may turn some people off due to its largely synthetic instrumentation, it finds Newman really pushing his naked melodicism and intimate tone come to the forefront as they do in perhaps no other place except for Pink Flag. And like a Wire album, It Seems goes from strong track to strong track.)
But then I peeled the onion even more. Or, rather, the onion unfurled for me, and I discovered that over the last few years, Newman (almost completely in collaboration with his primary collaborator and wife, Malka Spigel) has released an extraordinary body of music under a variety of names. This trove of artful, deep work not only fully stands on its own apart from Wire, but also underlines the genius of the Wire aesthetic.
[youtube https://www.youtube.com/watch?v=1a3xydscqw4?list=PL3QXy7ii8hOpWZQDnaTbWjW39via-cKKn&w=560&h=315]
Immersion, comprised solely (in the studio) of Newman and Spigel, has evolved hugely since they started recording over 20 years ago. Often, their earlier albums (i.e., the three they made in the 1990s) sound like really cool stuff you came up with while fooling around with your Nord or Yamaha and that you might later decide to turn into a song; although listenable and full of great bits of small, whumpy candy, I wouldn't say that anything Immersion did at this stage was particularly indispensable (though it would work great in a coffee shop).
But that all changed with this year's Analogue Creatures EP and the subsequent full-length, Analogue Creatures Living On An Island.
On these releases, Spigel and Newman not only joyfully embrace the echoing, sighing, pulsing, deep-blue dream environment that is the trademark of Wire and Spigel's recent solo releases (more on those shortly), but they extend this spirit into a charging, nearly Stereolab-ish meditation on energy and ambience, with subtle psychoacoustic touches and repetitive elements falling around the mixes like stardust and autumn leaves.
"We keep adding in very little pieces," Malka Spigel says in her rich Israeli accent. "You almost don't notice that they're there when they come in, but you find yourself immersed in more things, things you didn't even notice when they came in."
"It's in the name," adds Newman. "It does what it says in the name. Immersion!
"It probably has to do with us, too. We're not just a couple. We work together. And we work together in an intimate kind of way, we spend a lot of time together in general, we don't live separate lives from each other. The 'immersive moment' is actually about us—about how we are together."
[youtube https://www.youtube.com/watch?v=24LW4lKHOVk?list=PLC-1r6IMkogz6xGwpc0tqRtflCRvwhB3X&w=560&h=315]
Analogue Creatures Living On An Island is one of 2016's best albums, and a pretty good entry point to the Newman-verse for someone who may be coming from a more mainstream point of view (in a certain way, the Immersion records may be the most accessible work Newman has ever been a part of).
Next, let's address Gliding, Malka Spigel's wonderful 2014 solo release, produced by Newman.
Gorgeous, lushly-layered, gliding (it does what it says in the name!), at times Spilka's most recent work sounds like the Feelies covering Tangerine Dream; other times it brings to mind the winsome spring/autumn melodycholy of the Go-Betweens interpreted by Air.
Maybe a simpler way to put it would be to say, hey, imagine Bowie's "Heroes" played by a seriously morphined-up Wire who had just finished listening to a lot of "What Goes On" by the Velvet Underground but took a break to talk about—not listen to, but talk about—1980-era Leeds punk rock. Wait, Tim, that was the simpler way? Well, why yes, in my mind it was.
[soundcloud url="https://api.soundcloud.com/playlists/33138521″ params="auto_play=false&hide_related=false&show_comments=true&show_user=true&show_reposts=false&visual=true" width="100%" height="450″ iframe="true" /]
If you love the idea of blending winsome, almost chanson-like melodies with the metronomy of Krautrock and the cooly orchestrated guitars of Wire or the Feelies, dear GOD you will love Gliding. More people need to know about this record.
Spigel's earlier solo releases are often quite good, too, but they can seem like a rough sketch for the enchanting work that emerged on Gliding and Every Day Is Like the First Day (also 2014, a full-length which resembled Faith-era Cure playing Sunflower Bean demos after taking a lot of Benadryl.)
Let's also say a few words about the uniquely Israeli/Belgian Minimal Compact (Malka was their bassist and co-vocalist). Minimal Compact displayed a great deal of diversity during their lifespan ('81 – '88), but the tweet-length description of Minimal Compact is that they sounded like Young Marble Giants trying to cover Delta 5 and Joy Division, with occasional dips into Chelsea Girl/Desert Shore territory, and it's clear Spigel was empowered as a vocalist by Nico's deeply emotive mixture of aching melody and dry drone. (That was way too long for a tweet, actually).
Githead, yet another Newman/Spigel project (which also includes members from Minimal Compact and Scanner) have recorded erratically since 2004. They often sound like Newman's early solo work wed to a light-touch post-punk. Githead hit their stride (at least to my ears) with 2009's Landing and 2014's Waiting for a Sign.
[youtube https://www.youtube.com/watch?v=8N15hV7idiA?list=PLHxGQ54kUTeDvmyI0XzvxXOvsw9mf60xQ&w=560&h=315]
On these records, Githead seem to abandon concept and instead luxuriate in the same mix of churn, chime, melody and metronome that defines the best work of Spigel, Newman, and Wire. Yet Githead differentiate themselves by engaging in more adamant rhythms, more traditionally post-punk bass figures, less layering, and (occasionally) spitting guitars that recall early Wire.
Githead's Art Pop (2007) is probably "better" than any post-154/pre-Red Barked Tree Wire album (and it's somewhat reminiscent of 2008's Object 47), and if you follow Wire, you'll probably understand that last sentence; if you don't, I hope you drifted off into a stimulating and gentle place, not unlike the far West Village on a very early mid-spring morning, when you can hear the drone in the distance of the garbage trucks rumbling up Sixth Avenue, and the highest leaves in the trees over Barrow Street are just beginning to catch the pink gold of the morning sun.[i]
So what's next?
"Next year is going to be a big Wire year, " Newman says, "but one thing we're going to try to work out, and we may well succeed in doing this, is to actually get Immersion to America to play. This is the new thing with Immersion—Immersion in the '90s never played live, Immersion in this age does actually play live. With Wire you have to plan everything quite far ahead, but with us, we are quite spontaneous. I mean, why was this last Immersion album made? Because Malka came to America last year when we played Chicago, and then we flew together to New York, and bought a synthesizer! [Laughs] It didn't feature very big on the record, but still…"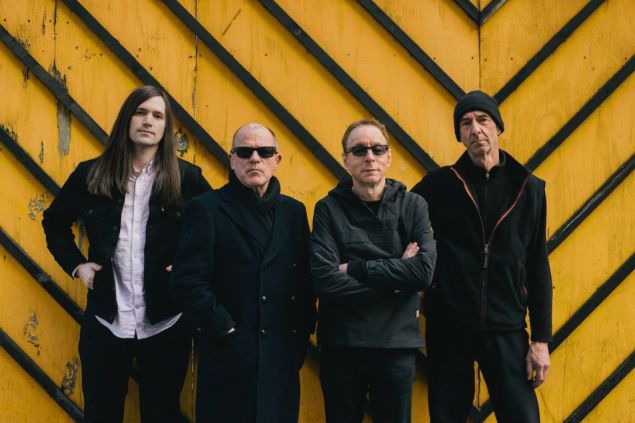 And as for Wire?
"The first of April 2017 is what we are counting as the official 40th anniversary of the band. That's the first date of the classic line-up. Wire did exist as a band before that, but we became Wire at that point, that's the first gig, the first time a band that you would recognize as Wire played, at the Roxy, and that gig has been recorded for posterity. And we will mark that date in a pretty big and meaningful way, but I can't really say anything about that at this point."
"And the new album is going to come out on the closest Friday to that—March 31. There will be an anniversary release of Pink Flag sometime next year, too, but I don't know much about that, someone else owns that—we will promote our own records in our own way. It's too bad we aren't on Skype because then you'd see me smiling when I say stuff like that."
[i] Let me take a moment to discuss some of the post-1985 Wire albums I didn't address in the above, Big Takeover-esque piece. Although it was made after their 2010 renaissance, I don't include the wonderful Red Barked Tree in the exalted "group of three" because it lacks some of the sonic gravity and consistency of Change Becomes Us, Wire, and Nocturnal Koreans.
On Red Barked Tree, it's as if Wire were almost there (following the far more disparate, and occasionally downright frustrating work the band released on eight albums between 1987 and 2008); clearly, they were ready to embrace the more compact dimensions of their earlier work while making more of a deliberate effort to create something of distinctly high quality; this might be a nice way of saying that there's not a single not-great track on the last three Wire albums (a quality we also find on the first three), but Red Barked Tree contains a few songs that are "merely" good.
(I also think it's fair to say I have no special affection for the techno-driven period of Wire, epitomized by the work they released between 1989 and 1991. This era seems more concept-driven, as opposed to the pure joy and sonic sensuality they revel in on their non-electronic-driven work. On the other hand, I admire its perversity, though this culminates in the ensemble's two least listenable albums, 1991's The Drill and The First Letter, released the same year under the name Wir.)
***