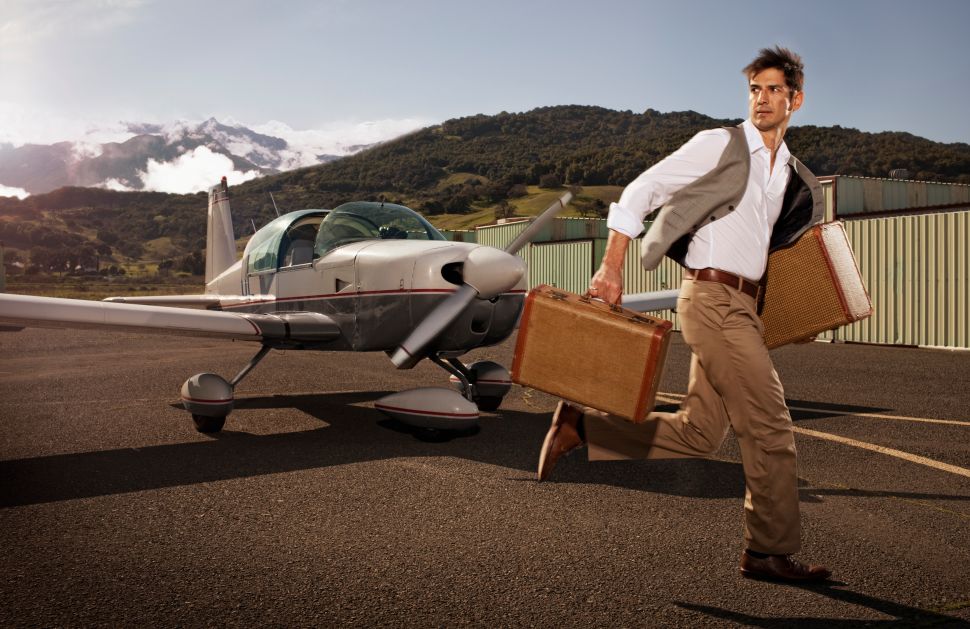 As I wandered through college, I dated a gorgeous aspiring actor, Dustin. I fell in lust with him as he died playing Mercurio in a crappy black box theatre on campus, in a sadly misdirected production of Romeo and Juliet. He would rehearse monologues non-stop in my dorm room. Annoying and endearing at the same time. His goal was to move to New York to be an actor and we shared daydreams of a creative life in the city.
Then abruptly, everything changed. Dustin decided that he would become an anesthesiologist. His father was one, so it made sense. This decision happened literally overnight and along with it came a completely different, cold outlook. I assumed this seemingly impulsive move was due to some major argument with his rather dominating parents. Dustin refused to share what  exactly was said or what happened. It was almost as if someone had lobotomized him. He went from being a creative and outgoing guy who would recite Shakespeare sonnets to me in the grocery store, to someone who seemed resentful of anyone who had aspirations  in the entertainment industry. I was one of those people. Since I wanted to do something creative with my life, I was looked at as "irrational." When I tried to question him about his choice to leave his acting dreams behind, he was defensive.
"It's completely impractical. What are the odds I'd make it, as an actor? A degree in performing arts guarantees nothing except waiting tables."
"You're not even going to try?" I said. "You don't know unless you try."
"I'm not talking about this. It's unrealistic." He ended the conversation, and a few weeks later, our relationship ended as well. I was told by mutual friends Dustin had met a nursing student. I moved to New York and tried my hand at acting, and got completely sidetracked. Years went by, I found him on social media. I was married then, and he had married the nurse and became that successful anesthesiologist that everyone wanted him to be. Their profile pictures painted the perfect happy family. Their wedding looked like an insert from Bride magazine. Her hair in a perfect updo with baby's breath accenting it as she wore some southern looking wedding ball gown. Complete with a huge house in Charlotte, North Carolina. They had four children, a golden retriever; the only thing missing was a white picket fence. They were the model suburban Facebook family. She was a stay at home mom who made overpriced handmade teddy bears that were sold on Etsy. He and I exchanged superficial pleasantries over Messenger. I would look at his profile often and wonder what my life would have been like had I been more of a submissive girlfriend. That wasn't me.
As my marriage unraveled. I would look at everyone's profile and wonder. Was any of it real at all? Because what appeared on my profile certainly didn't match up to the reality of what was really going on. Does anyone have a life that perfect?
It had been several months since I left my ex. It wasn't uncommon to get a late night message from some drunk guy I had gone to high school or college with, telling me they were now single, offering to come console me in New York. I would decline.
As soon as a message from Dustin appeared in my inbox at 10:30 pm, my heart selfishly leapt. I immediately knew what it was going to say. He was now a member of the divorce club as well! I let him do most of the typing. After 12 years of marriage, couples therapy and other tactics that didn't work, he said he was finally moving on. "I have to put my son to bed. Lets finish this conversation later this week." he said. "You've been on my mind a lot."
Of course I began to romanticize about a relationship with Dustin. Some men come with children. You're being considered for not only the role of a girlfriend, but mom material as well. You have to win over the kids, impress his parents, the grandparents, even the ex-wife and her family, to a certain extent. Was I ready to take on four youngsters? I stepped on the gas and accelerated possible scenarios in my head with Dustin. Maybe it could work.
He could come to New York and see what my life was like. We'd have an amazing weekend together, he would fly me to Charlotte. I wouldn't meet his kids immediately, we'd wait at least three to four months for that, but wait…kids?! Four of them. Under 10 years old, young and impressionable. I envisioned picking them up, after day care, or school, or whatever it was that children do, in a Mercedes SUV with a frappucino in hand. I would be the cool girlfriend that would take them to McDonalds after school because his ex-wife hated McDonalds.
Other mothers would gossip and say, "Dustin's new girlfriend from New York is so gorgeous and intriguing. We should have her come over with the kids for a playdate!" We'd all sit in the backyard and drink sweet tea, and talk about PTA meetings and other mom things. We could organize a garage sale together, discuss carpooling. Surely there would even be another fill in mom type figure there, and we could bond over our faux children. Hopefully I'd be accepted, and then join Junior League with the rest of the ladies and everything would be fucking fantastic.
I snapped out of my ridiculous daydream. What is perfectly normal in New York City, or any large city, is completely abnormal anywhere else. Was I expected to censor my life and pretend like I was someone I wasn't? Everyone has a past that be accessed with a few clicks online. As checkered as mine had been, it helped me to become the person I am today, so why would I be ashamed of the obstacles and weirdness that caused my life to become the oddity it is.
Although Dustin said I was on his mind, in what capacity? Was it simply for an escape from his life, by entering mine with no real promise for something long lasting? The thought of a relationship with him suddenly seemed like a surefire path to a life that Kate Winslet and Leonardo DiCaprio struggled through in Revolutionary Road. Dustin squelched his dreams long ago, and had tried to do the same to mine. I rebelled then, and why would I change my ways now? If his parents brought him up to not go after what he really wanted, is that how he would expect his children to be raised?
I've never had baby fever, but maybe it's because I have yet to meet the right partner, even then who knows how I would feel about it. Debbie Harry once said something such as, "You realize you'd be a good parent, but as soon as you do, you're too old to have children of your own."
I was mentally exhausted after thinking about all of these things. I realized that I had spent 45 minutes playing out my life in North Carolina with Dustin. If the thought of all of the pressure exhausted me, It simply wasn't going to work out. It was decided I would be friendly, I'd be there for him as a friend if he wanted. As usual I had completely let my imagination run away with me. Whatever Dustin was thinking about me, must have been fleeting, or maybe he played his own scenario with me out in his head as well. I left it alone, and I didn't hear from him again. So in my mind it was an amicable breakup to something that never even began.