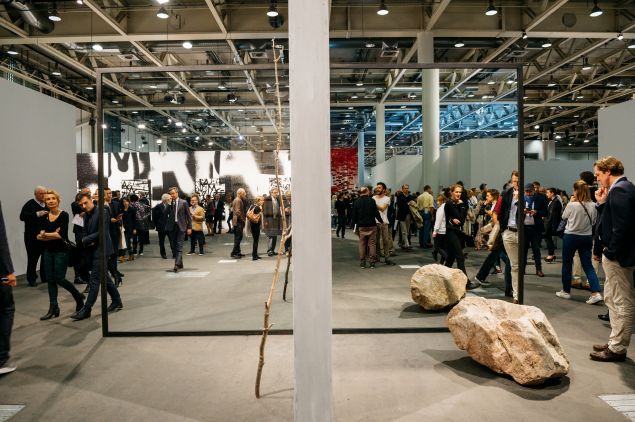 "Ving Rhames mother fucker, Ving Rhames!!," she yelled, in the apotheosis of a set that included removing a pink butt plug on stage and depositing it squarely in her mouth.
She is Christeene Vale, an evocative (to put it mildly) drag performer who opened last night for Charliewood, a less charged act that nonetheless included nudity and a lot of fake hair. Think "yeti cancan." Christeene was more like "Karen Finley meets Iggy Pop with a slight beer belly" (she was an enthralling presence, for the record).
It's Art Basel Miami Beach, mother fucker, and if there wasn't a performance like this we'd all go home with a bad taste in our mouths (?) (Don't think on that too long…).
Last night's performance at the Faena Theater was a reprise of Charliewood, a performance by Paris-but-soon-to-be-Los-Angeles-based Charlie Le Mindu, which was presented at the Palais de Tokyo earlier this year. He asked Christeene to open for him. To you know, tenderize the crowd.
Christeene's obscene (in lyrics and movements) rap songs were intercut with advice: "Use all your holes. Your holes are crying." "Ask yourself what the fuck you're doing in this fucked up city."
Christeene and Le Mindu met through their mutual friend Peaches. Not a drag queen of that name but the one of Fuck the Pain away fame.
Le Mindu has known many a celebrity, and is, frankly, tired of dealing with them, he told the Observer before the performance.
"It's like window shopping," he said, though perhaps the metaphor was lost in translation (Le Mindu's native tongue is French). "I got bored working with celebrities." Before embarking on his career as a fine art provocateur/ performer, he did Lady Gaga and Lana deal Rey's hair, going on tour with both, he said.
His work functions as a sort of living interpretation of the surrealist artists who inspire him, Le Mindu said. He admires the work of Max Ernst, Mauricio Cattelan. While telling me this he repeatedly stops to admonish someone flat ironing a wig of silver hair he will later don. And of course, he probably does know how to do it better.
Are his performances entirely choreographed? "yes, yes," he said. "Except for the Chicken Lady. Chicken Lady is NOT choreographed… There is a Chicken Lady."
The main act featured ballet-trained dancers, mostly topless, in cancan like reveries that slowly degraded into more grounded, frenetic undulation, all set to a sort of looping industrial track that would crescendo with the lights and dance in a sort of orgasm. The numerous chapters included one with a wheel-chair-bound topless ballerina, one with two dancers, one each with a gigantic ear and a gigantic nose, respectively, covering their heads, and one modern cancan performed by sort of neon yetis whose multicolored hair sprouted from their black unitards, rendering them headless dystopian clydesdales, kind of. (The audience seemed bored by the latter…when there are boobs out for 9 out of 10 songs, people develop expectations, I guess.)
What's next for Charliewood? "Charliewood is an inspiration of Dollywood," Le Mindu said. "I really like theme parks. I think one of my dreams is to have my own."