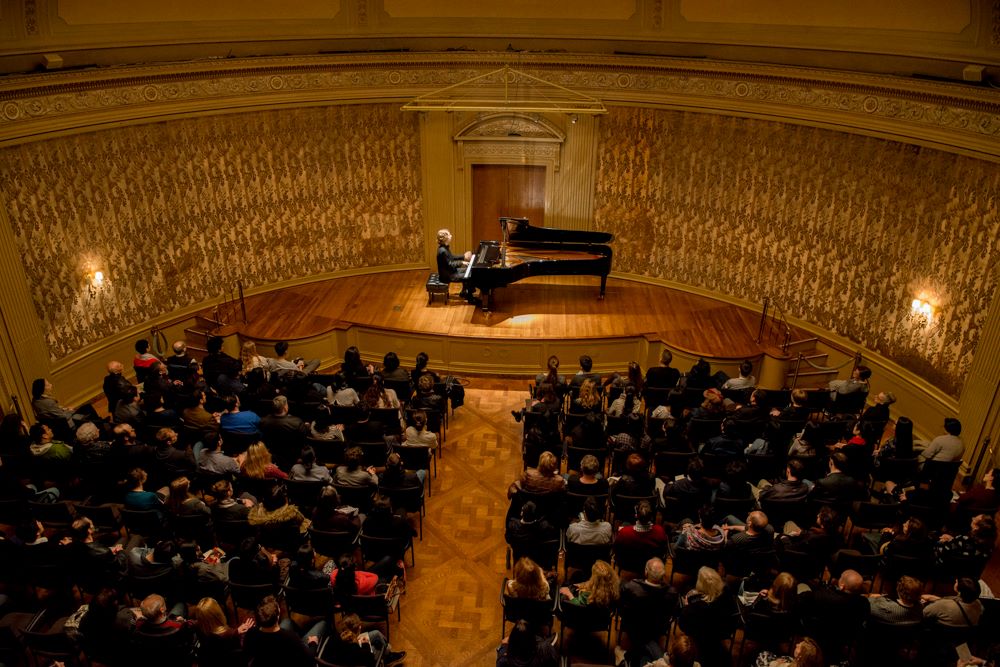 Much has been said of Henry Clay Frick by many people.
Alexander Berkman, the anarchist and would-be assassin, called him a monster. The editors of the Britannica Dictionary call him a philanthropist. One supposes that Mrs. Frick thought well enough of him, but more germane to this article are the observations of art historian Colin Bailey, who tells us that the industrialist, before he made his fortunes, borrowed $10,000 from the Mellon Bank to buy works of art.
The agent that granted the loan remarked that Mr. Frick "…may be a little too enthusiastic about pictures." Hence, the beginnings of the magnificent Frick Collection at 70th and Fifth, one of the finest museums in the world, and since 1938, host to one of the most distinguished music series in the world.
The greatest artists—Wanda Landowska, Gregor Piatigorsky, Artur Schnabel, the Guarneri String Quartet—have given concerts at the palatial Frick mansion in an oval concert room, built after his death. For decades, the concerts were offered free of charge as the tradition continued; one simply wrote for tickets in advance, and they were reserved on a first-come-first-served basis, although museum patrons could arrange preferential treatment. Now that there is a nominal charge, capacity audiences still celebrate one of New York's greatest cultural treasures.
Its brilliance has been maintained and enhanced for the past 34 years through the management of its elegant and deeply discerning concert director, Joyce Bodig, who seems to have an unerring sense of what the best music is in the world, and what her knowledgeable public has come to expect.
In a recent conversation with her, she revealed to me some of the secrets of upholding a tradition of superlative performances in the midst New York's declining tastes, attitudes, and ticket sales, where our Philharmonic Orchestra has been known to play Beethoven as an accompaniment to a Disney film, and the Metropolitan Opera has been known to produce Broadway shows and "cross-over" productions.
"You have to love your product to be successful, and I do," Bodig told me.
Her love of classical music developed through collecting recordings in high school and college days, having grown up in a home that was not particularly interested in such things. "I studied voice and piano and was a proud member of the Dessoff Chois for many years. It was there I met my husband, a great music lover, and fine musician, who guided me in my work at the Frick until his death 18 years ago."
Her music-loving husband was also an executive at Mobile Oil Company, and an expert in early music. "I've always been good at business, and got my training in the business of music by managing the Dessoff Choirs. I learned to negotiate contracts, deal with temperamental artists, arrange rehearsal schedules, and attract audiences."
She brought theses skills into play at the Frick Collection and has single-handedly staged a renaissance of the concert series, developing a vital audience, diverse in age and background, through higher visibility in the media and imaginative programming.
"With a proliferation of smaller halls throughout the city, such as Zenkel Hall, Alice Tully Hall, and the Walter Reade Theater, the Frick Concerts are no longer a relatively exclusive venue for solo recitals and chamber music," she says.
"You have to love your product to be successful, and I do."
Bodig's programs have attracted one of New York's most discerning audiences: no cellphones to be seen (or heard), no rustling of programs, no cellophane candy wrappers. Instead, an intense silence falls over the house once the music begins.
Although she has no specific template for each season's series, there are the usual solo recitals, chamber groups and string quartets, but there is always something new and innovative.
Often the Frick Collection Concerts hosts the debut of artists who already have distinguished careers in Europe. Pianist Dejan Lezic, for example, debuted at the Frick and was subsequently invited to perform at the Mostly Mozart Festival; the Vienna Piano Trio, which also debuted at the Frick, was subsequently invited to perform on the Great Performers series at Lincoln Center.
Ensembles of unusual composition also frequently appear on the Frick's schedule. The Brazilian Guitar Quartet, who opened the current season, is a case in point. Made up of two six string guitars, and two with eight strings, they produced a phenomenally rich and varied sound, and their repertoire of Spanish and (apart from Villa Lobos) virtually unknown Brazilian composers, was no less than spellbinding.
Joyce Bodig's secrets of success, are the same old secrets. Work, the courage to take risks, artistic discernment, expert management, and above all, deep love and dedication to music have firmly placed the Frick Collection Concerts at the top tier of New York cultural life.
Click here for the full schedule of the The Frick Collection's 2017 concerts.