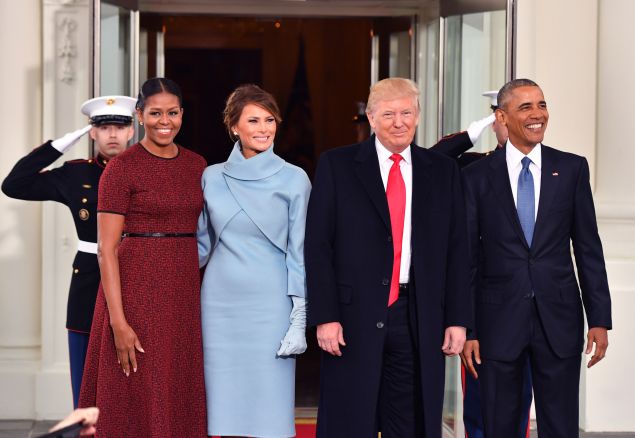 It was a gray, damp day in Washington DC when Donald Trump was sworn in as the 45th president of the United States. However, the clothing choices worn by the major female players offered a colorful respite from the weather.
While there are plenty of details to discuss about the day's events, let's just take a look at what the most important women chose to wear for this monumental occasion…
Melania Trump
In a nod to Jackie Kennedy, the new First Lady wore a '60s-inspired getup for this big occasion. Well, to be completely frank, her outfit looks nearly identical to the one that Kennedy wore to her husband's inauguration in 1961.
Trump was dressed in a powder blue Ralph Lauren jacket and dress. She committed to the color from head-to-toe, incorporating her gloves and her satin Manolo Blahnik pumps into the monochromatic scheme. The double-faced cashmere getup featured a wrap jacket with a standup collar and three-quarter sleeves; underneath she wore a mock-neck dress.
She was rumored to wear a piece by the American designer; on election night she chose a black jumpsuit from the same label.
Hillary Clinton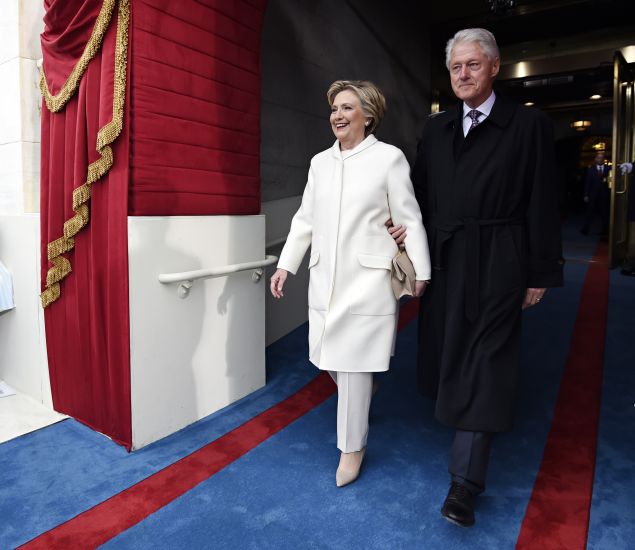 Though Hillary Clinton wasn't rocking a victory outfit, she still looked polished and professional for the inauguration. She also chose to wear Ralph Lauren, but opted for a white pantsuit. The color choice seemed to be a nod to what the suffragettes wore to vote and was in direct contrast to the black suit she wore to make her concession speech on election night, which was also from Ralph Lauren. The white could, at times, read as cold and frosty, especially when paired with simple nude accessories and massive pearl earrings.
Underneath her shawl collar coat, Clinton donned a collarless button-front jacket and a pair of straight trousers. This monochromatic look was powerful and effective, and proved to be strong armor for the unsuccessful presidential candidate.
Ivanka Trump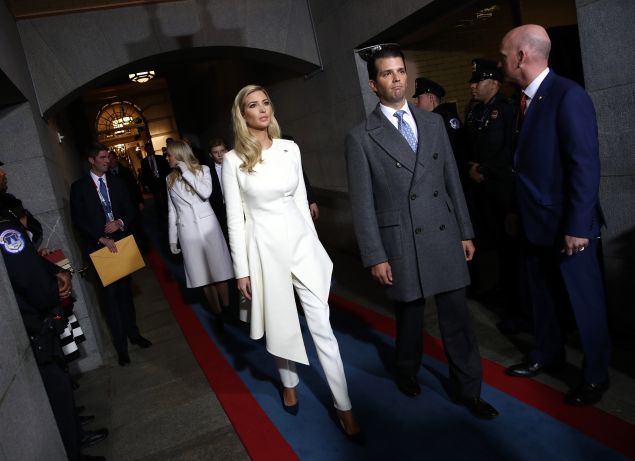 The edgiest of the bunch at the inauguration was doubtlessly Ivanka Trump. She wore a pantsuit from Oscar de la Renta, which included an asymmetrical jacket and a pair of slim trousers. Along with this white outfit, she chose a pair of pointy black pumps and accessorized simply with an American flag pin.
Earlier this week she showed support for the American brand when she wore an emerald green Oscar de la Renta dress, to make her official arrival in Washington DC with her young family in tow.
Tiffany Trump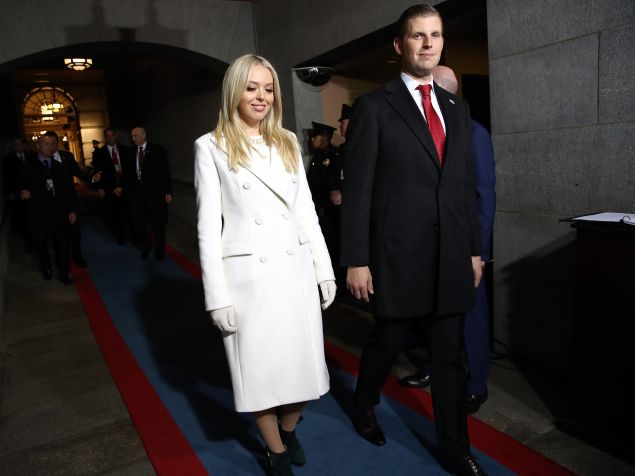 White really seemed to be a trendy color for this event, as Trump's youngest daughter also chose to wear the neutral hue for the inauguration. Tiffany Trump's double breasted coat was designed by Taoray Wang, a young Chinese designer she is often photographed wearing. In fact, the young Trump daughter wore a dress from Wang to the first presidential debate on September 27.
Oh, and according to an email from the designer's publicist, the exact hue of the jacket is "winter white."
Michelle Obama
Ever a champion of young homegrown talent, the former first lady wore Jason Wu for her last day at the White House. In a deep red, with black accents, her long coat and dress combo was the boldest look of the day. Her fit and flare short sleeved dress, which she belted at the waist, certainly spoke louder than all of the other white outfits worn.
Obama was also one of the only leading ladies who changed from pumps into suede boots for the actual swearing-in ceremony. And who could blame her, as this was definitely a warmer choice.