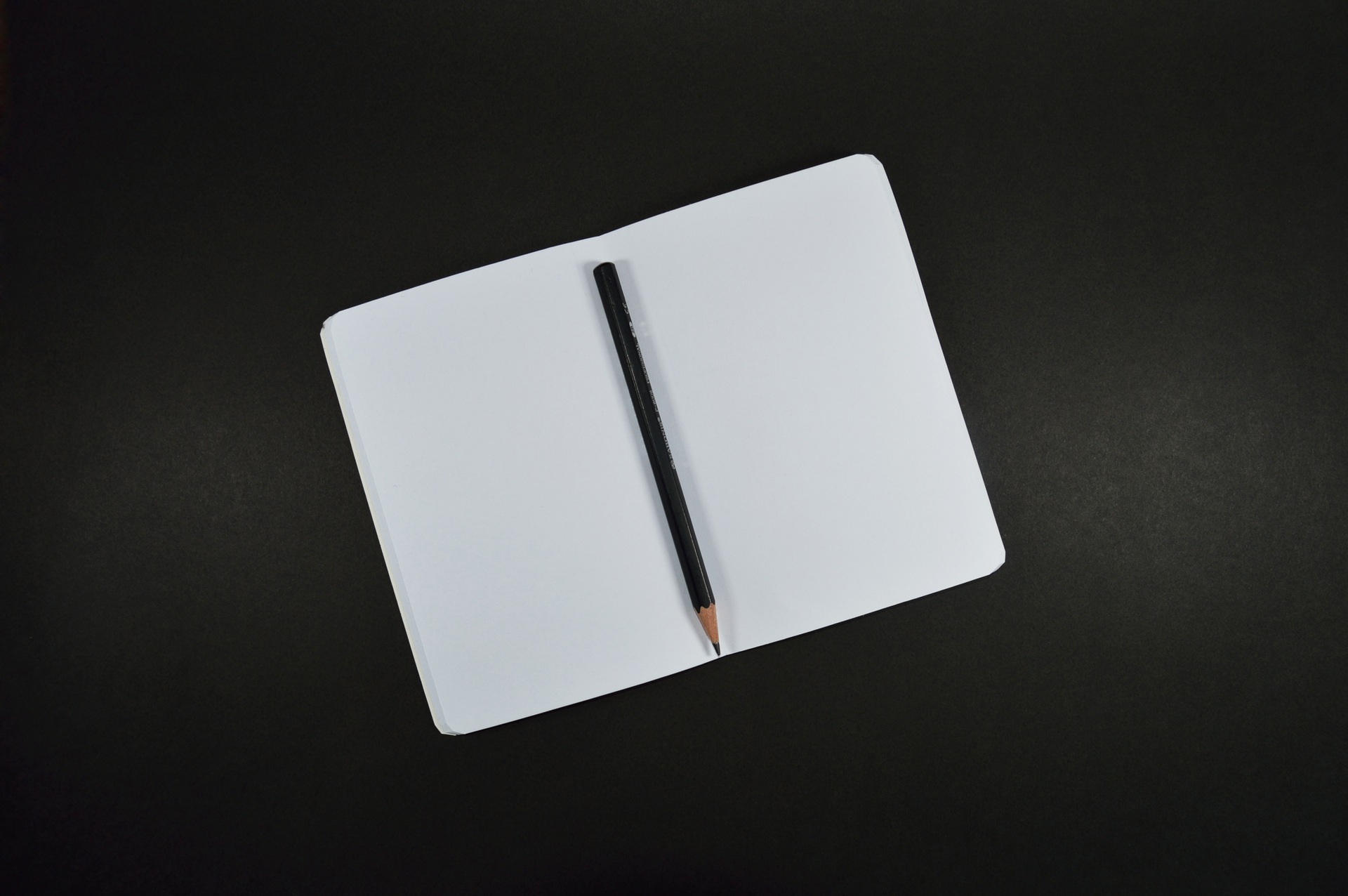 First of all, I'd like to wish you a progressive 2017. May it be one of new adventures, growth and happiness.
The underlying philosophy to trading is:
Keep it simple
Let price dictate
Apply patience
Trade the trend
Ignore the news.
All too often, trading is made to be far more complicated than it needs to be through cluttering charts with the over-use of technical indicators instead of focusing primarily on price.
The most commonly used technical indicators are lagging and so trying to use a plethora of them to predict what price is going to do next is very much a false economy.
Many then take this once step further by trying to predict tops and bottoms with the intention of trading reversals instead of letting price dictate a trend direction and then trading in the direction of the established trend.
Added to this, the already over cluttered charts are cluttered even further through trading the noise of news. The premise of this is to often want to copy the way the big dogs trade. This again is a false economy as they have billions to trade with when most private traders start with £1,000s. They also get the news early and so it is factored into the markets by the time we, the private trader, hear it.
We do want to be aware of how the big dogs trade so that we can take advantage of the market. We do not, however, want to trade like them. We must have a different, more smarter and more relevant approach for us as private traders.
This whole time-consuming and stressful approach to the markets is fueled by the desire for quick riches and instant gratification with very little success. Applying patience and embracing that a trend and hence growth of an account happens (exponentially and effortlessly once you embrace compounding) over time is very little appreciated and understood.
So let's strip away at all of this and get back to the core of what good trading involves.
The market does three things:
It either goes sideways, known as a consolidation or a range.
It goes up, known as a bullish trend.
It goes down, known as a bearish trend.
We learn how to identify what market we are in through the use of moving averages, the previous year's annual levels and support and resistance. This is all explained in more detail in The Almost Complete Guide To Trading eBook. Details on how to receive it are below.
In short:
Price is our main indicator.
Support and resistance levels are our leading indicators.
Moving averages are our lagging indicators.
When we know what market conditions we are in, we can take the necessary steps:
If the market is consolidating, we stand aside and do not trade. A good trader always has her focus on capital protection and lets the profit take care of itself.
If the market is in trend, we look to place a trade. We first, however, need to identify what trend structure we are dealing with in order to determine the use of the appropriate strategy. A good trader has several in her arsenal.
Trend structure is broken down into 2 waves:
A fast moving wave where a breakout strategy is the most appropriate to use due to the lack of good pullbacks. Good pullbacks may appear and traded on once significant levels of support and resistance are broken but these are few and far between.
A slow moving wave where both a breakout and a pullback strategy can be strategically used.
A key point to note here is that by applying patience and letting a trend establish itself first, you can identify what trend you are dealing with and act accordingly.
Here are some examples of current trend structures in the market.
The first is the daily chart of the GBPJPY which is in a fast moving trend followed by the pullback to the daily 200sma. As mentioned above, pullbacks can happen when major levels are broken.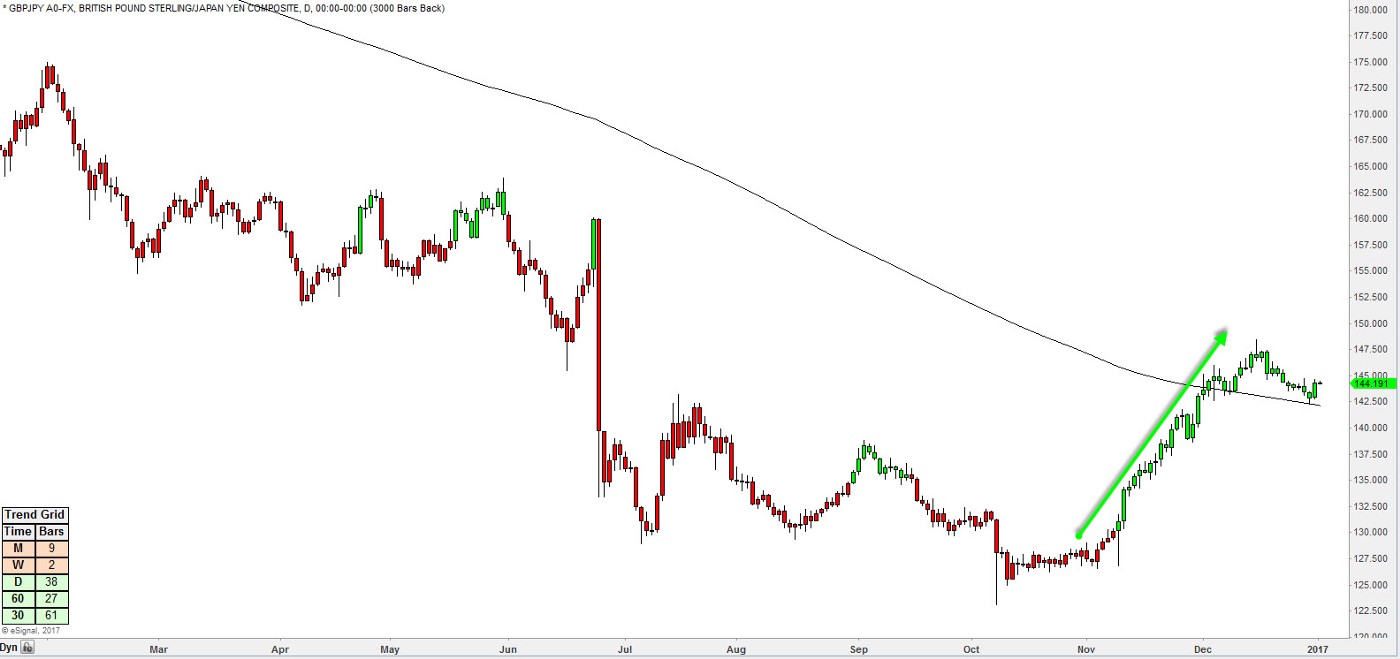 The second is the daily chart of the USDCAD which is in a slow moving trend. The deep pullbacks are clearly visible and the angle of the trend is shallow compared to that of the GBPJPY.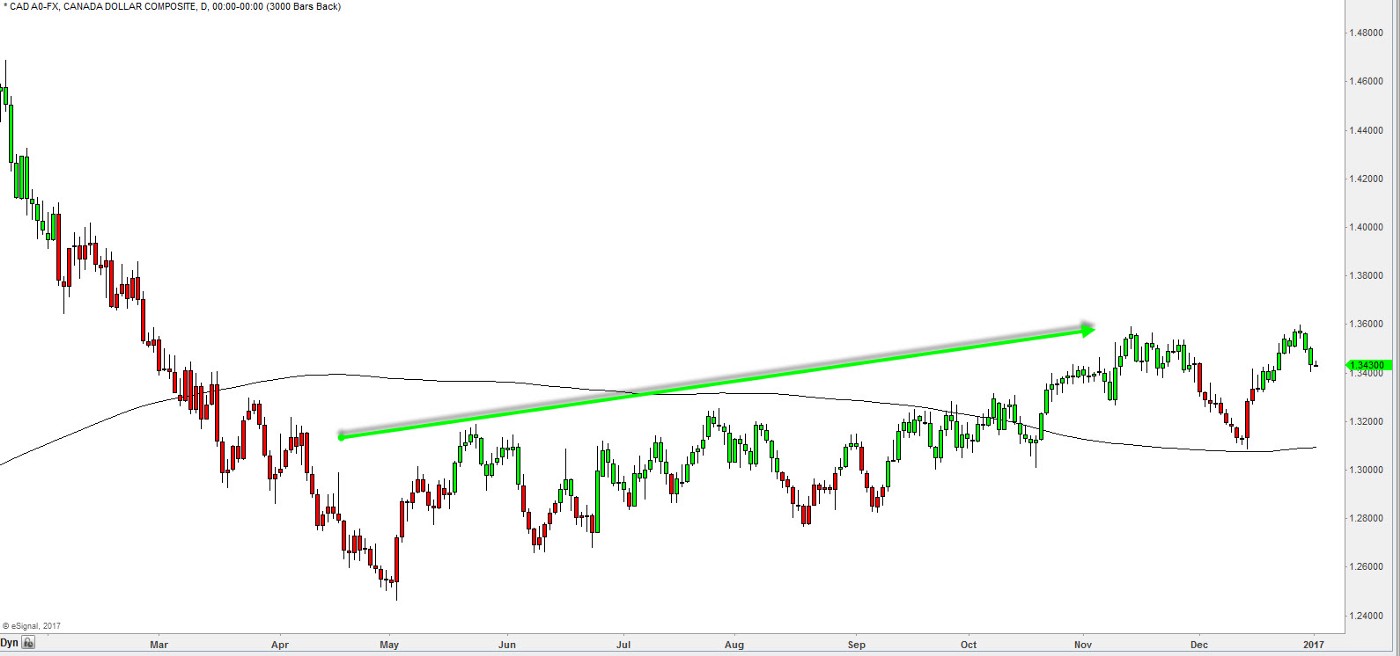 The third is the daily chart of the stock of NVDA. This is very much a fast moving trend where the pullbacks are short-lived. Will the pullback to $100 offer a pullback entry?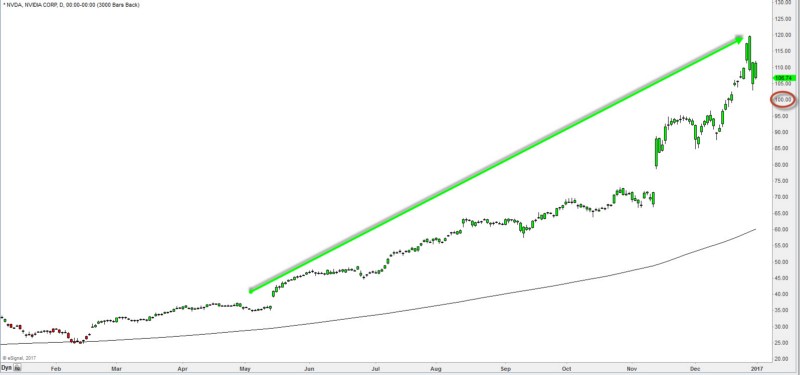 The final chart is the daily chart of the stock of AMAT which is very much in a slow moving wave structure when compared to NVDA.
(As a side note, fast and slow moving trends can be the structure of both bullish and bearish trends.)
As your understanding of price deepens further, a good trader can anticipate what trend structure may emerge. For example, generally after a lengthy period of consolidation, a fast moving trend may appear. A fast moving trend, followed by a deep pullback or consolidation can often be followed by a slow moving trend.
Based on the above, I have multiple positions in play on the stock of NVDA all taken on breakouts. I am keeping myself open to adding another position if price pulls back further to $100, If not, then a break and close above $120 and I will most-likely add on a breakout.
AMAT and the USDCAD both have trades running on breakouts and I am letting price dictate whether to add further positions on either breakouts or pullbacks.
I have the GBPJPY on my watch list for a possible entry above 150. If this fast moving trend resumes after bouncing off the daily 200sma, I will look to also trade this on breakouts.
Change your approach for 2017. This year is not about defeating the market. This is not a battle. If you choose to have this approach, there is generally always only one winner. NEWS FLASH: IT IS NOT YOU!
Instead, 2017 is about bringing a zen-like approach and aligning yourself with the market. Be at one and you will be handsomely rewarded.
Call To Action
eBook: If you want Anne Chapman's trend trading eBook titled "The Almost Complete Guide To Trading" then please DM me your email or send me an email. My address can be found below.
Training Course:  Contact me regarding a month of online training.

This includes:
Training on technical analysis from a trend trading perspective
A pullback and a breakout strategy
Access to a live community of full time traders and like-minded individuals
Access to some of our cutting-edge tools
Live weekly Sunday webinars where we prepare for the week ahead
Scanned watch lists and training in FX and Stocks saving you £1000s.
A grounding in compounding / risk management / exit management / entry points / stoploss calculation and management / portfolio management
A trading plan
Access to some of our cutting-edge tools
An advanced trade log to track your trades
A significant discount on eSignal subscription
This is value, training and support you will not find anywhere else and which can be followed with the option of bespoke 1–2–1 training.
For more details and to register, please use the following link: https://www.trendtrader.pro/apprentice/
Smart trading!
Zaheer Anwari
Twitter: Zaheer Anwari
Facebook: CityTraderLifestyle
LinkedIn: Zaheer Anwari