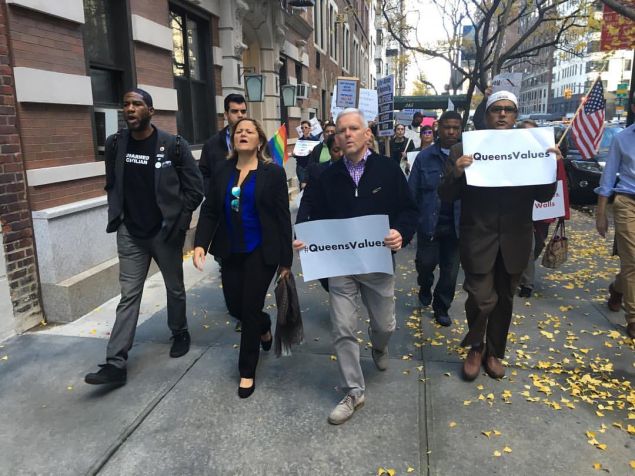 The Observer's reporters aren't the only New Yorkers headed to Washington, D.C. for President-elect Donald Trump's inauguration.
Even with dozens of Democratic lawmakers—including seven from the Empire State—deciding not to attend the swearing-in of the next commander in-chief, a number of our prominent city, state and national elected officials and politicians as well as activist groups will be turning up in the citadel of democracy to protest, rally and march. Others will stay in the five boroughs to voice their opposition to the president-elect's most controversial proposals, like a registry for Muslim citizens and deporting millions of undocumented immigrants.
In case you've spent the last several weeks trying to process the idea that a reality TV star and failed casino magnate is about to become president of the United States, the Observer put together this handy little guide to let you know where the city's biggest politicians and activists will be tonight, tomorrow and the day after that. Assuming there is a day after that.
Enjoy!
NEW YORK CITY:
NEW YORK CITY RALLY AGAINST TRUMP
Mayor Bill de Blasio, Rev. Al Sharpton, Public Advocate Letitia James and Councilman Ydanis Rodriguez will join the likes of Michael Moore and Mark Ruffalo at the "We Stand United —NYC Rally on Night Before Trump's Inauguration!" on January 19 at 6 p.m. outside of the Trump International Hotel & Tower in Columbus Circle. The rally, which will tie in organizations like MoveOn.org and Greenpeace, will emphasize civil rights and the environment
Families USA, New York Communities for Change, Make the Road New York, Planned Parenthood of New York City, the Working Families Party and the New York State Nurses Association will also take part, along with actress Shailene Woodley, actress Rosie Mendez, and actor Alec Baldwin, who has impersonated Trump on the campaign trail for Saturday Night Live.
STANDING TOGETHER, UNITED AS ONE
Congressman Adriano Espaillat, who said he is skipping the inauguration, is hosting the "Standing Together, United As One" community event on January 20 at 11 a.m. at The Malcolm X and Dr. Betty Shabazz Memorial and Educational Center. James is also giving a speech at the event.
CIVIL DISOBEDIENCE AT TRUMP TOWER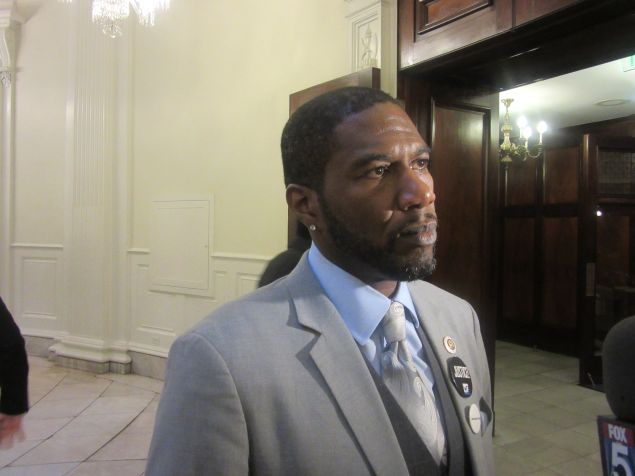 Councilman Jumaane Williams of Brooklyn will hold a #ResistFromDay1 press conference and rally—which he describes as a civil disobedience action—on January 20 at 11:15 a.m. at Trump Tower. The action will express opposition  Trump's Cabinet nominees, the GOP plan to repeal the Affordable Care Act, Trump's proposed immigration policies  and his designs for a national stop-and-frisk policy.
State Senator Marisol Alcantara; Councilman Carlos Menchaca Kirsten John Foy, Northeast Regional Director of Sharpton's National Action Network; gun violence prevention advocate K. Bain; and clergy from Churches United to Save and Heal are all confirmed New York City participants.
Detroit Councilwoman Mary Sheffield will be leading a similar, simultaneous civil disobedience protest in the Motor City. Councilor Beth Knowles will do the same in Manchester, England.
OCCUPY INAUGURATION NYC
NYC Democratic Socialists of America, 15 Now NYC, NYC #Movement4The99% and Socialist Alternative, NYC are hosting "NYC Stand Against Trump: Inauguration Day Rally & March" on January 20 from 5 p.m. to 11 p.m. at Foley Square. The leftist groups will decry the deportation of immigrants, healthcare cuts, police brutality, hate crimes and encroachments on women's and workers' rights. The Metropolitan Council on Housing, Occupy Kensington, Socialist Students and Fight Back Bay Ridge are also participating.
WOMEN'S MARCH ON NEW YORK CITY 
Alcantara, Manhattan State Senator Liz Krueger, Brooklyn Councilwoman Laurie Cumbo, Bertha Lewis of the Black Institute and staff members from the New York Immigration Coalition will participate in the Women's March on New York City—a sister march of the Women's March on Washington organized by the Human First Society—on January 21 at 10:45 a.m. at One Dag Hammarskjold Plaza. The march will end at Trump Tower.
The sponsors of the march, which is expected to draw more than 76,000 people from the five boroughs, the tri-state area and cities and towns across the United States, include the Center for the Women of New York. The School of Visual Arts is a partner.
WASHINGTON, D.C.
ANSWER COALITION INAUGURATION DAY PROTEST 
The ANSWER (Act Now to Stop War and End Racism) Coalition, a national organization founded in 2001 to fight prejudice and violence domestically and globally, will lead a protest on Inauguration Day against war, racism and inequality and in favor of immigrants and workers' unity on January 20 at 7 a.m. The main stage will be at the Navy Memorial on 8th Street and Pennsylvania Avenue, and the secondary stage will be at the west part of Freedom Plaza on 14th Street and Pennsylvania Avenue.
THE INAUGURAL #TRUMP420 
DCMJ, an advocacy organization that helped legalize marijuana in Washington, D.C. in 2014, is hosting the inaugural #Trump420 on January 20 where people will gather on the west side of Dupont Circle at 8 a.m. for coffee and tea and hand out 4,200 joints of legally grown cannabis as they parade down to the National Mall at 10 a.m. At four minutes and 20 seconds into Trump's inauguration address, they will light up—unless Trump comes out in full support of full marijuana legalization in all 50 states and Washington, D.C.
#DISRUPTJ20 
The DisruptJ20 activist network is holding a series of events throughout Washington, D.C. on January 20, including the Queer Resistance on J20, a queer anti-inauguration party at a security checkpoint, at 6:30 a.m. at McPherson Square Park; the Movement for Black Lives #J20 Resistance at the Inauguration—a combined movement of Black Lives Matter DC, Baltimore BLOC and the Movement for Black Lives—at 7 a.m. at MPD Police Headquarters; the "Festival of Resistance: March Against Trump" at 12 p.m. at Columbus Circle to reject forms of hate and oppression such as racism, sexism, transphobia, Islamophobia and ableism; and "Preparing for the Trump Era: What Anarchists Are" on January 21 at 5 p.m. at The Festival Center.
WOMEN'S MARCH ON WASHINGTON
City Council Speaker Melissa Mark-Viverito, Congresswoman Nydia Velázquez, Congresswoman Yvette Clarke, Congresswoman Grace Meng—the latter three all said they would not attend the inauguration—and staff members from the New York Immigration Coalition will be among the many, many participants anticipated at the Women's March on Washington, which which organizers expecting will top more than 200,000 attendees, on January 21 at 10 a.m. It will step off at the intersection of Independence Avenue and Third Street in Washington, D.C. near the U.S. Capitol. And Manhattan Borough President Gale Brewer is personally sponsoring a bus to take volunteers to the march.
Among the national co-chairs are prominent Arab-American activist Linda Sarsour, executive director of the Arab American Association of New York and founder and CEO of MPower Change, and activist Tamika Mallory, who served as the youngest executive director of Sharpton's NAN. Another national co-chair, Carmen Perez, is the co-founder of Justice League NYC and executive director of the Gathering for Justice, a nonprofit founded by singer-advocate Harry Belafonte. The honorary co-chairs are Belafonte, Dolores Huerta, Gloria Steinem and Ladonna Harris.
Singers Katy Perry, Cher and Solange as well as actresses Rowan Blanchard, Olivia Wilde, Scarlett Johansson and America Ferrera—who is chairing the artist table for the march—and members of the cast of Orange is the New Black are participating in the march as well.
INAUGURATION WOMEN'S STRIKE 
National Women's Liberation claims to have recruited 5,000 women in New York, Florida, California, Oregon and even from the Caribbean, Latin America and Europe to strike from January 20 to 21 from both paid and unpaid work to stand up for women's rights in light of the anti-women rhetoric from Trump on the campaign trail.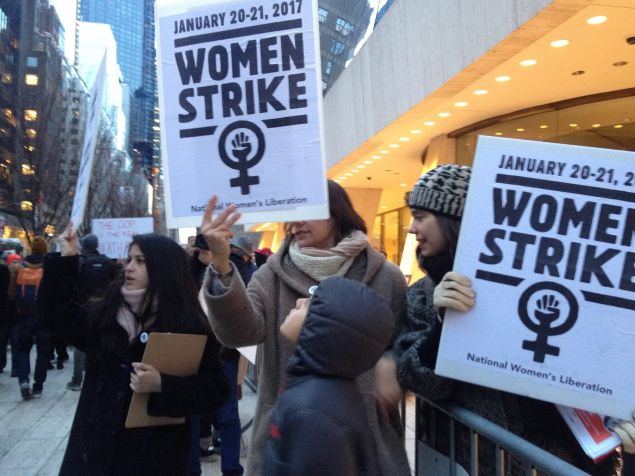 The strike's demands include a national healthcare system, a $15 minimum wage, paid family leave for at least six months, free childcare and full-access, coercion-free reproductive freedom. The organization has strike delegations participating in the Women's March on Washington, the Women's March on NYC and sister marches in Gainesville, Fla; Tallahassee, Fla.; and Tennessee.
OCCUPY INAUGURATION
Dr. Jill Stein, the Green Party's presidential candidate, is participating in Occupy Inauguration, a mass rally and protest along with the left-wing Progressive Independent Party. The aim is to build a third party movement to break the "stranglehold duopoly of the GOP and DNC." The event kicks off on January 20 with a rally at 9:30 a.m. at Malcolm X Park, with Stein speaking at 10 a.m. There will also be a march at 12:30 p.m. at McPherson Square.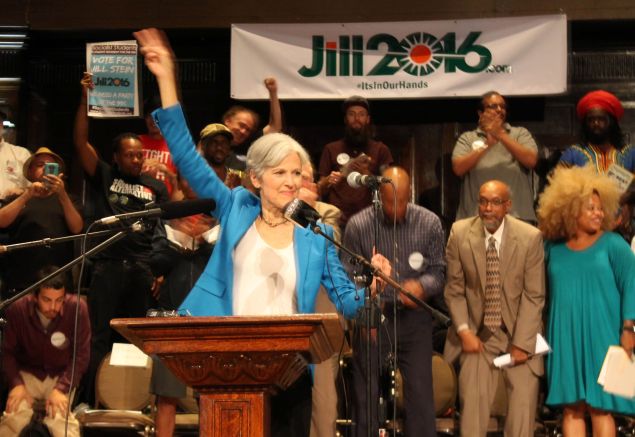 On January 21, the second day of Occupy Inauguration, Stein will speak at the "Inaugurate the Resistance" event at 5:30 p.m. at the Alma's Temple. Seattle City Councilwoman Kshama Sawant; Truthdig columnist and activist Chris Hedges; Tim Canova, who unsuccessfully primaried Florida Congresswoman Debbie Wasserman Schultz; and Chase IronEyes, a member of the Standing Rock Sioux Tribe, will also be speaking.
Stein will also be speaking at an anti-war/anti-nuke protest on January 19 at 6 p.m. at Franklin Square Park and hosting an "Inaugurate The Resistance" online teach-in/forum in a Green News Network/Facebook Live session on January 21 from 10 a.m. to 5 p.m. Stein will appear at 10 a.m., 11:40 a.m., 2 p.m., 3 p.m. and 4 p.m.
This guide has been updated to include the activities of Congressman Adriano Espaillat, Congresswoman Yvette Clarke, Councilman Carlos Menchaca, DCMJ and the Disrupt J20 activist network.