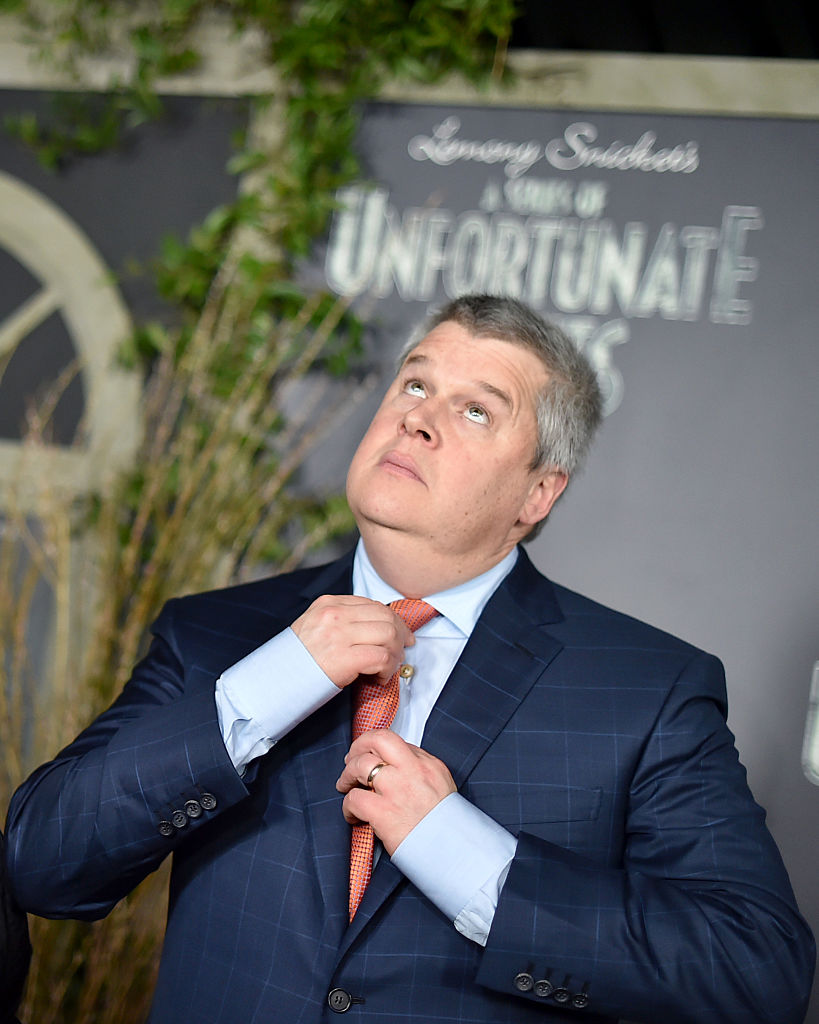 On Friday, January 13, Netflix released all eight episodes in the first season of A Series of Unfortunate Events, the show based on the novels written by Lemony Snicket. But the real man behind the curtain is Daniel Handler, author of four books under his own name and seventeen as his mysterious alter ego.
Series of Unfortunate Events was already adapted once, in 2004, as a film starring Jim Carrey (and famously overrated actress Meryl Streep). Barry Sonnenfeld had originally been attached to direct, and Handler wrote the first nine drafts of the screenplay, but bureaucratic shuffling ousted both men from the project.
Although the film had been a reasonable hit, it wasn't quite successful enough to merit the sequels that had no doubt been envisioned. The franchise began and ended with a single film that squeezed three books into one movie.
But now, Sonnenfeld and Handler are back together, with Sonnenfeld executive producing and Handler writing scripts for a series that takes a more patient approach to the subject material: two episodes per book. The tone is macabre but whimsical, like if Tim Burton designed a kindergarten classroom, or if Basil Hallward's picture of Dorian Grey had been done in pastels.
As a fan who grew up reading the books, the Netflix show has felt like reuniting with a childhood friend. Everything I loved about Lemony Snicket on the page comes across on the screen remarkably well, no doubt thanks to "Lemony Snicket" himself.
Did you know you wanted to do another adaptation of Unfortunate Events after the film? Did you think TV was a more fitting medium?
Netflix approached me about doing this, and I was wary after what was a long and frustrating experience for the most part with the movie. So I was reluctant. But they showed me ways in which it could be done really well—and I hadn't paid attention to Netflix frankly so then I started watching their programming and paying more attention to the way they were structured. Piper Kerman is a friend of mine, and so it's been really wonderful to watch her experience [with Orange is the New Black]. I met her shortly before she went to prison—her husband and my wife worked together a very long time ago. When I first met her, she was my wife's friend Larry's girlfriend who's going to prison, and then we got closer and closer. It was so wonderful to see things happen with her show, so she was a great person to go and talk to about Netflix.
The hesitation I had was on like a bunch of TV shows where you set something up and then if you're the creator you might do a few things at the beginning and then you let a bunch of people go to town. This was going to be an adaptation of something very specific and very contained. It wasn't like, "Oh I have an idea for a cop show, and the creative team will set up a template and then we'll let a bunch of people write all the episodes." So that was my hesitation. It took some figuring out of exactly what would work but I think we figured it out.
And you wrote the scripts for the episodes, correct?
I wrote five of them, which was more than I thought I was going to write, but I think mostly because Barry Sonnenthal and I have worked together before, we work together very well and we are quite unguarded with one another in terms of criticism and communication and he needs some getting used to in the creative process. I'm sure he would say I take some getting used to in the creative process, but he's not here.
When you were writing the thirteen original books, did you know the entire V.F.D. mystery in advance, or did you make it up as you went along?
I had a framework in my head—one of the thrills of writing the Series of Unfortunate Events was to drop one shoe and then know I would have to drop the other shoe in a year or so, and try to figure out what it was. And sometimes I knew what it was and sometimes I liked improvising and that was a great deal of fun. In my other series, All The Wrong Questions, it was kind of the opposite where I wanted to work everything out very intricately before it was released into the world, and it's been interesting to make that adjustment to TV too because there are plenty of shows where people say, "Well we don't know! We don't know what's going to happen." And then the next season's writers have to figure out those threads. So I am neck-deep in writing season 2 of Snicket now and we are trying to make sure that we are not leaving anything that we're going to regret if we get to go even further.
For me, I always think a piece of culture that asks questions is more interesting than one that answers them, and so the mysteries that I left unsolved in A Series of Unfortunate Events I continue to get correspondence about from young people. It's going to be really disappointing for me if I solved everything such that no one was asking questions anymore.
So, are there certain answers that haven't been revealed? Is there an actual answer to what the Sugar Bowl is?
The mystery of the Sugar Bowl is clear enough that one that about reader a year writes me and has figured it out, and that fills me with pleasure. That makes me think it's not too obscure. If no one ever wrote me about it I would think, "Oh I didn't do it enough." But because one person a year who will write me and say, "I figured it out." The whole answer of the Sugar Bowl is solvable.
Were there any written scenes from the book that you knew wouldn't translate well to screen, or vice versa—scenes that you knew would look great visually that you hadn't written in the books?
There's a big climactic scene in The Wide Window in which they are decoding a secret note, and you can't have a camera perched over the shoulder of someone decoding a secret note for 20 minutes. But for the most part what was attractive to me was just adding some elements to the story, particular a kind of shrouded mystery that is only glimpsed in the early books that is much more explicit on TV, and I think that was fun.
The show also has musical numbers, which is something that couldn't exist on the page.
I think musical numbers and songs can do a really powerful thing where it's ridiculous and moving at the same time—that's what really good musical theatre can do, where you're crying, even though of course the idea of someone singing a song at this moment in their lives would be ridiculous. And I liked the idea that the season would have this finale song that's an anthem, which is ridiculous, but also moving and cuts through all the character, and we have a similar finale with season two that we're tweaking. One of the wonderful things about Mr. Harris is he is not at all put out when you say, "We're adding another musical number."
What else is it about Neil Patrick Harris that you think allows him to work well as Count Olaf?
Well, he was my idea, not to pat myself on the back. I watched him perform "It's Not Just For Gays Anymore" at the opening of the Tony's, I mean, I wasn't at the Tony's, I watched it like everyone else did, on their laptops three times in a row—but what I loved about watching him do that, and then began to appreciate in more of his work, is that it's serious and self-mocking at the same time. "It's Not Just For Gays Anymore" takes a bunch of pretty cheap shots at musical theatre, but it's also clearly a celebration of musical theatre—you'd never think for a minute that Neil Patrick Harris didn't love big musical numbers.
And I think a lot of his work does that. I think his being a rogue in How I Met Your Mother was like a critique of obnoxious male behavior, but you get your cake and eat it too, you know, so I began to think he would just be really good at being villainous, but also making fun of villainy, and you need both those things at the same time, and I think he is not afraid to be really creepy in this show.
A bunch of comic actors wouldn't want to do that—they would want to make sure there's a joke around at all time, and it was really fun, at last night's premiere, so watch the audience laugh, and then a wave of unease, and I can't believe they're showing this kind of thing happen, and that's really magical to me.
Is Patrick Warburton how you originally imagined Lemony Snicket?
He's so super. I fell in love with him in this movie called The Woman Chaser, which I seem to be one of the only people who has ever seen—it's an adaptation of a Charles Willeford novel, and it's beautiful.
So when we were talking about people for Lemony Snicket, the idea of a narrator has such strong personality, so all of these people who were being listed, oh my goodness, what if it was this or that, unbound by ethnicity and even gender but then we started talking about Patrick Warburton and everybody had a favorite Patrick Warburton role, and I said, I have the best one, and there's actually a few minutes of The Woman Chaser on YouTube, but those few minutes, Patrick Warburton is staring at the camera telling a story, he's a narrator. So when I showed it to them, it was like a trailer for the series we were working on. It was really great.
So are there any drawbacks to publishing your most famous work under a pseudonym?
I can't really think of a downside, it's quite pleasant. at the kind of height of Snicket-mania with the movie, I remember Paramount was flying me someplace and they said, "do you want to stay under a different name?" I thought, but I do stay under a different name!
I never thought my literary career would get any attention—I always thought I would be a shadowy cult-writer at best—and so what has happened to me has been such an unexpected boon and blessing in my life. I also have made the acquaintance of people who are super prominent in one field or another, and it doesn't look like an enviable position to me.
Who or what were the influences for the distinct style of A Series of Unfortunate Events?
I would say Edward Gorey and Roald Dahl were the big ones. Something of the Dorothy Parker tone for sure. There was a review of the Snicket books after a few years, in the times, that said I was the love child of Dorothy Parker and Edward Gorey, and I remember thinking, "I can retire now."