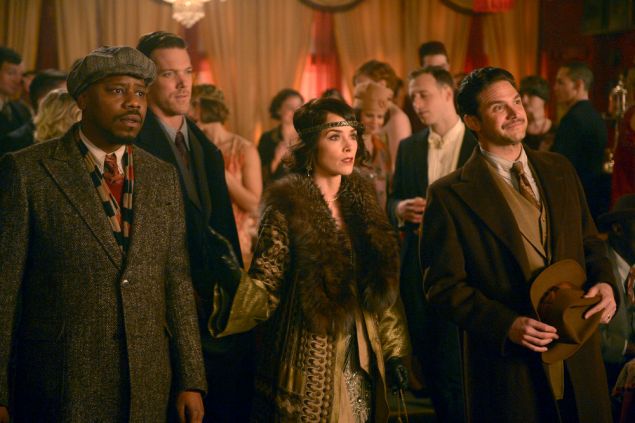 Welcome to our TV Fashion column, where TV Ate My Wardrobe's Emma Fraser discusses the trends in television apparel. This week: NBC's Timeless teaches us what to wear when traveling through time. 
Time travel on TV comes in many different forms with different rules and objectives. Sometimes the mission is to change one event in one specific time and then get home, hopefully to a place that is now better off thanks to this meddling. For others, it is about stopping someone from altering what has already taken place. The rules, methods of travel and locations vary, but generally the idea is to blend in as best as possible. Conflict tends to come from mistakes made by the time traveler and having all the knowledge of what the future holds can be as much of a help as it is a hindrance. Costume is a big part of selling the lie that this person is meant to be here and is a quick visual cue in making someone either feel suspicious or at ease.
On Timeless they have been to four different centuries (including the present day) and what they wear is an important part of establishing their cover story. There are certain limitations predicated by race and gender, which means that while they can challenge conventions there are certain rules they must abide by to protect who they are and where they are from. As a black man, Rufus is often the waiter/janitor/driver because of rampant racism and prejudice; they don't want to draw too much attention or put themselves in danger and even when he does wear a uniform in the Lincoln assassination episode there are issues because the unit badge he is wearing is one that doesn't exist. This is what happens when they get their clothes from a Civil War re-enactors club.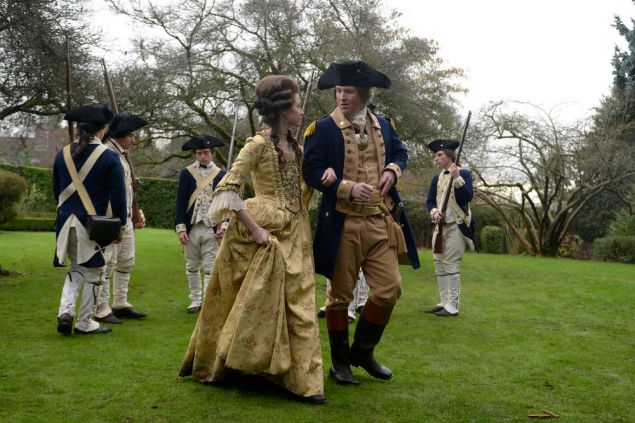 In the pilot episode, it is established that some of the clothes aren't exactly period specific as they are doing this on the fly with Lucy pointing out that the kind of blouse and bra she has been given would not be available in 1937. On this occasion, it was a bit of "Chekov's Underwire" as the modern bra gives them the perfect tool to escape from jail. Between this and that Friends episode where they get locked out of Phoebe's cab in the cold it seems like a bra with underwire is a very useful thing to have to get you out of locked door jam.
After these incidents, the amount of wardrobe available to them grows and in the fourth episode the costume department within the costume department is unveiled; racks and racks of clothes all labeled up with what decade and region they are from. It makes sense that early on there wouldn't be a great deal of prep, but as the missions stack up they can no longer rely on using whatever they have lying around and this should reduce the anachronistic errors that could cost them their lives.
This also feels like a nod to the hard work of the creative talent behind the camera and costume designer Mari-An Ceo has an incredibly difficult task each week; having to create costumes from wildly different periods for both the principal cast and the many background actors they often have. Sometimes this involves numerous military uniforms from wars long ago to dressing a bar full of people from the early '80s.
While suits have definitely evolved over the years and items like breeches and stockings are not familiar territory for men like Rufus and Wyatt, Lucy's clothing changes tend to be more dramatic. Hooped skirts and corsets are rather restrictive and cumbersome so in last week's Jesse James-catching affair it made sense to have her switch to a more menswear approach. This look is all about the layering and between this and Dolores' change of clothes on Westworld I have a hankering for suede and all things cowgirl.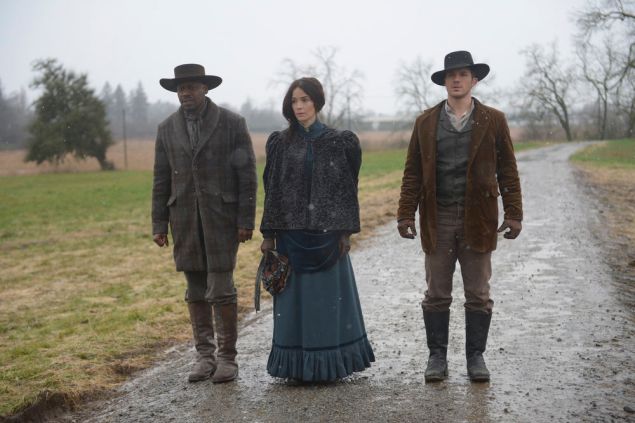 Because each week is a journey into a different period this means there is plenty of opportunity for style inspiration. More recent decades are the easier ones to draw from such as the canary yellow dress Lucy wears to Vegas in 1962 or her black and white polka dot ensemble at NASA in 1969. The leap between fashion of the '60s and Watergate, which took place in 1972 shows just how much bold things became and this is when the suits on the guys take a turn for the interesting. This is also the episode where Rufus and Wyatt employ my favorite pop culture covers of the series so far with Rufus choosing Kanye and Wyatt becoming Agent Mulder.
Everything '60s has been dominating period TV set in the twentieth century; mostly thanks to Mad Men with a dash of Masters of Sex, Good Girls Revolt and 11.22.63 (another time travel show). Of course, the 1980s are also a contender for this crown with The Americans, The Goldbergs, Halt and Catch Fire and the Black Mirror episode "San Junipero' making a strong case for this more recent era. Nostalgia is very much wrapped up in the '90s right now, but it is hard to concede that the time when I was a teenager is now period TV even if this is the case.
Lucy's present day clothes are pretty much in my style wheelhouse including a lot of basics and neutrals mixed in with striped sweaters and fantastic coats, but it is actually two of her pre-1960s outfits that are on my wish list. And they couldn't be more different; first to 1934 and hanging out with Bonnie and Clyde. Lucy's pink frock is super feminine and shows just how much looser dresses have become. This is the earliest date they have traveled to (so far) in the twentieth century and the leap between this and Lucy's Chicago World's Fair getup from 1893 is huge. Forty-one years is a long time in fashion especially when clothes and attitudes towards women changed as much as they did between 1893 and 1934. It is not the same as looking at 2017 and 1976 (because I would definitely still wear some stuff from then).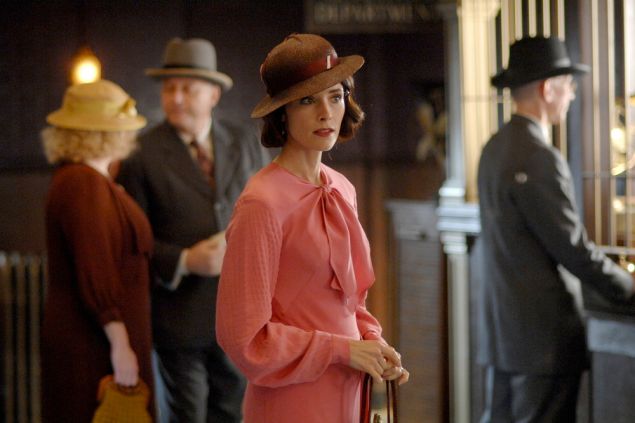 As you will have seen throughout this piece I have linked to Abigail Spencer's Instagram as she posts detailed images of pretty much all the period costumes and the pink dress photo comes with the original sketch by costume designer Mari-An Ceo. It is this level of behind the scenes information and acknowledgment of the talent behind the camera that can make Instagram a vital research tool.
The team is not just restricted to traveling within the United States and the other costume I want to highlight comes from their trip to Germany in 1944 during World War II. Lucy gets to play a Bond girl of sorts as they are working with writer Ian Fleming, but this is not the time or place for a jumpsuit and Lucy's all about the browns and tartans for this 1940s trip.
Previously I have talked at length about time travel TV with regard to Outlander and 11.22.63 and how both show the cyclical nature of fashion while also revealing how their versions of the past are an interpretation of it, rather than being a direct copy. I also mentioned how TV is the time machine that allows us to experience numerous periods both from our living memory and from long before motion pictures were invented. Timeless gets to explore these aspects in a way that is both fleeting as we never stay in one time or place for too long while also producing a visual evolution of how clothes have changed from 1754 to present day. Even something like the kinds of hats worn by men and women is chronicled through the decades they travel to.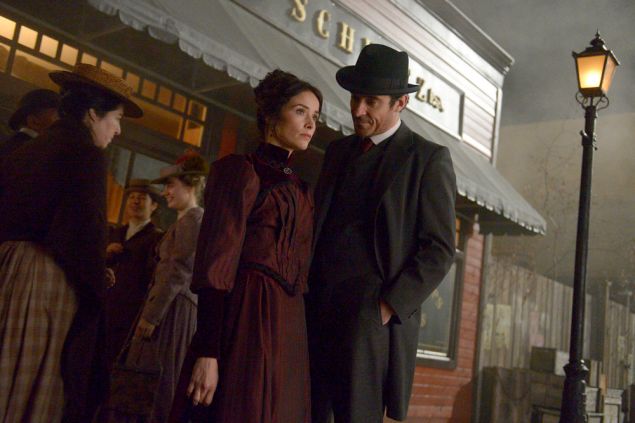 The number of TV shows going all in on the time travel business continues to grow and Timeless, Outlander, Travelers and Legends of Tomorrow are about to be joined by Time After Time on ABC and Fox's Making History both debuting Sunday, March 5. This is also where I once again advocate for a Quantum Leap reboot and apparently, I can't get enough of this kind of show. Perhaps there is something comforting in this idea that we can go back and fix the past or in the case of Timeless preserve the past no matter how ugly it is to keep the present the way it is. But there are consequences either way. In this crowded time travel landscape, I would definitely recommend the highly entertaining Timeless as it examines different aspects of messing with a timeline; from erasing family to the morality issue of whether they should prevent horrific acts that will have a big impact on many.
On a surface level, it is a fun romp, with some very silly aspects that also features a really strong dynamic from the three leads, but it also examines the good, the bad and the ugly of the recent and not so recent past without shying away from these aspects. Even if it is something as simple as what costume Rufus can wear when they go back in time as a cover because of the color of his skin or whether Lucy is going to get laced up into her garment as pants are almost always out of the question.
Emma Fraser is the creator of TV Ate My Wardrobe and spends most of her time writing about TV, fashion and costuming; Abbi and Ilana's Broad City style, the wigs on The Americans and Mindy Lahiri's pajamas are just as vital as talking about '90s, '00s teen shows. Emma has a MA in film and television, and she probably holds Angela Chase responsible for this path. You can find her on Twitter @frazbelina.