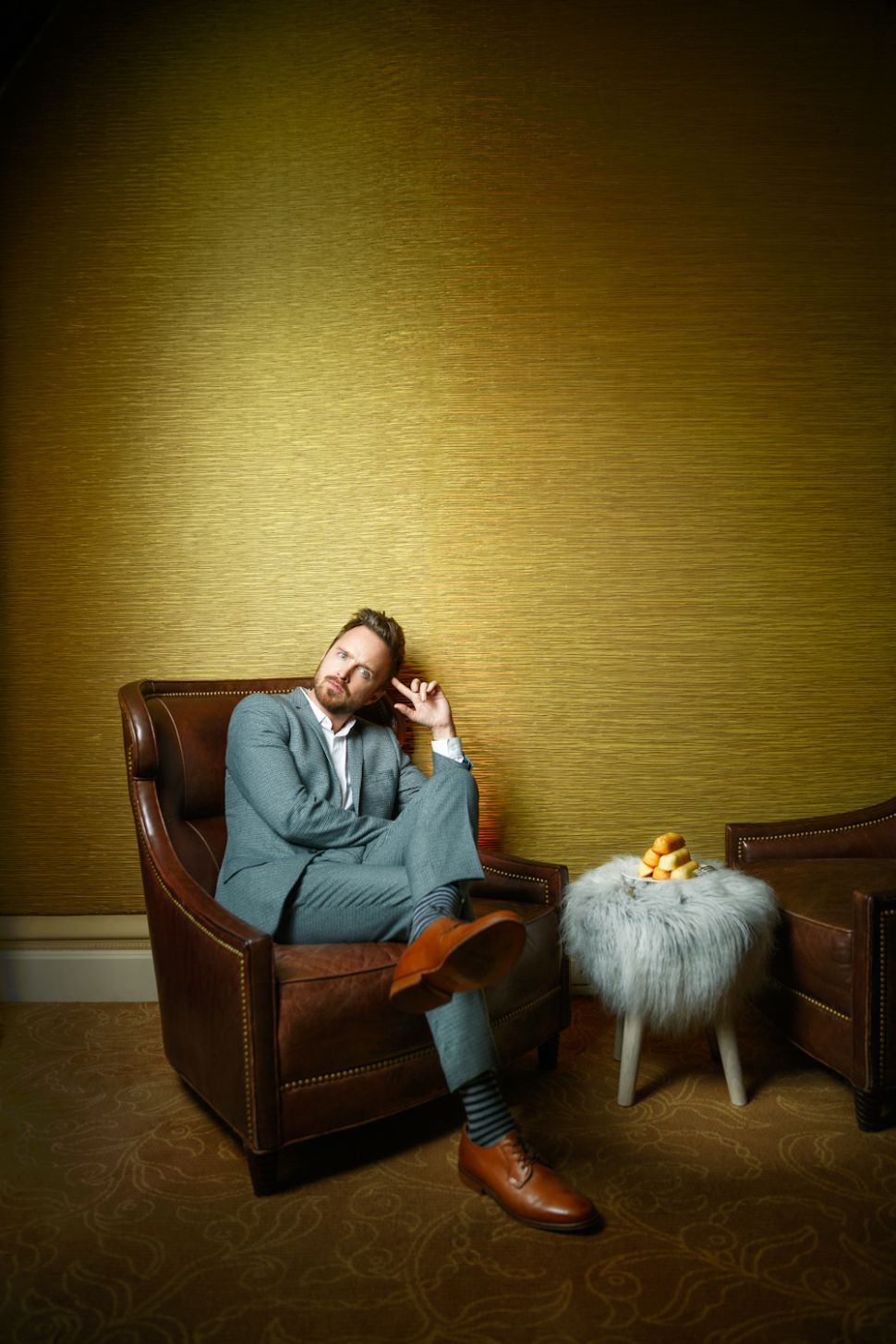 Anyone who watched the first season of The Path—and stuck with it, as it took a good three episodes for the Hulu original series to hit its stride—was likely struck by the same question: what the hell is wrong with Aaron Paul? 
After all, the last time we spent any quality time with the guy was during the harrowing final season of Breaking Bad, where we saw him as a well-beaten meth slave who had been forced to witness everything he loved destroyed by his own poor choices. Suddenly, here he was in crisis mode again, suffering among other indignities a brutal 14-day interrogation (no more green juice!) for his character's inability to follow the tenants of Meyerism, the fictional religious movement at the center of the series, which kicks off its second season Wed. Jan 25 on the streaming service.  
Why, kind sir, must you continue to prostrate yourself for our binge-watching pleasure? I mean, surely you could have spent the early part of your post-Jesse Pinkman career playing, say, Schneider on One Day At A Time?
"I think my own insecurities make it hard for me to connect with comedy. I could never imagine myself having to go to work every day trying to be funny."
"It's a mystery to me too," says Paul, sitting on a plush loveseat in The Langham, a fancy and appropriately compound-like Pasadena hotel where Hulu is holding their event for the annual Television Critics Association Winter Press Tour. "It just seems like that's the type of thing I gravitate towards for some reason." 
When pressed, though, the 37-year old actor finally posits a credible theory for his outright rejection of Schneiderism in favor of flagellating dramas like The Path. 
"Honestly, I just don't find myself to be funny," he says, with graveness that underlies his point. "I think my own insecurities make it hard for me to connect with comedy. I could never imagine myself having to go to work every day trying to be funny. On Breaking Bad, the humor came out of honest situations, but this character I play on The Path, he's not funny and he's not ever in very funny situations. He has some charm, maybe, and he's a loving father. He knows how to have fun. But that is completely different from being funny. The guy is just not funny."
Talk to his coworkers, though, and they are quick to throw water on the idea that Aaron Paul just isn't funny. On set, he is the show's resident George Clooney, committing elaborate pranks to help keep the mood from getting overwhelmingly heavy. (If you get a chance, please ask costar Michelle Monaghan about the doozy he pulled on her dad.)
No, they will tell you that for Paul, walking through the valley of the shadow of doubt is an artistic impulse, not a character defect. 
"Having known a few actors in my life, I know they tend to gravitate towards that sort of thing," says The Path creator and showrunner Jessica Goldberg, who based her show in part on the religious pluralism she experienced growing up in Woodstock, New York in the 70's and 80's. "I think he is just wired that way." 
Goldberg sees Paul's transition from Breaking Bad to the deep dive of The Path less about wanting to continue to be tortured and more about shedding Jesse Pinkman's sk8ter boi junkie snakeskin once and for all.  
"I think this was about him wanting to play a man," she says. "I was really impressed with how he went from being this kid on Breaking Bad to playing a father, a man. Playing a dedicated father and husband was different for him and he wanted to try. He ended up doing it so beautifully and with such depth."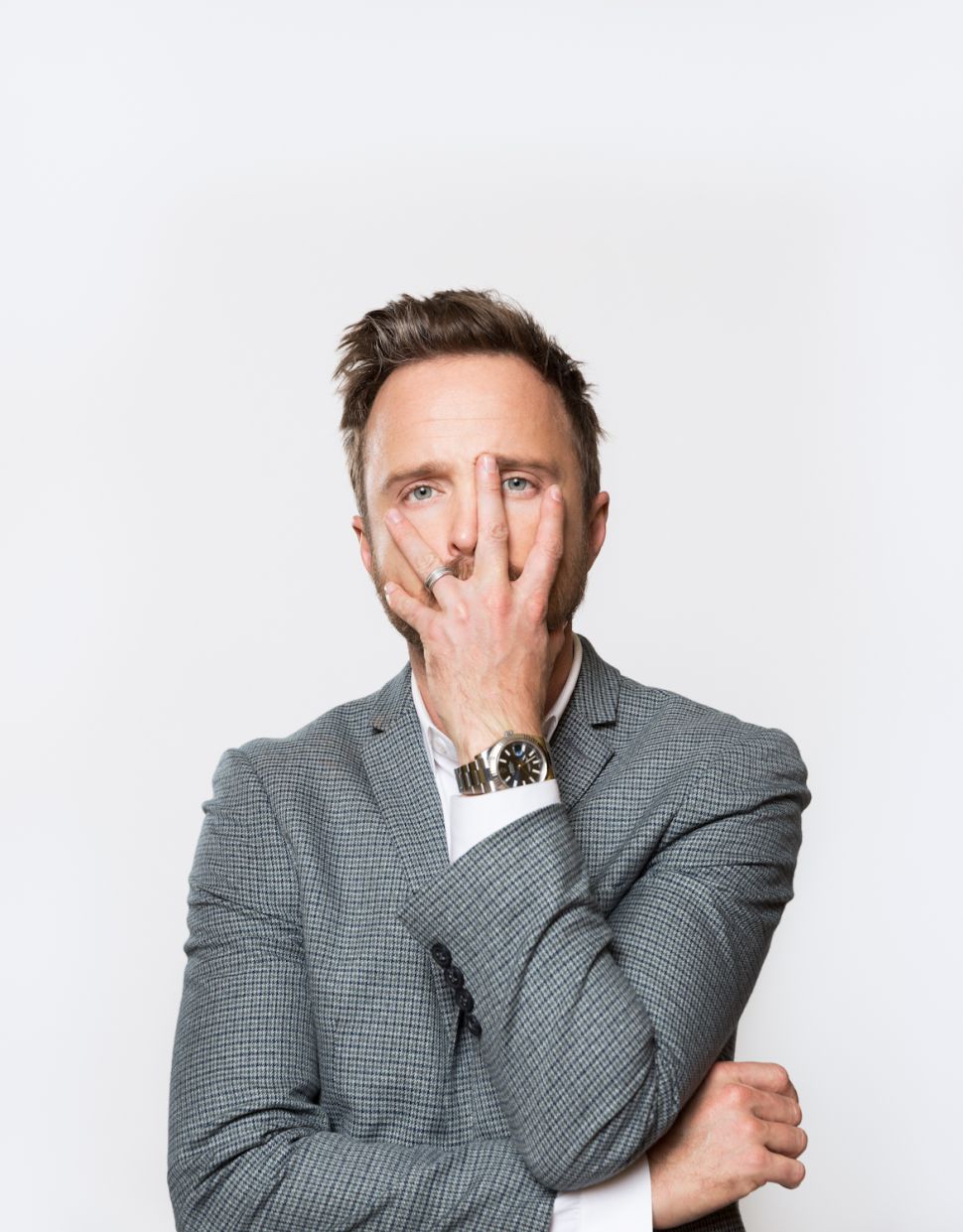 It would make sense that Paul's maturation would include confronting spirituality and questioning faith, the way his character does on The Path. Growing up the son of a Baptist minister in a religious household in Boise, Idaho, Paul has been running both away and towards religion his entire life. (Anecdotally, his childhood ban on swearing seems to have held. Over the course of a 25-minute conversation, his interviewer cursed five times to Paul's zero.)    
"There's really a lot of my own upbringing that I brought to Eddie," says Paul, who only performed at church and before falling in love with theater after taking a drama class in eighth grade. "I think I've always been able to understand what draws people into religions, or cults for that matter. It's human nature to want to know what's going on, to search for answers to questions that are not easily answered." 
Where has that left his own faith?
"What I believe is I don't know what is going on and I'm comfortable with that," he says. "Personally, I can't pinpoint one certain idea that's been made up by someone where I can say, 'I know this is true.' I mean, how do they know? So I just leave myself open to the world and to an endless universe of possibilities and I try to be a good person." 
Paul is perched on the edge of his seat as he talks. He doesn't seem to possess the guardedness one would expect from an actor surrounded by a hotel full of television reporters.  
"Losing loved ones over the past couple of years, the idea that there is something much bigger than what any of us can imagine has been comforting to me," he adds. "I absolutely believe in that, but at the same time, I just don't know."
In this respect, Paul occupies a similar existential life raft as his Path character Eddie. The father of two started the series with questions about Meyerism that arise after a particularly harrowing ayahuasca-inspired vision while on retreat in Peru. Over the course of a season that includes hole-digging, pilgrimages, and other acts of devotion meant to get him back on track, those doubts end up calcifying into full-on rejection. Unfortunately, being branded a 'denier' in the show's precise terminology— it's the only thing worse than being an IS, or Ignorant Systemite— results in Eddie being completely ostracized from a family he adores and the only home he knows.      
"Eddie is so scared—I was never scared," says Paul, comparing his character's sudden untethering to his own unmooring at 17, when he fled Idaho for West Hollywood with a vague idea of pursuing acting. "Back then, I was just growing up. With this guy, he's utterly terrified to be open and honest with his family, especially his wife. He knew what it was like outside of the world of Meyerism. But for her, this is all she has ever known. The Meyerists took his life over and give him hope and purpose. It was a beautiful thing for him. It was a calling. Now he is at the opposite end of that. He has had that terrifying eye-opening moment, and it's just, 'Oh man, what do I do now?'"
If Paul has a primary strength as an actor—and one that links both his Path and Breaking Bad characters—it may be his ability to project profound doubt while still maintaining a moral center. A crisis of self so engulfs Eddie throughout the first season and well into the second that it is almost impossible to imagine the character in the throes of religious devotion.      
"If we have a season three, you will get to see that," says Goldberg when asked. In flashbacks? "No," she says. "The future."    
Whatever lies ahead for Eddie, Monaghan's Sarah, or Hugh Dancy's cult leader with a homicidal streak Cal, Paul plans to be gentle with himself while getting there. It is a bit of self-preservation that he learned from Bryan Cranston on Breaking Bad. 
Explains Paul, "He would tell me, 'It's okay to go home from work and wash off that makeup and take off the wardrobe and be yourself for a moment.' I didn't realize that at first. I used to duck away into dark alleyways in Albuquerque New Mexico during scary hours of the evening and early morning. I just felt like I needed to put myself in those shoes. I have to say, I'm happy that I did that but I'm also very, very happy that I don't do that sort of thing anymore."
Paul's time away from The Path has been the exact opposite of the spiritual fire walk he has been experiencing on the show. In advance of this press tour, for example, he took his wife, filmmaker Lauren Parsekian, to celebrate her birthday in a lavish Thailand Airbnb. The place came complete with an executive chef, a massage therapist, and a tennis pro. So it is safe to say whatever torture Paul is experiencing in his life is entirely fictional and strictly for television.  
"I think serious artists tend much more towards lightness than comedic actors do," says Goldberg. "Day to day, Aaron is actually this extremely happy guy who really loves his life."