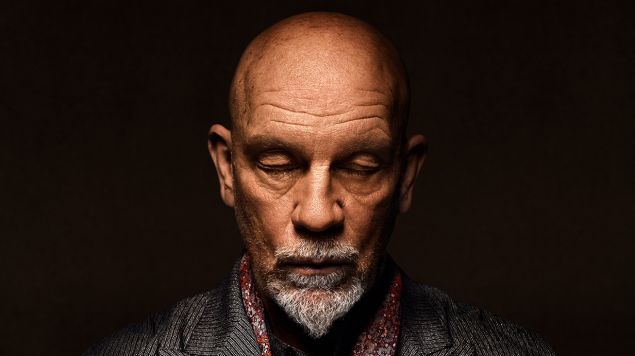 Today, January 3, the storied actor will launch John Malkovich, a luxury collection of men's ready-to-wear available at JohnMalkovich.com (via a partnership with Squarespace). The collection is also in stores, specifically The Webster in Miami and Margriet Nannings in Amsterdam. The line features everyday pieces such as cable-knit cardigans, long sleeve tee's, button downs with detachable collars and slim-fitting chinos. John Malkovich marks the actor's third foray into fashion after a stint in 2002 with label Mrs. Mudd and a second line in 2010, Technobohemain. In the celebration of the launch, Mr. Malkovich made a short film, set in Paris, to simulate the experience of designing and producing the collection.
Malkovich is known for more than a few famous characters. There was his breakout performance as blind border, Mr. Will in Places of the Heart. He played the sinister, sensual Valmont in Dangerous Liasons. And who could forget his bid as a slightly varied version of himself in Charlie Kaufman's Being John Malkovich? Now the actor's latest role is John Malkovich, fashion designer.
Mr. Malkovich discussed his new line, a deep love of costuming and why he'll never do a runway show, with Observer.com.
John Malkovich is your third clothing line. How is this one different?
The main difference is now with Squarespace making the line available online. I've designed three lines, but none of them were ever available online. I've never had a shop. So we never made headway in terms of distribution, so that will be a massive difference for us.
How did you get connected with Squarespace? It seems like an interesting pairing.
I was approached nearly two years ago by a photographer I've worked with in Chicago, Sandro Miller. He suggested a project for Squarespace for the David Lynch Foundation, which ended up being a recreation of scenes from some of David's most famous characters to benefit his foundation. So that's how I first came into contact with Squarespace and I thought they were very smart. I approached them about whether they'd be interested in helping me realize this project.
How is the aesthetic or style different from past collections?
I don't think the aesthetic is so different. My line is fairly eclectic and not so fashion forward. I think it'll continue in the vein that it's always been. Strangely enough, I've spent a lot of time in Vienna, which has always been a big influence on me, and in a certain way, the turn of the century has, too. My line is also influenced by travel and costuming. I have been a costumer and still work a lot in plays, movies and opera.
Can you describe your history of fashion and costume?
I studied costuming in college and worked with the Steppenwolf Theatre in Chicago. The last play I costumed was six or seven years ago. I still work with costumers quite closely in opera, theater and movies. As far as my background in fashion, I've done all kinds of things – from the runway for Comme des Garcons in the 1980's to campaigns for Prada and Armani and Antonio Miró. I wrote and directed three fashion films for Bella Freud, I wrote the foreword for Christian Louboutin's book. I've worked in and around it for many years and I've done it unnoticed.
And now you're ready to step out from behind the curtain.
I'm ready for it to be a business or not be. It's very hard to make a business, which I never vaguely concentrated on, if you don't have an online presence. It's impossible these days because most of time when I go in stores, they seem quite empty. And I wouldn't want to rely on buyers for the simple reason that when I go into their stores, I don't like anything.
How is this a gamble, as you reference in the film?
Anytime you put something in front of the public – especially now – where there isn't the kind of decorum there might have been in dealing with media or the public 20 years ago so it's a gamble. Anytime you put ideas or expressions in the public arena, chances are you'll get lots of nasty blowback, so that's nothing new for me.
What's been the general reaction from friends? What about the fashion industry?
In all of these collections, maybe my friends didn't like every piece, but generally the responses have been positive. In terms of the industry, I've been asked to do a runway show, but that world doesn't interest me. I'd rather sell clothes – that's what I'm hoping to do. I never really liked the shows. They seem pretty goofy. I can't think of anything as affected as a runway show.
Can you speak to the difference between acting and designing?
When you're an actor, you're a figure in someone else's dream. It's not your dream. I've done 100 films but I've never met a director where I wouldn't do a film the way they would ask me to do it. It's their vision and that's what important if you're a professional actor. With designing, it's another form of self-expression, but it's all yours.