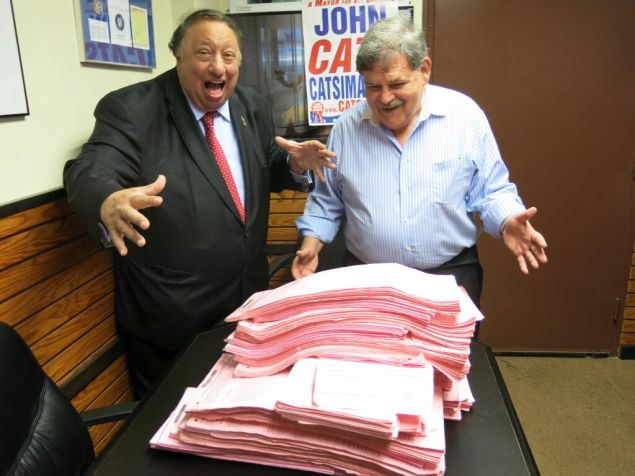 An assistant to eccentric billionaire John Catsimatidis—the supermarket mogul who unsuccessfully sought the Republican nomination for New York City mayor in 2013—sent a quasi-anonymous email poll asking New Yorkers their thoughts on Mayor Bill de Blasio and his potential rivals, a possible prelude to a second try at Gracie Mansion for the businessman.
A source forwarded the Observer a survey emailed to him from a group calling itself the "Red Zone Report," which listed its address as 800 Third Avenue, Fifth Floor, New York, NY 110022. That address corresponds to the offices of Catsimatidis's Red Apple Group, which runs the Gristedes and Red Apple grocery store chains, as well as his various real estate investments.
The message—subject lined "Poll on New York City Mayor 2017, 4 questions"—contains no other indication of its origin, and intimates it is merely seeking recipients' opinions.
"New York City will hold an election for Mayor in November of this year. Red Zone Report is a private survey company which polls on a wide variety of subjects," the message reads. "The short poll following here is an early look at the mayor's race. No response addresses are kept, only the answers."
The person who originally received the email filled out the questionnaire, and the Observer was unable to use the link in the message to view it. The source said that the survey first asked whether de Blasio deserves re-election, to which he answered "no."
The second question, gave a list of potential rivals to de Blasio alongside a few details about them. Among them were declared Republican candidate Paul Massey, who the poll identified as a businessman, Public Advocate Letitia James, described as a "progressive," Comptroller Scott Stringer, listed as a "Democrat," and Catsimatidis himself, taglined as a businessman and a 2013 candidate.
It also named real estate developer Don Peebles, a former de Blasio donor who has since turned against the mayor and publicly weighed running against him. The survey described Peebles as a Democrat and a supporter of President-elect Donald Trump.
This is somewhat ironic, since Catsimatidis himself donated $100,000 to the Trump Victory Fund last year. Catsimatidis also gave money to the political nonprofits that have made de Blasio and his aides the subject of two parallel grand jury investigations.
Peebles donated $2,700 to Hillary Clinton, according to federal records, but did meet with Trump last month.
Matt Wanning, a longtime aide to Catsimatidis, admitted to the Observer he sent out the survey and confirmed the recipient's description of the questions. But he claimed it was only an "amateurish" attempt at gauging public opinion, and not a sign the billionaire would run again.
"I just did it out of curiosity, frankly," he said, adding that he inserted the details about Peebles and Trump in a similarly casual fashion. "I just threw that in there."
Catsimatidis endeared himself to reporters in 2013 with his frequent gaffes, haphazard dress and unusual deportment. GOP primary voters, however, seemed less fond of him—he took roughly 40 percent of the vote, while former Metropolitan Transportation Authority head Joseph Lhota received more half of ballots cast.
This year, the businessman would likely face not only Massey but Queens Councilman Eric Ulrich—a former Lhota booster who Catsimatidis financed illegal attack mailers against in 2013, prompting the city Campaign Finance Board to fine the businessman more than $11,000.