NEWARK – On Martin Luther King Day, hundreds of union workers marched  through Newark Liberty Airport in honor of the late civil rights hero.  According to marchers, their goal was to shine a light on the struggle of low-wage workers and fight for justice in the same way King did during his time as a civil rights leader.
The march was organized by 32BJ SEIU, a property services union with 155,000 members, many of whom are airport employees. About 250 of those employees turned out to for the event. According to organizers, the march was aimed at highlighting disparities between workers at Newark—currently making $10.10 per hour on contract—and New York City airport workers who make $11 per hour for similar jobs, a figure that will be boosted to $15 in 2019 in NYC.
Among the marchers was Newark Mayor Ras Baraka, a vocal proponent of the national "Fight for Fifteen" movement aimed at boosting minimum wage to $15 per hour nation wide.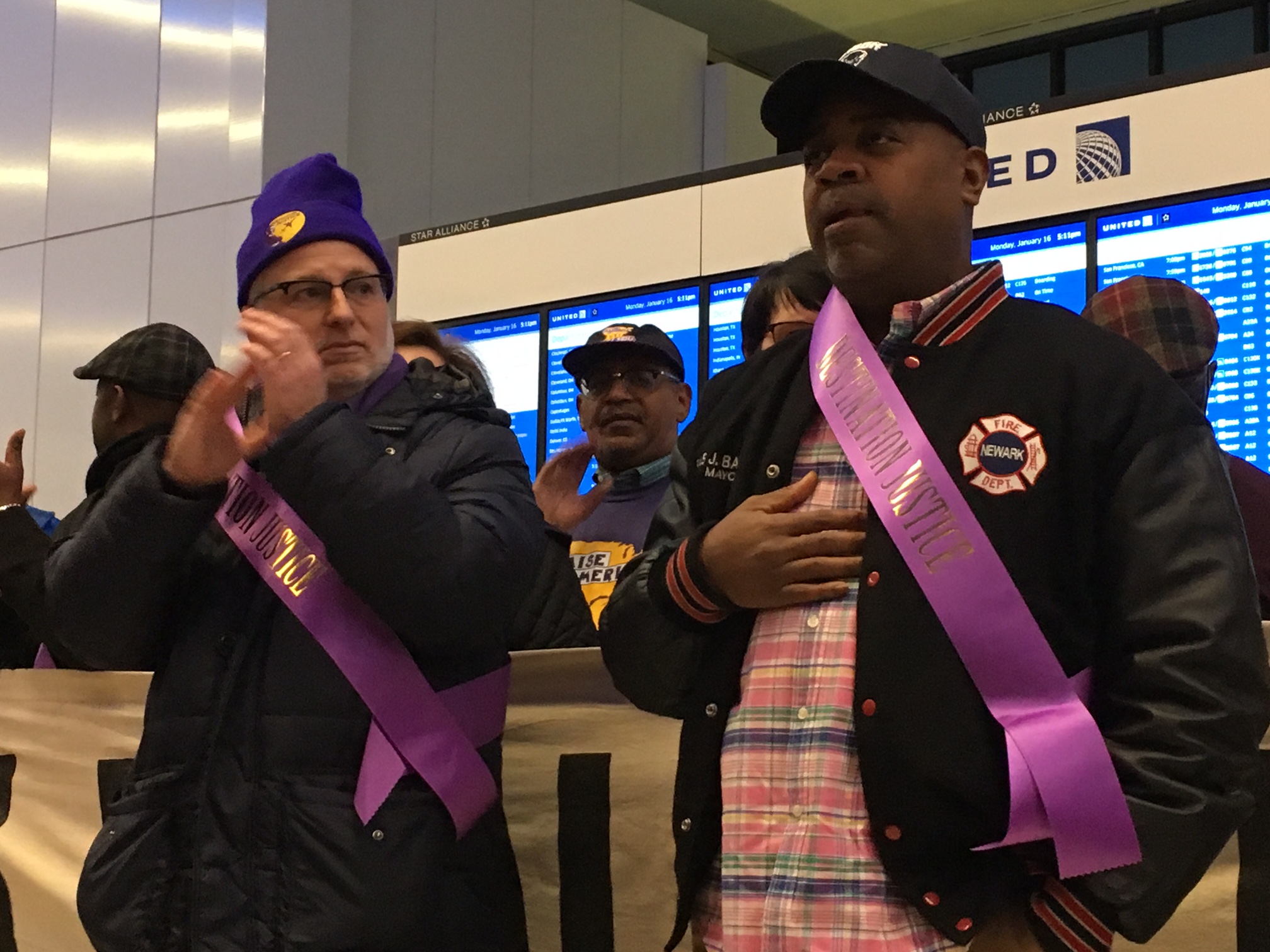 "Dr. Martin Luther King Jr. spoke out against starvation wages in the 1960's.  Today, this problem persists at Newark Airport where workers here—like many other hard-working citizens of our city—make so little they struggle to afford basic needs like food and rent," Baraka said. "The Port Authority allowed this two-tiered wage scale at our airports and it's hurting workers and their families. And it devalues their hard work and commitment to keep Newark Airport safe, clean and profitable."
Over 30 New Jersey clergy members were in attendance at the Newark rally. They held a candlelight vigil and used prayer and song as they rallied to end to wage disparity. Like Baraka, clergy members called upon the Port Authority of New York and New Jersey to bring N.J. wages in line with those across the Hudson.
"I am proud to walk in Dr. Martin Luther King Jr.'s footsteps today and engage in a peaceful march and vigil for justice," said Reverend Ronald Slaughter, Pastor of St. James AME Church in Newark. "Through prayer and solidarity we can do God's work and help the men and women at Newark."
Slaughter also called for an end to the "all male" club at Port Authority and said he hopes to see the agency diversified with more people of color and women in the future.
Initially, the Reverend Al Sharpton was scheduled to attend the rally but was unable to make it.
In November, 32BJ SEIU held a similar rally at Newark Airport as part of the "Fight for 15" national day of action.