Renewed public interest in Alexander Hamilton is largely thanks to Lin-Manuel Miranda's megahit Broadway musical on the Founding Father.
Those who've found themselves beset with Hamilton fever are sure to appreciate a certain part of Sotheby's Americana Week. Namely, a set of historic document entitled "Alexander Hamilton: An Important Family Archive of Letters and Manuscripts." The papers include various letters, drawings and such written by and to Hamilton, and are going up at auction tomorrow, Wednesday, January 18th.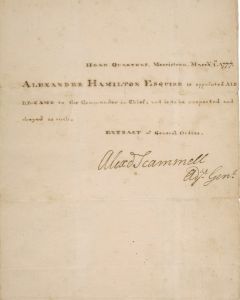 It's entirely fitting that David Korins, the Tony-nominated set designer for the musical, came on as creative director for the Sotheby's exhibit—he designed a five-floor installation at Sotheby's New York headquarters, at 1334 York Avenue. The exhibit features the furniture, art, silver and other items that may have surrounded Alexander Hamilton in his everyday life.
At first, Korins wasn't sure about taking on the role, but after perusing through the personal letters and papers, he was persuaded. "Once I saw those things, I was sold," Korins said. "Then it was my task to create this journey."
"What was most daunting is there are so many pieces, and several different sellers; big huge lots," Korins told the Observer. "I was trying to figure out a way to create bite-size chunks…I think there's a feeling like, 'I'm walking into this place, I want to see everything, or how do I see everything?'"
Korins organized the collections using a color-coding system, by lot. "I tried to make it so that people could meander and get lost, but feel okay. I did that by adjoining all the floors of the building by this central sculpture. So, you could find the escalator and know what [the] way up and down, with this abstract version of an American flag," he told us.
A few documents in particular stood out for Korins. "I feel particularly close to this one in which Hamilton designs the personal garden for his home," Korins told the Observer. "It's this beautiful little sketch that he made."
"He designed a lot of things—namely, our financial system…the electoral system," Korins laughed. "But here is a tiny, personal design that he made. The last line of the sketch is, 'will be arranged thus.' As a designer, I was really struck, personally, by a man sitting down and making a thumbnail sketch," Korins said. "We refer to his garden so much in the show—it's just beautiful to think about."
A large number of the letters are written by Hamilton to Eliza, before and after their marriage. There is also a group of letters of correspondence between Hamilton and Eliza's sister, Angelica Schuyler. Korins, however, was drawn to a letter from Hamilton's son, Philip. "My favorite is the only existing letter from Philip, [Hamilton's] son, to his father, in which he calls him 'dear papa.' They bond over this piece of writing Philip has done—Philip at the time is still in school," Korins explained. "It's five years before [Philip] was shot in a duel. He talks about this 4th of July speech he is preparing to give, and he presents it to the head of King's College."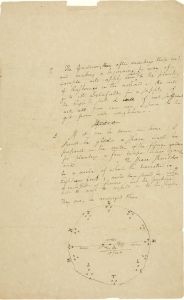 "In the letter, he says, 'dad, I really want to give the speech with this sentence,' but the professor says, 'you should get rid of that sentence.' And he's sort of heartbroken that his favorite sentence is cut, and it's a really interesting and personal look into the relationship of the father and son. It's the only known, preserved letter Philip wrote to his father," Korins told the Observer.
Aside from the collection of letters, the six total auctions for Sotheby's Americana Week include the Iris Schwartz Collection of American Silver and the Collection of George S. Parker II From the Caxambas Foundation. Despite the vast assortment of items, it seems the Alexander Hamilton letters and documents will generate the most interest.
Javier Munoz, who currently portrays Hamilton in the musical, got a sneak preview of the letters last week. Other actors in the musical, including Brandon Victor Dixon (Aaron Burr) and Bryan Terrell Clark (George Washington), also checked out the installation alongside Korins.
Each of the documents is expected to fetch between $15,000 to upwards of $500,000, depending on the context and historical figures behind them. If that's a tad out of your price range, we recommend running over to Sotheby's as soon as possible—today is the last day the letters are on view to the public, before they go to auction tomorrow.