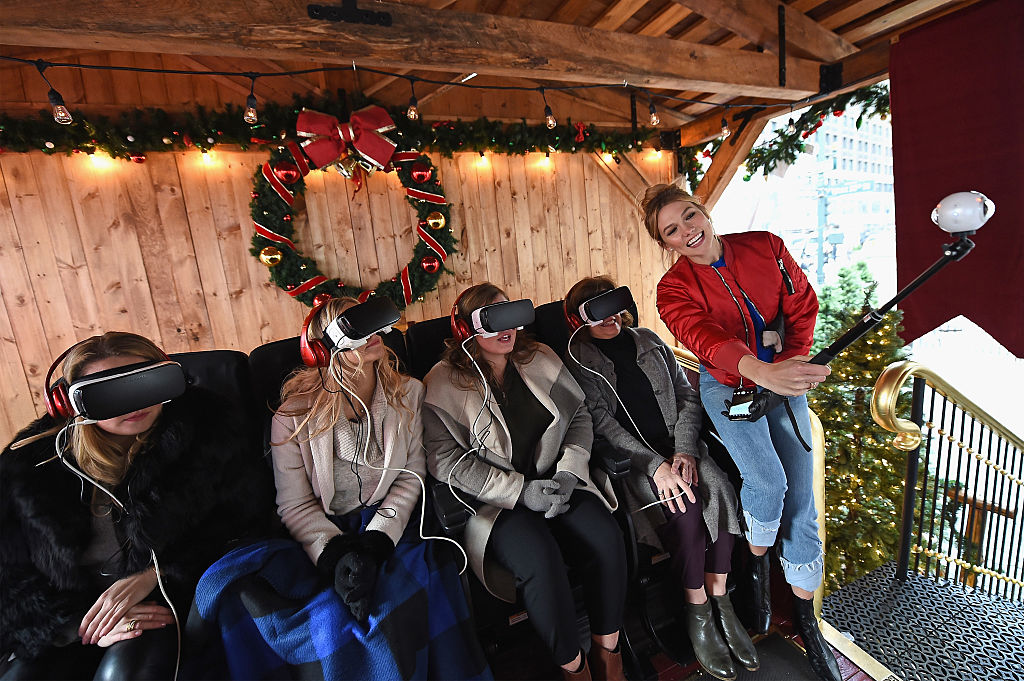 Technology promised a beautiful telecommuting future, where pajamas serve as work attire and our couches replace cubicles. According to the Bureau of Labor Statistics though, the percentage of workers who did some or all of their work from home hasn't really changed much since it started keeping track in 2003, rising from 19 to 24 percent. And who wants to bet those numbers lean harder on the "some work" rather than the "all?"
Bosses want to see staff working, understandably, but what if workers could be at home and the boss could also see that they were plugging away in a virtual reality office? Worker avatars could sit in a simulated office next to co-worker avatars, each before virtual screens showing their real work. No one's going to fight over the thermostat in that office.
If VR systems become as common as laptops, we may look back and credit a work-from-home utopia to one of the companies focused on socializing in VR. A plethora of new ventures are betting on building social experiences, including VRChat and Improbable. And there's plenty of resources; according to CB Insights deals in VR through the third quarter amounted to a total of $1.46 billion, versus $745 million in all of 2015.
'If workers really start commuting regularly via VR, the technology starts to reduce the amount of space cities need to devote to businesses.'
An older company, Linden Lab, was one of the buzziest tech companies following the dot-com bubble. It created Second Life in 2003, a social space that worked like a 3D video game, one that presaged what social VR could be. Its founder, Philip Rosedale, has taken a second shot at moving the web to three dimensions, with High Fidelity, a platform for collaboratively creating virtual reality experiences (his old company has its own strategy).
Second Life grew fast and then hit a wall. The question for socializing in VR is whether or not this kind of interaction is desirable for everyone or only for the isolated. The innovators we spoke to hope that VR will be different than Second Life for being more intuitive and more immersive.
The Observer spoke to Chris Collins, head of High Fidelity's product team and a Second Life veteran, who explained that the company wants to make the open source software that enables virtual spaces. "It's very similar to you setting up a website," he said.
Think of it like Google Docs. Team members can put on their goggles at separate computers in separate places, and they can work together on creating a space in real time. Imagine designers wanted to design a virtual forest setting for a chamber music concert. One group of workers could design trees for the scene while other workers copied them and arranged them inside the 3D setting for maximum effect.
If the goal is for people to gather, music is a natural place to start, and Collins confirmed that virtual concerts will serve as an early test case. VR becomes much more immersive when sound behaves three-dimensionally, as we've previously reported. "We're spending a lot of time on audio," Collins said.
If you know anything about Second Life, you know about the avatars, the figures that stand in for humans in the space. Your avatar might dress like anything from a punk to a pirate, but every figure in Second Life looks fit to model in Vogue. No surprise, High Fidelity's team has bet avatars will be key to the VR experience.
We can't fault that logic, but a new venture from the creators of MyWebRoom takes a counter-intuitive approach to socializing in digital space. Its new app for iOS and Google Play, MyVR, lets users hang out in customizable rooms and consume content together. It eschews avatars, though. Users can speak to each other, but all they see of their interlocutors is a little blue circle in space, a cursor. "We don't think it's necessary to add a more visual manifestation," John Michael Gonzalez, a co-founder, said in a phone call.
"We're more into scene creation," he said. MyVR lets users create rooms that reflect their interests. It's like Pinterest to float about in. "Right now, you could say we are focused on social, media consumption," Gonzalez said. If you turn on the radio in someone's virtual room, it could start playing their favorite Spotify playlist or the TV could show their favorite YouTube videos.
The theory is that by making it very mainstream, very much like normal life, it makes the new experience more relatable to non-geeks. It lacks any of the trappings of science fiction one sees in similar ventures. MyVR's rooms look like typical urban apartments but cleaner.
The app is meant for small gatherings, while AltSpaceVR argues that it can host the most people the most effectively. In fact, there is almost no limit to the number of people it can welcome to view a performance because it can just copy it (or mirror it), into multiple rooms. So a standup comics' avatar might be standing on a stage in front of 30 or so VR avatars, simulating a standup club. The comics' avatar can appear simultaneously on 100 different rooms that are exactly the same, except they each have a different group of people.
Duncan Trussell told the Observer that he has been experimenting with live tapings of his podcast using AltSpaceVR's service. "With VR, you get to gaze out on this sea of avatars," he said. He conducted his first VR interview with Ramez Naam, the science-fiction author and Microsoft alum.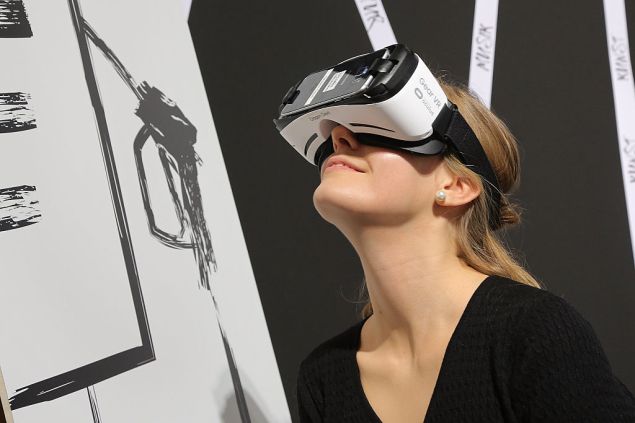 "That feeling of connectedness is really what we focus on," Eric Romo, its CEO, told the Observer. For a live comedy event, for example, it might gently play audience members' mic feed into a room (so they can hear each other laugh), but it also lets them register sentiment by releasing emoji into the air. Emoji make their own sounds, ones that builds up if lots of people release the same one at the same time.
Romo thinks VR is bigger than social. If, for example, large companies can shave off some business travel each year by conducting some meetings in virtual reality, it becomes a communication technology rather than a social one. That market is much bigger.
Canceling a small number of business trips quickly pays for VR equipment. If it doesn't stop there and workers really start commuting regularly via VR, the technology starts to reduce the amount of space cities need to devote to businesses.
If that happens, VR wouldn't just change the way we hang out. It would change the very way cities are organized.
READ MORE ABOUT THE COMING YEAR…
The Next Big Anthony Bourdain: Michael Twitty
The Next Big Protest: The New Sanctuary Movement
The Next Big Consumer Trend: Imperfection
The Next Big Career Hack: Equine Therapy
The Next Big Workout: VR in the Gym
The Next Big Disrupted Industry: The Music Business
The Next Big Cologne: Hawthorne for Men
The Next Big Cocktail Ingredient: Activated Charcoal
The Next Big Democratic Governor: Phil Murphy
The Next Big Marijuana Marketing Ploy: Appellations
The Next Big Guru: Light Watkins
The Next Big Zika Fighter: BugBling