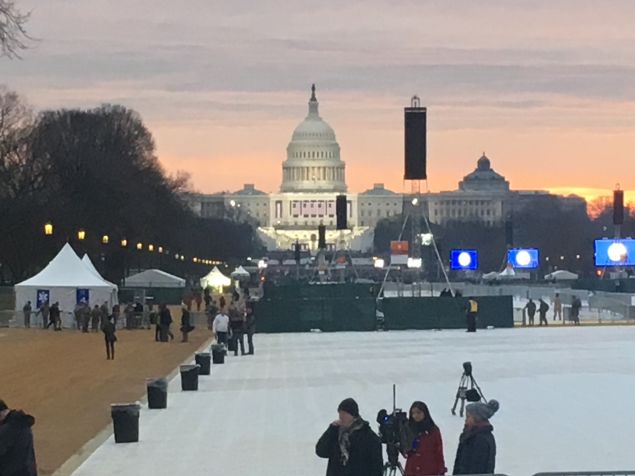 WASHINGTON, D.C.—Before the limousine ride with the two presidents, before the invocations and the Mormon Tabernacle Choir, before the oaths of office and the gaudy talk about unity and decay and renewal, before the parades and protests and inaugural balls, there was dim pre-dawn Washington, the elegant Greek-style buildings and nondescript gray compounds of the federal bureaucracy lit up in blue and red police flashes. The stage-managing for the day's pageantry was all in place, with Secret Service checkpoints and camouflage-clad military personnel and out-of-town cops and charter buses rendering the frustrating tangle of D.C.'s streets virtually impassable.
At the center of it were the jutting spire of the Washington monument and the glowing dome of the Capitol, tourist's reference points, and streams of people filling Constitution Avenue, awaiting their eyewitness view of perhaps the most improbable event in the history of the Republic.
Around 7 am strains of classic rock began to waft over the National Mall—Creedence Clearwater Revival, Elton John, the Rolling Stones, other artists who had either asked candidate Donald Trump to stop using their music or had declined an invitation to perform at his ceremonies. The guitar solos of Neil Young's 'Rockin' in the Free World' screeched over the speaker system just like they had at the campaign kickoff at Trump Tower in June 2015, closing the circle on the absurd journey that led from there to here, the Canadian songwriter's wishes be damned.
The Beatles' 'Revolution' twice reassured everybody "it's gonna be alright."
By eight, a thin intermittent drizzle had started to come down. Clouds blotted out the pink and yellow sky, and raindrops flecked the massive monitors carrying the inauguration seal in a row down the long plaza. Helicopters chattered overhead. The P.A. system warned attendees to report to the ubiquitous security forces any hint of suspicious activity.
People continued to trickle in, wearing red "Make America Great Again" hats and star-spangled scarves, and they massed around the western steps of Congress. Many were children attending with school groups.
Some were protesters.
"I really feel like it's important for people not to forget the momentum and how he got to where he is today right now. The media likes to whitewash him," said John Glowacki, a D.C. resident, who came carrying matching "Trump is Racist" signs with his partner David Jasinski. "He said very racist things and he's a xenophobe and he's dangerous for this country."
But Dave Delp, an evangelical Christian from Harrisburg, Pa., attributed Trump's triumph to the divine—even as he seemed to share Glowacki's contempt for the press.
"The news media, which is so corrupt, and has lied about Donald Trump the last eight months, they have got their mouths shut up," he said, also excoriating outgoing President Barack Obama. "Thank God, at 12:05, we only have two more hours of this disastrous eight years. And that's what we're happy about."
The screens on the mall started to alternate between news footage of the president-elect's slow progress through the morning's formalities, and red-white-and-blue-hued images of past commanders-in-chief: Washington, Lincoln, both Roosevelts, Truman, Eisenhower, Kennedy, Reagan. A few blocks away, several demonstrators smashed windows, and thousands of others railed against the new Republican order.
The crowd on the mall remained sparse. Finally Obama, the first families, Vice President Joseph Biden, Vice President-elect Mike Pence and the leaders of the House and Senate arrived on successive swells of applause and patriotic music.
A chant of "Trump, Trump, Trump," began to build in the crowd, along with jeers and heckles.
On his way to the podium, Trump paused to give a thumb's up, a fist raise, a mouthed "thank you," a kiss to his wife. When he waved, the crowd responded with a spasm of mixed ecstasy and agony.
Pence went first. Then, standing amid former Oval Office holders, members of Congress, senators, Supreme Court Justices and his opponent, Hillary Clinton, with one hand on the Bible and the other raised to Chief Justice John Roberts, Trump swore he would uphold the Constitution.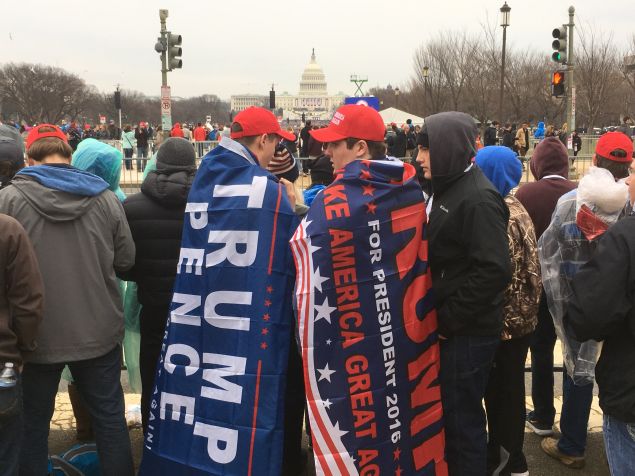 Trump began his speech by thanking Obama. Then he immediately tore into the 44th president's legacy, evoking an image of the United States as a vast wasteland, pocked with devastated cites and shattered factories, its middle class drained and its military depleted, its people sold out to foreign governments and alien interests, a country of interminable gang wars and hopeless, unemployed drug addicts.
The only solution was a galvanizing, revitalizing, populistic patriotism—and his presidency.
"This American carnage stops right here, and stops right now," he said. "We assembled here today are issuing a new decree, to be heard in every city, in every foreign capital, in every hall of power. From this day forward, a new vision will govern our land. From this day forward, it's going to be only America first, America first!"
"Together, we will make America strong again. We will make America wealthy again. We will make America proud again. We will make America safe again. And, yes, together, we will make America great again. Thank you, God bless you, and God bless America," he concluded.
It was a speech familiar to anybody who followed the campaign for the past year and a half.