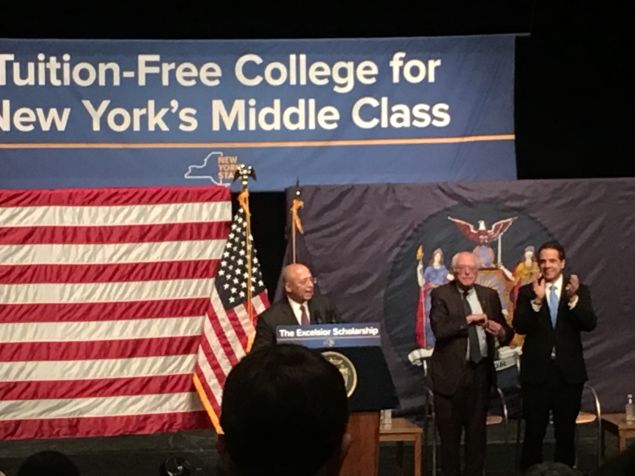 Flanked by Vermont Sen. Bernie Sanders—whose "political revolution" had free college education as its cornerstone—Gov. Andrew Cuomo unveiled his first State of the State proposal: making New York State public colleges tuition-free, in his latest apparent effort to burnish his progressive credentials ahead of a possible 2020 presidential run.
At LaGuardia Community College in Queens, the governor revealed he would ask the State Legislature to allocate $163 million to create the "Excelsior Scholarship," which will offer free tuition full-time State University of New York and City University of New York students from households earning up to $125,000 per year. Cuomo earned criticism in the last weeks of 2016 for deciding to reveal his 2017 agenda in stages across the state, instead of presenting it to lawmakers in Albany.
"It is going to be the first program like it in United States of America," Cuomo told the audience as they cheered, outlining his recent liberal achievements, including an increased minimum wage which began phasing in yesterday. "It's once again New York leading way, the way we did on raising minimum wage, the way we did on paid family leave, the way we did on passing marriage equality, the way we did on gun safety and it should be a wakeup call to this nation to say if you really want to be competitive globally, we have to have the best educated workforce and that means we have to have college for every child, man or woman, who wants to attend."
Roughly 80 percent of New York households make $125,000 or less, according to Cuomo—and some 940,000 have college-age children.
Sanders, whose bid for the Democratic nomination Cuomo opposed, reminded the crowd that President-elect Donald Trump "thinks it's a great idea to give hundreds of billions of dollars in tax breaks to the top two-tenths of 1 percent." He noted that at least 30 years ago, the United States had the highest percentage of college graduates of "any nation on earth," at number one but that the country now ranks at 11.
If the New York State Legislature passes the proposal this year, Sanders said, "mark my words: state after state will follow."
"That is not what America is about," he told the audience, which cheered enthusiastically. "And today, what Governor Cuomo is proposing is a revolutionary idea for higher education and it's an idea that in time will reverberate not only throughout the state of New York throughout this country."
The new initiative will be phased in over three years, starting for New Yorkers making up to $100,000 annually in the fall of 2017, increasing to $110,000 in 2018 and reaching $125,000 in 2019.
The crowd was notable for its racial and generational diversity, and screamed in excitement at the mere mention of Sanders' name, yelling "Bernie!" multiple times. And when he arrived with Cuomo and eventually came to the podium to address the audience, the enthusiasm and decibel-level only heightened.
Cuomo was a winner amongst attendees, too. Despite getting flak from civil rights advocates over his decision to veto bills that would have legalized specific kinds of pocket knives and offering more state funds to compensate lawyers designated by the court to represent defendants who don't make enough money to afford a lawyer for defense in a criminal case, people roared in applause throughout Cuomo's speech.
The governor's proposal also comes a day after the seven-member Independent Democratic Conference decided it would once again form a coalition with the Senate Republicans, much to the chagrin of larger Democratic caucus, which has been out of power in the body for the last six years.
Senate Democratic Leader Andrea Stewart-Cousins, for her part, pointed out that State Senator Toby Stavisky, a Queens Democrat and high-ranking member of the Higher Education Committee, had introduced a bill last year to provide free tuition for New York State residents to SUNY, CUNY and community colleges—a sign, she said, of the importance of having a unified Democratic Albany.
"This is perfect example of why the Democrats that comprise a majority of the Senate should unite," Stewart-Cousins said in a statement. "It is clear that initiatives like this would pass in a Democratic Majority."
Despite repeated pleas from Stewart-Cousins and other liberals, Cuomo refused to try and broker a coalition deal between her mainline conference, the IDC and State Senator Simcha Felder, a renegade Brooklyn Democrat who has always sat with the Republicans. The governor also had a falling-out recently with Republican Majority Leader John Flanagan, making it unclear whether the GOP delegation will support liberal initiatives like the Excelsior Scholarship.
And the governor's preferred presidential candidate Hillary Clinton caught wind of his proposal, praising it in her first policy tweet since she lost the presidency to Trump in November, referring to the new public education proposal modeled after Sanders' plan.
Mayor Bill de Blasio, for his part, called he proposal a "very commendable idea" and that it "looks like a real step forward" but said that he looks forward to getting more specifics about the plan, recalling a "big controversy" last year in the state budget where he stated "tried to move some important costs over to the city."
"Now I wanna see the details obviously I wanna see how it's going to be paid for and who is going to be paying for it," de Blasio told NY1's Errol Louis tonight. "But I commend the governor because this is the kind of thing that we need to do and obviously the state has control both over the SUNY and the CUNY system and it's needed to be more affordable so this is the kind of thing that could be really helpful to students here in New York City."
Public Advocate Letitia James—who called on de Blasio and Cuomo to commit to a $2 billion, five-year plan to cover the tuition costs of CUNY enrollees—praised the new proposal.
"I applaud Governor Cuomo for recognizing the urgency with which we must address the student debt crisis and for introducing this bold plan," James said in a statement.
This story has been updated to include comments from Mayor Bill de Blasio and Democratic presidential nominee Hillary Clinton. 
Disclosure: Donald Trump is the father-in-law of Jared Kushner, the publisher of Observer Media.