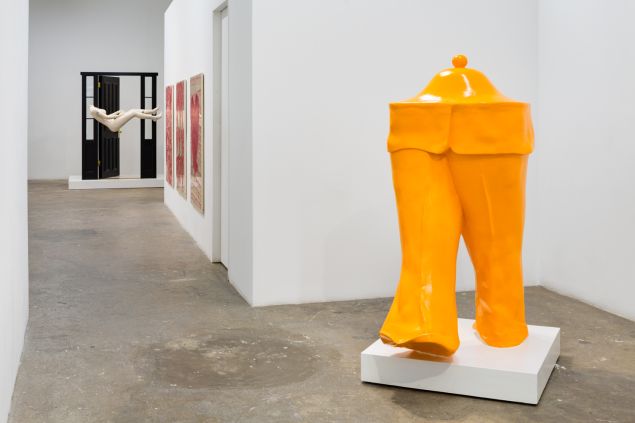 Today, Hillary Rodham Clinton is one of the most recognizable figures in the world. She's known for being the United States' first female Democratic nominee for president, serving as Secretary of State under the Obama administration and for championing health care as First Lady. But also woven into the fabric of Clinton's complicated legacy is one sharp, memorable comment that she gave reporters back in 1992 during the Democratic presidential primary: "I suppose I could have stayed home and baked cookies and had teas, but what I decided to do was to fulfill my profession which I entered before my husband was in public life," Clinton told media.
A hoopla blossomed from her words, and Family Circle magazine responded by challenging the soon-to-be First Lady to a bake-off. And so, Americans are left with another (this time accidental) legacy from the trailblazing politician: her recipe for oatmeal chocolate chip cookies.
"I've been baking the cookies myself," artist Jennifer Rubell told me by phone. "You learn a lot about someone by making this recipe." The New York-based artist has made a name for herself in the art world for creating elaborate performances involving food and witty interactive sculptures. This week, she opens her first New York gallery show at Sargent's Daughters on the Lower East Side, titled "Housewife," and among the works on view—which include a sculpture that allows viewers to carry a bride over the threshold, vacuum in high-heels and a painting that features the artist's real cell phone number—is a 5-foot-tall orange cookie jar which has been cast in the shape of one of Clinton's iconic pantsuits. For the show's duration, the sculpture, called Vessel, will be filled with cookies made using Clinton's recipe, and baked by Rubell.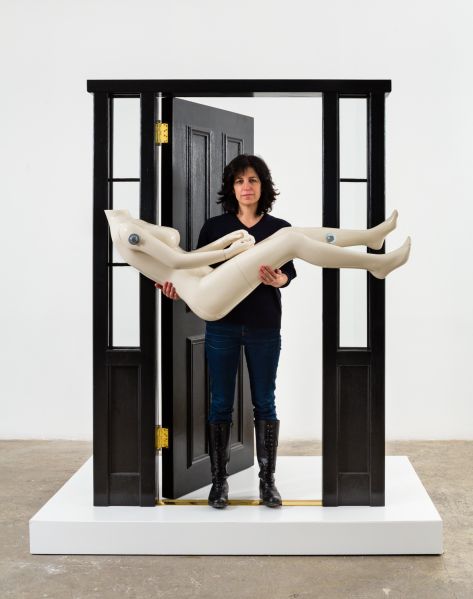 "She's a public figure for my generation of women. She was a vessel for our dreams and frustrations," said Rubell. "The territory in Hillary that most interests me is the relationship between her feminism and femininity."
Vessel was close to 80 percent finished before the election on November 8, according to the artist. And while some last-minute decisions were made following Clinton's loss to Donald Trump, Rubell had prepared for either outcome.
"The work was completely conceived before the election," she said. "I made the decision to have her positioned so she's stepping off the pedestal. It was an instinctive, formal decision, and now looking at it, it's very biographical."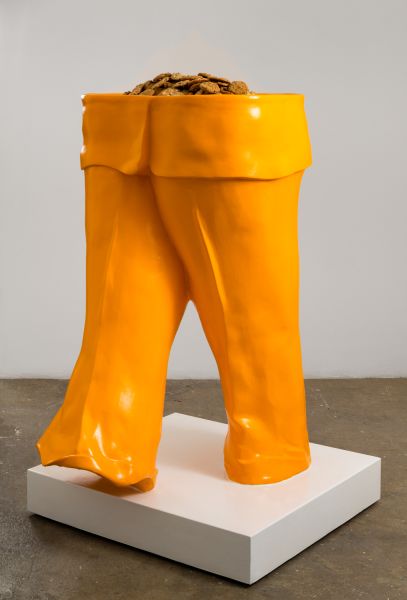 The piece, says Rubell, is meant as a portrait. "My only goal was really to do some accurate portrait of her, and I feel like whether she won or lost it was her fated outcome. If it was accurate enough, empathetic and open hearted enough, and political enough, the fate would be built into the piece."
As for the form of Rubell's portrait, Clinton's rainbow-hued collection of pantsuits are so popular they've spawned internet memes, and even inspired the name of an invite-only Facebook group for supporters called Pantsuit Nation. "She could have at any moment in her career locked into an outfit and the conversation would be over," she said. "She made the decision to express herself in a very feminine way through color and what she wore."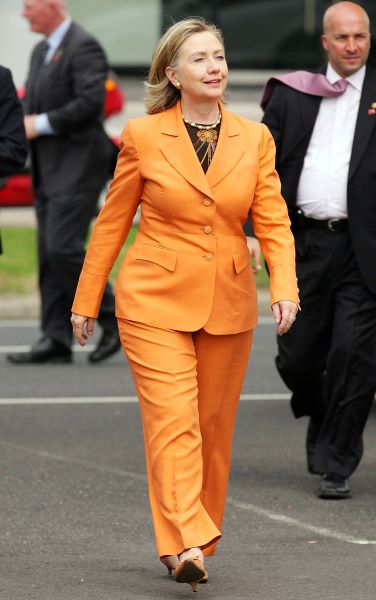 On the wide-spectrum that is Clinton's pantsuit rainbow, Rubell zeros-in on one of her more boldly colored ensembles. "The orange is the most insane, extreme color on the spectrum. The color you'd never wear to rule the free world is orange—I love the inclination."
For some, the decision to serve Clinton' s cookies out of giant pair of pants will certainly recall memories of Clinton's 1992 feminist credo, and the sweets-for-votes campaign that followed. For others, it will be a sore but colorful reminder of a future that could have been. But whichever way the cookie crumbles, Rubell says, "It's what never really happens in politics: a real look at a person who plays an outsized role in our lives."
"Jennifer Rubell: Housewife" is on view at Sargent's Daughters January 18-February 16.