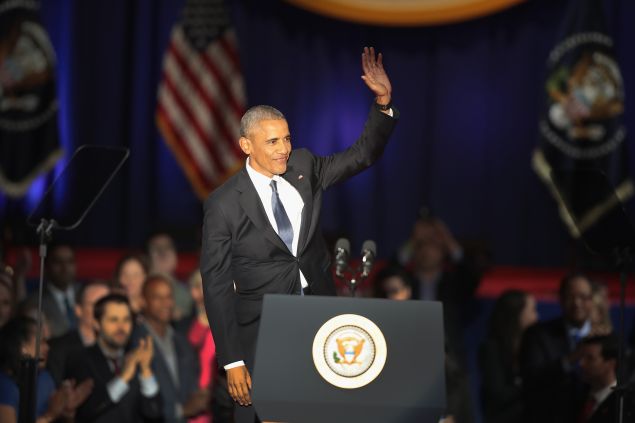 Organizers of this year's Outsider Art Fair in New York are inviting visitors to say farewell to President Barack Obama as he leaves the White House with a three-day reading of quotes from the leader's many speeches and interviews given during his time in office.
Fairgoers are being asked to sign-up for a time slot to read and perform excerpts from any of the President's public addresses in an event dubbed "The Barack Obama Readings." The readings are timed to coincide with the upcoming presidential inauguration weekend, and will begin on Friday, January 20, from 3-5 p.m, and continue though Sunday, January 22.
Andrew Edlin, CEO of the company Wide Open Arts which owns and operates the OAF, said the following about the event in statement posted to the fair's website:
At this moment in our nation's history, it is imperative to acknowledge the inspired leadership that America has proven it can produce. Barack Obama set an example for our country and the world: one of intelligence, class, humor, empathy, humanity, open-mindedness and love. Many have expressed how much President Obama will be missed. We are confident that his voice will continue to be strong in the coming years.
The fair has already provided a list of 56 quotes on its website, from which participants can choose as they like, but readers also have the option to choose one on their own and submit it to organizers. Performers will be given free entry to the fair.
Below are a few quotes from the fair's provided list:
— "The arc of the moral universe may bend towards justice, but it doesn't bend on its own."
— "One of the things I think I can bring to the Presidency is to make government and public service cool again."
— "My fellow Americans, we are and always will be a nation of immigrants. We were strangers once, too."
The Outsider Art Fair is on view at the Metropolitan Pavilion, January 19-22.