The first attempts at playwriting of two of the greats are currently nestled together in neighboring theaters on West 47th Street: At the Barrymore at present is The Present, the latest latter-day rewrite of Platonov, a five-hour, 300-plus-page opus Anton Chekhov dashed off at age 18 and never went back to. Next to it, previewing to open Jan. 19 at the Friedman, is Jitney, a 90-minute play August Wilson wrote in ten days in 1979 and radically expanded in 1996 after six consecutive Broadway successes.
Though written first, Jitney is the last in Wilson's 10-play cycle to reach The Main Stem. It came close in 2000 at Second Stage but conked out a half-block short of Tony eligibility. Still, that was still enough for The New York Drama Critics Circle to name it Best Play of the Year, as they'd already done for a half-dozen other Wilsons.
His cycle examines African-American life in this country in each of the ten decades of the 20th century; all but Ma Rainey's Black Bottom took place in the Hill District of Pittsburgh. Jitney's particular place in this cavalcade? The '70s. It zeroes in on the last days of a gypsy car service station that's been earmarked for the wrecking ball.
By any other title, Jitney could rightly be called How I Never Learned To Drive.
Wilson once told me that the play was inspired by, and intended for, an audience of one: his wife, whom he'd met in St. Paul. "I got the idea when we visited Pittsburgh," he said. "She didn't know anything about jitneys, and I was explaining to her how it worked on the ride back to St. Paul—just to keep her awake. She was driving. I don't drive. It's a simple skill that I never learned. In Pittsburgh, where I grew up, there wasn't need to drive. You just hopped a jitney if you needed to get anywhere."
The idea of writing a play set in a jitney station took hold during that long drive back to St. Paul, and a short time later he started putting the appropriate words to paper.
"It was actually very easy," he confessed. "I would just get up in the morning and go up to Arthur Treacher's Fish & Chips, get a cup of coffee and sit there for a couple of hours, writing. I did that 10 days in a row, and, at the end of it, I had myself a play, not knowing that I wasn't supposed to do it like that, not knowing any better."
The results he submitted to the Eugene O'Neill Playwrights Conference, but the play was turned down. Wilson, however, took the rejection well, rising like a phoenix, resolved to write "the greatest play ever written." This turned out to be Ma Rainey's Black Bottom, which was accepted at the O'Neill and got green-lighted for Broadway.
Thirty-three years later, Jitney pulls into Broadway to complete his play-cycle there.
Anthony Chisholm, the only actor who has been with the play since its first Equity production at the Pittsburgh Public Theater in 1996, believes that Jitney would have stayed in Wilson's bottom desk drawer, gathering dust, had it not been for Eddie Gilbert, artistic director of the Pittsburgh Public Theater. He had read the original 1979 script, which the local Allegheny Repertory Theater gave a modest staging there back in 1982 so that the author could take his mother—via jitney—to see it.
According to Chisholm, "Eddie kept bugging August about that play until August finally dug it up, dusted it off and gave it to him to do. It only ran an hour and a half then, and, during the rehearsals, one of the actors—Willis Burks II—said to August, 'No one is going to recognize this as an August Wilson play.' 'Why's that?' August asked. 'Because there are no monologs in it,' Willis said. So August started writing another hour and 45 minutes on top of the hour and a half we started with. It became a three hour and 15-minute play, but he had to cut it back to two hours and 50 minutes. Producers don't want to go over three hours because of the overtime."
Knowing the playwright, Chisholm suspects that the cut material probably found homes in other Wilson works to come. "All these characters live in the Hill District, and they're interconnected in many ways. It's a neighborhood, so, as August would dramaturge his plays during city after city of rehearsals and performances, he would take stuff out and save it and stick it in another play. A lot of writers do that, really."
One such case-in-point is a touching speech about a red bicycle from boyhood that the station manager's son, Booster, delivers to Chisholm's character. Originally, it was uttered in 1996's Seven Guitars by a harmonica-playing motor mouth played by Ruben Santiago-Hudson, who is the director in the driver's seat of the current Jitney.
In fact, says Santiago-Hudson, "There are literally 30 to 40 minutes of this play taken directly from Seven Guitars—mostly from Canewell, the role I played. August split 'em up with different actors. What he did by dissecting a couple of the monologs and passing them around to give everyone a taste of the meal, I thought, was brilliant."
The Tony that Santiago-Hudson won for Seven Guitars is one of eight won by actors in Wilson roles. Two-dozen more nominations have gone to actors in Wilson plays.
Not for nothing, then, are Wilson's works viewed as banquets for actors—and devoured accordingly. The nine players aboard the Off-Broadway Jitney 17 years ago were twice honored with Obies and Drama Desk Awards as 2000's Best Ensemble.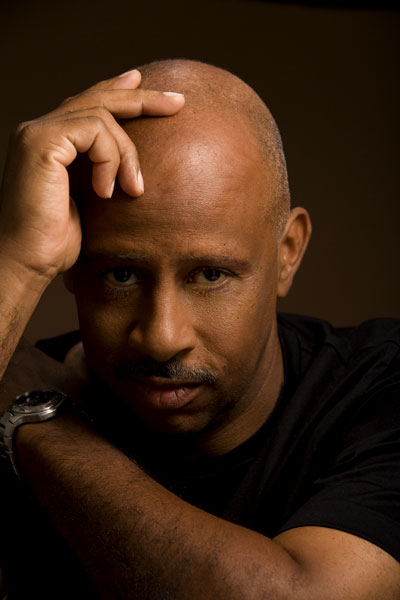 And the Broadway edition has been so expertly cast by Santiago-Hudson that this distinction could be duplicated in the spring. One role, however, he didn't consider recasting—Fielding, the alky among the taxi hackies, movingly played by Chisholm.
"It wasn't that I was trying to find anybody better," says Santiago-Hudson. "I just wanted to make sure that Tony took his rightful place on Broadway in this role."
Chisholm has only appeared on Broadway as Wilson characters—Wolf in 1992's Two Trains Running, Solly Two Kings in 2004's Gem of the Ocean and a Tony-nominated Elder Joseph Barlow in 2007's Radio Golf. Of the seven Wilson plays he has done around the world, he figures he's "done 58 or 60 individual productions."
But he has a deep and abiding personal connection to Fielding that lays all his other roles in the shade: "August wrote that character for me—it's based on my father."
Midway through the play—between periodical nips 'n' tics—Fielding rounds a sharp character corner, erupting into an unexpected sartorial spiel that assesses the suit Booster picked for his return from prison. Before you know it, he's saying he has made suits exclusively for Billy Eckstine—till Count Basie got wind of it and jealous.
That seems to come out of left field, but it actually comes out of the actor's past: "My father was a tailor. He was also an alcoholic. He graduated college in the '30s during the Depression when there weren't jobs for anybody, so he wound up getting a job as a Red Cap on the Amtrak railroad and, there, started making clothes for traveling celebrity musicians. It earned him a reputation, and he opened a little tailor shop.
"August was going to make Fielding an ex-butcher because the jitney station was in an old butcher shop, but, after I told him about my father, he said, 'Oh, I'd like to write that. Can I use it?' I said, 'Yeah, man, do whatever you do.' For a whole week, he said, 'I'm working on something,' and then one day he came in and handed me these pages. I must have thanked him a thousand times for giving me that scene."
A second stellar performance from the Off-Broadway production—that of Turnbo, the pistol-packing, trouble-making, tale-carrying yenta-in-residence—was promised for the Broadway revival, but Stephen McKinley Henderson had to bail at the last minute to do a worldwide promotional tour for the film version of Wilson's Fences.
"He's chasing that Oscar," explains Santiago-Hudson, "and I can't fault him for that." Henderson's Tony-nominated performance in Fences is generating enough Oscar buzz to keep him out of Jitney, but, luckily, the director found in Michael Potts a carbon copy of Henderson's scary comic relief. He also found a majestically humane John Douglas Thompson to run the station, Brandon J. Dirden as his prison prodigal, and Andre Holland from Moonlight to play the randy young rooster on the premises.
Fences is the first August Wilson play to reach the big screen, although Paramount bought the rights to it for James Earl Jones and Eddie Murphy years ago when the play first opened. Wilson himself did the script. (It's said to have quietly been touched up a tad by Tony Kushner, who only took "co-producer" credit.) At least, the film preserves the Tony-winning brilliance of Denzel Washington and Viola Davis.
Washington directed the feature film himself and will helm the other nine Wilson plays he is producing for HBO. Santiago-Hudson will assist in the adaptations. "I'm confident in the purity, in the cultural authenticity, of what Denzel does," he says.
Likewise, Chisholm has his confidence pinned squarely on Santiago-Hudson, the only actor to become Wilson's designated director: "It has been uphill and a decade, but Ruben is the force who brought Jitney to Broadway, I can tell you that!"
Indeed, it was something of a life mission for Santiago-Hudson, who'd already been in (or directed) eight of the 10 Wilsons. Latest incentive: Turning 60—the same age Wilson was when he succumbed to cancer in the homestretch of finishing his cycle.
Even with the Best Play Olivier, which the company picked up in London, Santiago-Hudson had trouble attracting Broadway producers. "Broadway," he says, "is run by a small group of people for the most part, and none that I appealed for help, helped. I had to come to Manhattan Theatre Club. That was the only way I could get it done."
He is also the only actor Wilson wrote three roles for (Canewell in Seven Guitars and both Citizen and Caesar in Gem of the Ocean). "That, obviously, put a lot of wind in my sails, to think that he thought enough of me to do that. That's why I always keep my horses hooked to the wagon to pull August's work with me as long as I live."