Baccarat is all about luxury, and the Baccarat Hotel & Residences at 20 West 53rd Street are just as decadent as one would expect, with crystal-bedecked interiors designed by Tony Ingrao.
The penthouse in the glittering tower sold for $42.55 million in 2016, making it one of the 15 most expensive deals of the year. While that duplex isn't up for the grabs, the full 46th floor is now on the rental market, with a hefty $75,000-a-month price tag attached.
The 4,557-square-foot home sold back in 2015, with an entity known as Sunflower American Capital II Ltd. paying $23.29 million to take ownership. It seems that the buyer didn't plan on using the four-bedroom, 4.5-bath home as a full-time residence, or perhaps they simply got bored of it, as it reappeared on the market (as a rental) in February 2016, asking $65,000 per month, before dropping to $55,000 per month.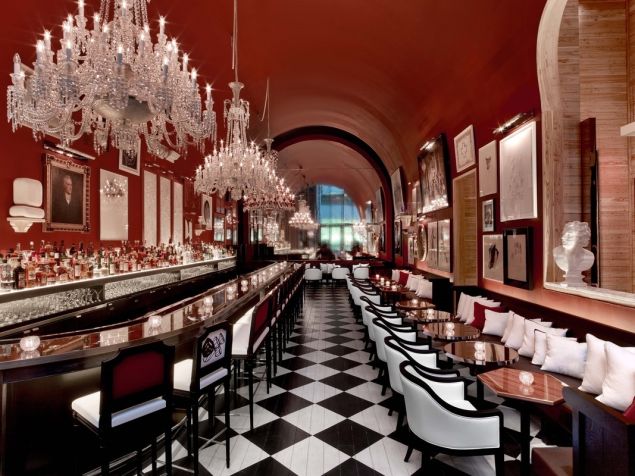 Well, it's back! With the new year comes a new, elevated asking price, apparently.
So, what does one get when doling out $75,000-a-month in rent? To start, a private elevator landing opens into the apartment, with a Baccarat lighting fixture hung in the foyer, as well as wood-paneled entry doors with custom Baccarat crystal inlay on the handle.
Potential renters of this condo will be able to enjoy a fireplace, 360-degree panoramic views, a windowed eat-in kitchen with iceberg granite slab countertops and mahogany-stained white oak floors, says the listing shared by Douglas Elliman brokers Janice Chang and Emily Nodell. The master suite contains a walk-in closet and an en-suite bath, with honed white marble slab and a free-standing soaking tub.
Don't forget about the lavish amenities in the glitzy building—residents get access to all the hotel services, like housekeeping, room service and access to the Baccarat Bar. And, of course, there's the 10,000-square-foot "wellness and aqua center," which includes a 55-foot marble-clad pool and private cabanas, as well as the La Mer spa. We wonder if any of the luxe skin products come with the monthly rent…