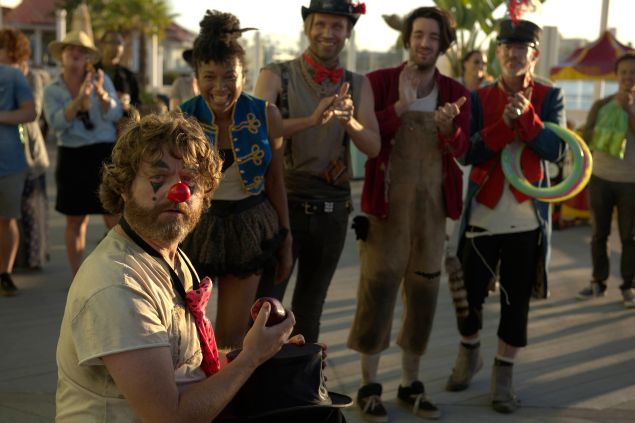 I'd like to imagine there's an alternate universe where the first season of Baskets was an enormous hit with a cultural impact akin to Stranger Things or Westworld, where people exchange quotes from the show in lieu of real conversation on social media and dress up like Christine Baskets for Halloween and prize-winning critics crank out think piece after think piece about the show's depiction of a particular 21st century American male ennui. I'd also like to imagine there's an alternate reality where I'm James Bond, but in the Marvel Universe, my two best friends are Peter Parker and Ben Grimm and I'm married to…you know, don't worry about that one. That one is for me. This is about Baskets, a show that made enough of an impact that Louie Anderson won a very much deserved Emmy but that not too many people are writing think pieces about.
But maybe they should be, damn it. I mean, early in the second season premiere, Chip Baskets buys a single can of food with his last couple bucks—he's living as a hobo now, riding the rails after the end of his run at the rodeo last season—only when he sits down to enjoy a meal beside the railroad tracks he remembers he doesn't have a can opener. He tries bashing the can against rocks and rails, he tries gouging it open against the edge of a metal sign, nothing works. He's frustrated. The good stuff is one super thin layer of steel away, but he can't get at it. Is it just my manic depression, or is that about as solid a metaphor for being alive in a world complicated by the existence of other people as there's ever been on television? Don't we all contain goodness, don't we all contain something that could be of use to others, don't we all hide that useful goodness behind a tough exterior? Chip bashes away at his can until he falls in with a community of wandering hobos who offer him both camaraderie and a can opener.
I mean, isn't that kind of the same thing?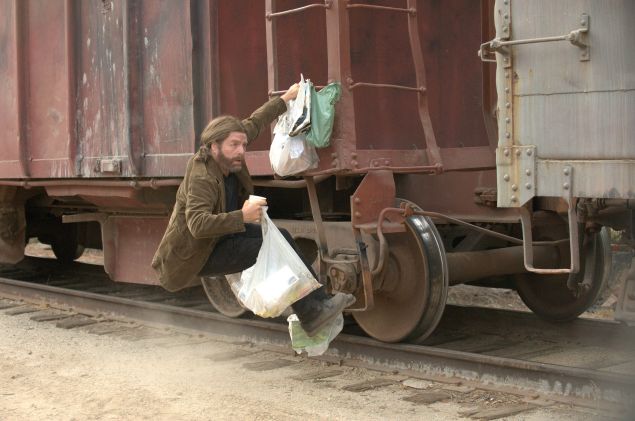 I don't know. It's weirdly easy to read too much into Baskets, a show about a failed clown and his sad family that either has a lot to say about the human condition in a weird way or a weird way of saying nothing at all. It's the type of show that, in a less 'Golden Era' of television, would never have scored a second season, that generations of comedy nerds would cryptically reference and endlessly devote their time to campaigning for an official release on Blu-ray.
Yes, Chip is a hobo clown now. His mother doesn't seem too worried about him, as he apparently has a history of running off when the going gets tough, which means we're only treated to the briefest of scenes with Christine. She might worry more if she knew that Chip, after getting roughed up by railroad security, throws in with the aforementioned travelers, a group consisting of folks with names like Mouse, Cypher, and Trinity, and led by a guy named Morpheus.
Which, by the way, are the names of the crew from The Matrix movies, which I guess makes Chip the neo-Neo. Sure, why not. Running with a band of folk who use dental floss for stitching up wounds while taking shelter beneath an underpass might be as close as you can get to slipping outside the consensus reality. Unless, of course, that the characters bear these names is just a joke, and I'm making too much of it.
Although, come to think of it, making too much of things kind of turned out to be what The Matrix series amounted to. Lots of jabber that almost sounds meaningful, lots of bits that seem like they must be metaphors…but in the end, who can tell?
So maybe the scene with the canned food is symbolic?
What's certain is that Chip finds a home with the travelers, who as it turn out, make their living performing on the street (shout-out to director Jonathan Krisel, who manages to give these performance sequences a dreamy beauty and warmth while keeping them appropriately grimy). The group is at first put off by Chip's trademark blend of over-exuberance and ineptitude (a fine description of The Matrix sequels, come to think of it) but eventually won over to the point that they grant him the honor of keeping watch over their soup ladle and allow him to decide whether to spend some excess cash on either a tarp or some snacks.
Trinity warns that a tarp is an essential item for folks who live outside, but Chip wants Pringles. He chooses snacks, she leaves in a huff, the group breaks into a house to take shelter during a storm and snacks turns out to be code for heroin.
The episode ends with a cliffhanger, which I won't spoil even though it's hard to believe you're reading this if you haven't watched. This fine publication won't be recapping every episode of the show this season, as we don't live in that alternate universe I mentioned up top. Of all these available universes, we're stuck in the one where the only magic is to be found is in the unrestrained laughter of a child, which is to say, the shitty one. Where searching clowns nets you more results about creeps luring kids into the woods than posts in praise of Galifianakis, where I'm not James Bond in the Marvel Universe. A tough world. Especially when you don't have a can opener.