Welcome to "Behind the Screens", where we interview the people who decide what the most influential arthouse and indie theaters in New York put on their screens. Along the way, we'll uncover some of the challenges, thrills, and secrets of the trade and, hopefully, get a sense of what gives the American cinematic landscape its unique identity.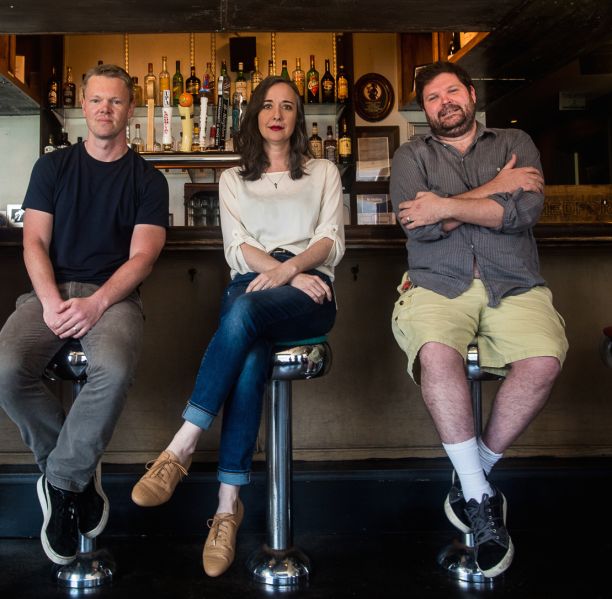 It's nice to feel wanted. Nitehawk Cinema certainly felt that way when, in 2011, New York literally changed the law to allow for its existence, overturning a Prohibition-era ban on drinking in movie theaters. Since then, Nitehawk has become a cinematic institution in Williamsburg, offering a full menu, an open bar, and quirky programming. All three of these elements come together in their legendary Film Feasts, multi-course meals (with drink pairings, naturally) inspired by the films being screened and timed to the exact moments that inspired each dish (the Goodfellas Feast included courses called Prison Family Dinner and Late Night Meal at Tommy's Mother's House). More pertinently, this weekend kicks off the Harry Potter 20 series, featuring all eight films, as well as the chance to indulge in homemade Chocolate Frogs and Butterbeer. After watching a program of shorts at the Nitehawk Shorts Festival, we caught up with Programmer Max Cavanaugh, Senior Programmer Caryn Coleman, and Director of Programming and Acquisitions John Woods to talk about what has made Nitehawk such a vital part of the New York film scene in such a short time.
What makes Nitehawk's programming different from anywhere else?
Max Cavanaugh: I think a key part of our identity is that, and, not to throw shade at anyone else, but I think we're unique in regards to how open we are in our programming approach. With my series, The Deuce, I was given the opportunity to create this space for all my friends to come in and program a series. It's that openness that creates the diversity of the program. I'm not saying that's entirely unique, but I look at it as my mission statement to reach out and bring talented people here to host, to make programs interesting, and not to have a closed-off "this is our thing" mentality.
Has introducing food into the equation changed the film programming? 
John Woods: For Film Feast, definitely. We do specials for the first-run stuff, but other than that, we never talk about it. It's always the films first.
MC: I was a convert to that idea. I thought, "How can this possibly work?" But then I came here, and it was immediate. It wasn't like it had to grow on me. I was like, "Oh! I get it now!"
Have you found that some movies are incompatible with that approach?
MC: Everything works. In jest, I'll say that we served mussels for Amelie, and that was a little tricky.
CC: Sometimes movies get quiet and you can't crunch your salad, but…(laughs)
MC: But no, that's not a concern. One of the big things coming up is I don't know how 3D would work with eating, but we'll cross that bridge when we come to it. Otherwise, it doesn't factor into the way we think about programming. Like John said, the movie comes first, but here at the Nitehawk, we have such a great staff of people who want to engage and create on their own terms.
Do you think events like Film Feasts work best when the audience is already familiar with the movie?
JW: I guess, but it's fun to be surprised. The Film Feast does draw a crowd that already loves the movie and wants to have a different experience with it.
MC: It would be great if someone came up to me and said the Film Feast was their first experience with Silence of the Lambs, but that hasn't happened yet. (laughs)
In the last five years, how has the rise of streaming services changed your programming? 
JW: Not at all. In my previous occupation [as a video store owner], that affected me more. It doesn't make a bit of difference here.
Why do you think that is? 
JW: It's just a great experience to come here and see anything. I have Netflix at home, obviously, and there's a lot of good stuff there to watch, but it's no comparison. Even if you've seen the movie already, seeing it in the theater is a totally different experience, especially the way we do it here.
CC: Nothing will ever beat seeing a movie in the theater the way it's supposed to be seen.
JW: Even a bad movie is better in the theater. (laughs) I always say, even if you have the record, you still want to see the band live, you know?
Is there something about your Williamsburg location that makes Nitehawk work so well? 
JW: Sure. We have locals who've been here their whole lives. We get new transplants from wherever. People who have been here for 10 years. People say what they want, but it is still a very diverse, vital neighborhood in a lot of ways.
CC: You come in here at any different time and you'll see a completely different audience. If you come here on a Friday or Saturday night, you get the 25-40 date crowd. If you come for Sunday brunch, you'll have a slightly older crowd.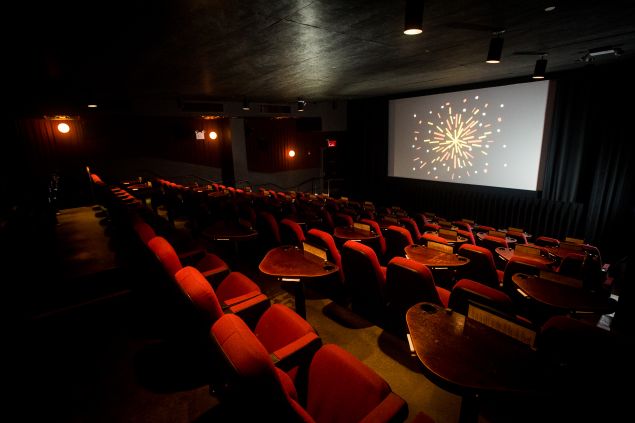 When you open your new location next Fall at the former Pavilion Theater in Park Slope, will it maintain the same programming philosophy as the original?
CC: Yes, definitely. I mean, obviously, having seven screens and larger theaters will open up opportunities for different first-run films, but it will still maintain that kind of independent spirit.
MC: I also think it'll open up opportunities to do different kinds of programming, like kids movies.
JW: And classic '60s art house stuff. European stuff.
MC: Not to say we couldn't do that here, but it's much more versatile over there. It's literally a question of space.
How do you feel Nitehawk has contributed to the overall film culture of New York?
JW: There's a real social element to a lot of our programs. One thing I miss from the video store is the barbershop-style sitting around and talking about movies. We definitely go out of our way to cultivate that here with everything that we do.
MC: And I think each of our signature series allows us freedom because people know and trust us. But that took a long time to develop. That's the goal as a programmer: to have an audience that will say, "Oh, I haven't seen that, but I'll go with it." They may not agree with you in the end, you may have a fight in the bar, but it's great.
As programmers, do you more look forward to screening divisive movies?
CC: I mean, always in theory, but then the moment it starts, you're like, "Ehhhhhh!" But I do sometimes like to make people feel uncomfortable. I mean, it makes me uncomfortable to make them uncomfortable, but I kind of like to push that to see what we can get away with and what people are interested in.
Have there been any particularly memorable screenings or series? 
CC: One of my favorite series was a small Karen Black retrospective series we did before she passed away. She was too ill to come in, but she did special recorded introductions for us, and we had people who worked with her like Sean Young and Alan Cumming come out and introduce films. To me, it was really satisfying to reintroduce audiences to her work.
MC: Recently, I collaborated with my friend Joe Berger to get Jonathan Demme here in July, and we screened his first film, Caged Heat, which is a Roger Corman female prison exploitation film, in 35mm. He couldn't stay afterwards, so we ended up having an intro Q&A with him, in which Joe basically produced a 45-minute show, like "An Evening with Jonathan Demme." It was just a great thing to be a part of and a real moment for me because that's something I've been wanting to do the entire time I've been doing this. Also, because of the fact that I got into programming by accident. I had lost my job in '07 and just started programming out of necessity to do something. So the fact that I had come all this way six or seven years later, I'm with Jonathan Demme, and we're having an event. At one point, he pulled me aside and said, "I just want you to know you have the best job in the world." It was amazing to get that sort of affirmation from someone I admire so much. That was probably my proudest moment.
JW: We recently had Todd Phillips [director of Old School and The Hangover]. He made a documentary about [punk icon] GG Allin when he was at NYU, and I "cold" emailed him, and he said he'd come. It was really cool just to hear his stories about making a movie in that New York of the early '90s, deep in the East Village. I think he thought it was fun that a theater like this would care about something he did back in college.
Given the election of Trump and all that it means, have you started to think of your job differently in a political way? 
CC: It seems like everything shifted, and I feel like the most radical political gestures we can do are small but very impactful. Like, for me, I have a son. I want to raise him to be a good man. And for our Shorts Festival to happen and to support engagement. This festival was supposed to open on Election Day and then we realized that wasn't a good idea, no matter what happened. And then the next day, it was a very scary proposition, not in terms of people coming, but what do I say when I'm standing up there giving an introduction? How do we acknowledge it? Because sometimes things happen in the world before a screening and people go, "Oh, this thing just happened and, by the way, enjoy this!" But it became part of it, and I think it's a testament to the community here because afterwards, everyone felt better. Because what we need right now is to support the arts more than ever and support those people who are having a voice that we want to project. That's the position that we're in.
On a slightly lighter subject, let's talk about the Harry Potter series you're doing. As programmers, you're not choosing what goes into the series because you're doing the whole thing, so what is your role in making it a Nitehawk experience?
CC: Our Events Manager, Florencia, and I do a series called Booze & Books. Most of the time, it's film adaptations of books, but it can be different kinds of screenplay adaptations, like films from essays. And Harry Potter the book is 20 years old, which is shocking, so it kind of came from that. To make it a Nitehawk experience, we're partnering with the Strand to have a "books vs. film" debate. We're going to screen the first film for brunch and then we'll have a weekday event, which will be for adults and involve drinking, where the Strand will bring two book people and we'll bring two film people. I'm moderating it. They're going to make their case about whether it's a better book or film, among other topics, and the audience is going to vote which is better.
Looking ahead to the next year, are there any particular events or series you're looking forward to? 
MC: I know it's crazy to say, but I'm looking forward to next year's Shorts Fest. (laughs)
CC: I was going to say that!
MC: Because this was very fulfilling and the fact that, no offense to previous years, it gets better and better each year. Also, the way we execute it becomes more refined, so it's only going to improve.
JW: One thing about Music Driven is there's a lot of independent music documentaries coming out almost monthly now. What's really cool is that a lot of filmmakers aren't even trying to do the traditional festival and trying to sell it route. They're just touring with it like it's a band. You can book 10 or 15 dates in the U.S. and take the movie out yourself.
CC: Free Fire, Ben Wheatley's new film that we're opening in March, is amazing. We're big Ben Wheatley fans here. I'm also looking forward to continuing the Local Color New York filmmakers series that I think, in the last year, has really developed. So many great films have been coming out of Brooklyn, and it's just an extension of November's Shorts Festival, creating that community here for people to have their work here.
Now that the Alamo Drafthouse has come to town with its own "food and film" philosophy, do you think of them as competition? 
MC: I've been asked this question many times, and my answer is that there was a time in New York where there was a movie theater every five blocks and, in the case of Times Square, there was a movie theater every door. And I think that, because people love going to the movies, the more screens there are, the better. The only challenge that throws down to us is diversity of programming. And that's fun for us as programmers! I'm excited! There's enough people to buy tickets. We just have to do our job.
CC: The film community here is extraordinarily supportive. I come from the art world, which is not like that, so I'm constantly surprised by how giving and interested all the film people are. It's not that we're in competition with each other. I think that's some weird narrative that's now in the media, but it's not the case.
JW: It would be like saying Max's Kansas City and CBGB's were competing because they were doing similar things, but they weren't.
Conversely, do you ever collaborate with other theaters in town?
JW: One thing I can point to is we, the Alamo, and the Cinemark Center in Long Island, all collaborated on getting Penelope Spheeris, who directed Wayne's World, in town. It makes more sense for her to come out for three shows, and it makes more sense for us financially to split the costs three ways.
CC: I collaborate with MOMA on screenings they have. When they did their Bruce LaBruce retrospective, we invited Bruce to select a film and come here and present it. Same thing with their Technicolor series. We showed The Godfather, which was the last American IB Technicolor film. So there's always dialogue. No one's closed off in this little bubble. We all just love movies.