Ever since Tom Wolfe, Norman Mailer, Hunter Thompson and their ilk introduced the New Journalism writing style in the 1960s, long-form journalism, which enhances reporting with literary and artistic flourishes, has constantly been in vogue. Outlets like The New York Times Magazine, The New Yorker, The Guardian and Vanity Fair have embraced it, along with online media companies.
2016 was a banner year for long-form in newspapers and magazines, and online—reporters found new ways to analyze tech, politics, sports and style, among other beats. Below is an admittedly subjective list of the long-form stories our reporters enjoyed the most in the past year:
Technology
"From Pickup Artist to Pariah" by Rachel Monroe in New York magazine
Jared Rutledge of Asheville, North Carolina is one of the stars of the "manosphere," an online community of pickup artists. On his blog Holistic Game, he rated sexual partners on a "List of Lays," vented about women who'd dumped him and offered dating tips. As Rachel Monroe reports, when Rutledge is exposed as the brains behind Holistic Game local women turn against him.
"The Grad Student Who Found Spyware That Could Completely Take Over an iPhone" by Bryan Burrough in Vanity Fair
This story draws you in with one of those great discovery moments, where someone has found an important thing. That important thing is a piece of malware that can infect an iPhone and monitor everything its user does using every sensor. The best part, though, is when the folks at Apple (AAPL) realize the company has been owned.
"The Perks Are Great, Just Don't Ask Us What We Do" by Juliana Reyes on Backchannel
50onRed has been a pillar of the Philadelphia tech scene, but there was just one weird thing: no one was really clear on what the company actually did. One reporter started digging and found out the company made spyware. Even some of its engineers didn't know.
"How America's Favorite Sports Betting Expert Turned a Sucker's Game Into an Industry" by Ryan Goldberg on Deadspin
Sometimes it takes a non-tech reporter to cover certain stories about technology. This old school sports reporter saw a betting tips site and realized it was an old con with an updated user interface.
Politics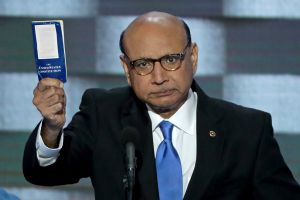 "Reporting While Muslim: How I Covered the U.S. Presidential Election" by Sabrina Siddiqui in The Guardian
Throughout the presidential campaign, Sabrina Siddiqui interviewed people at rallies who said that Muslims should be "exterminated." Siddiqui, a Muslim herself, writes movingly about the anger and fear she felt while on the road with various candidates. But even as trolls invade her Twitter mentions, she is encouraged by support from other Muslim immigrants.
"Inside the Federal Bureau of Way Too Many Guns" by Jeanne Marie Laskas in GQ
We know all about innovation with computers, but what happens when a law enforcement agency is forced to work without computers? A whole other breed of innovation, which makes it even more impressive.
"The Fighter" by C.J. Chivers in The New York Times Magazine
Marine Corps veteran Sam Siatta was arrested and charged with home invasion after a fight with another veteran in 2014. Siatta served in Afghanistan, but when he came home he was diagnosed with post traumatic stress disorder. C.J. Chivers' detailed jailhouse interview with Siatta provides disturbing insights into the Afghan war, and the pain of trying to come home from it.
Food/Style
"David Chang's Unified Theory of Deliciousness" by David Chang in Wired 
In this piece, the Momofuku chef reveals he's not actually very good at the physical activity of cooking. He makes up for it, he says, by thinking about food constantly. After his yardstick for a good dish became "Is this dish good enough to come downtown and wait in line for?" he began looking for patterns in his hit dishes and noticed they're not so random. The article is his presentation of what he's calling the "Unified Theory of Deliciousness," a set of underlying laws based in logic that explains our reactions to food.
"Farm to Fable" by Laura Reiley in the Tampa Bay Times
Farm-to-table restaurants are the latest trend in haute cuisine. But in at least one major American city, diners are being fed fiction. Restaurant critic Laura Reiley went to a host of Tampa eateries and contacted the local suppliers each restaurant claimed they bought from (even DNA testing fish to see if they were actually from Florida waters). In most cases, she found that the restaurant owner was lying about the food's origins, and that shoddy restaurant inspections and a drive to cut costs contributed to the deception.
"Say No to the Dress" by Sapna Maheshwari and Beimeng Fu on BuzzFeed
This investigative piece about the ultra-discounted women's clothes companies scamming people on Facebook (META) and how they're all interconnected was a great piece of relevant and consequential journalism. We had actually previously reported on this topic, but BuzzFeed really took it to the next level. The piece put a lot of pressure on Facebook who then came out with a plan to tackle the problem.