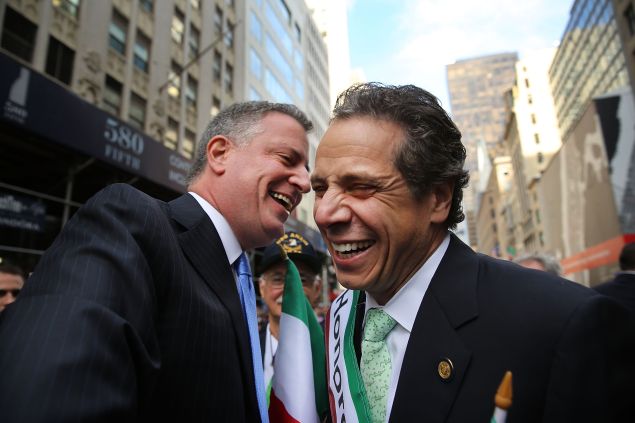 As President-elect Donald Trump's inauguration approaches, Mayor Bill de Blasio said yesterday he's ready to work with Gov. Andrew Cuomo to combat the incoming commander-in-chief's controversial proposals—so long as there's "fairness" from Albany, particularly in the upcoming state budget.
The hot-and-cold war between the two Democrats dates to the 2014 state budget, when Cuomo shot down de Blasio's proposal to pay for universal prekindergarten with a tax increase on high-earners, and flouted the mayor's attempts to charge charter schools rent for use of public buildings. In June 2015, de Blasio accused the governor of pursuing a "vendetta" against him, and last year got the governor to back off a proposal to shift more of the burden of paying for Medicaid cost increases and the City University of New York system onto City Hall—even as the governor has humiliated him by increasing state presence in homeless shelters and failing to push for more than a one-year extension of mayoral control of city schools.
De Blasio promised to examine "each situation as it comes" and then "call it as we see it."
"There's absolutely an opportunity to work together, and if we get fairness from Albany," de Blasio said. "We're gonna see what comes up in the State of the State, in the budget. We get fairness from Albany, there's gonna be more opportunity to work together but last time as was indicated in the discussion of that budget, that wasn't fairness so it's my job to stand up."
As incoming Trump presidency brings with it plans to deport undocumented immigrants, establish a Muslim registry and institute a national stop-and-frisk policy—de Blasio said he's "certain" that he and the governor will work together on a number of issues.
"When, you know, New York City and New York State are endangered and we can work together, we will," de Blasio told reporters following a 2016 crime update at the Brooklyn Museum. "It's the same standard I held from the beginning. When he's doing something that's gonna help New York City, I'm very happy to work with him."
The governor's office did not immediately respond to a request for comment.
He said that he was "happy" to attend the official opening of the long-stalled Second Avenue Subway on New Year's Eve, crediting both the Metropolitan Transportation Authority and Cuomo for the roles they played in "getting that done." He also told reporters to give the public a friendly reminder that the governor runs the MTA, which in turn runs the Long Island Rail Road, which suffered a crash in Brooklyn yesterday de Blasio opted not to visit).
The mayor expressed some anxiety that the Cuomo might try to get the city to chip in for his increasingly ambitious infrastructure plans, which now include revamping both of the city's airports.
"Again, I would think it's been very clear that a lot of times, we're not given all the details in advance," de Blasio said. "That's fine. We wanna see what the details are before we pass judgment. But if it's more infrastructure investment, generally that's something I agree with. I wanna make sure it's fair to New York City."
In July, de Blasio maintained a similar position he professed today—that he'll work with the governor whenever he can and that he'll praise him when he's doing something right for New York City, but call him out if it's wrong. At the time, the governor's office shot back that the governor supports the mayor when he's "acting competently and non-politically" but that when his administration is behaving "incompetently and politically," the governor has to step in to protect New York City residents.
Still, in March, the mayor told reporters that he and Cuomo talk "a couple times a week" despite the tensions between them. The two worked together at the federal Department of Housing and Urban Development during the administration of former President Bill Clinton and had described themselves as "friends" for years.
Disclosure: Donald Trump is the father-in-law of Jared Kushner, the publisher of Observer Media.