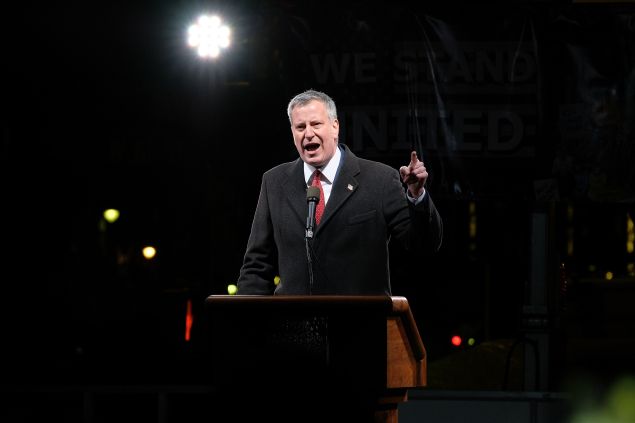 As Bill De Blasio's legal problems mount, so do his legal bills. Contracts for $11.6 million have been signed with outside law firms hired to represent City workers caught up in the Mayor's various scandals; and more than half of that has already been spent. Moreover, the total doesn't include legal representation for the Mayor himself. He has hired his campaign treasurer's firm, Kramer Levin Naftalis & Frankel LLP; and those bills are apparently being paid by the campaign.
The enormity of the legal costs – and apparently the magnitude of the underlying investigations – were revealed last week despite the Mayor's attempts to keep the growing problems hush-hush. It was only in response to a Freedom of Information request made by The New York Times that six contracts with law firms were released by Comptroller Scott Stringer's office. Moreover, the matter that the law firms are working on is referred to as "John Doe Investigation."
We have no problem with the City paying for qualified legal representation for City workers who were doing their jobs and are the victims of unhappy, vindictive, or plain-old wacky plaintiffs. Nor do we have any quarrel with City funds paying for the criminal defense of workers – who are indeed innocent until proven guilty. And although it may seem surprising that the City Law Department — which employs more than 800 attorneys – feels it necessary to go outside for help with criminal defense matters, providing capable representation requires special skills and experience, and is expensive.
One question no one has been able to answer for us – and we have an unreturned phone call into the Mayor's office – is what happens if a City employee is found guilty of a criminal offense?
One question no one has been able to answer for us – and we have an unreturned phone call into the Mayor's office – is what happens if a City employee is found guilty of a criminal offense? Does a convicted criminal have to repay the City for his or her legal costs? Ultra vires activities – and criminal conduct is certainly outside the scope of one's duties – would not be covered by City funds.
But several things strike us as odd. Actually, to be more precise: troubling.
First, why doesn't Mayor De Blasio think it is appropriate for the City Law Department to pay for his legal fees during these investigations? (The City Charter apparently prohibits the Mayor's campaign from paying City staff legal fees from campaign funds.) If he really does think that City funds are appropriate, he is being too cute by half in having the campaign pay his bills.
Second, $11.6 million-plus is a lot of money, and buys a more than 20,000 hours of high-priced legal talent. (The six firms – which includes one in Washington, D.C. – are charging between $450/hour and $850/hour for partners; and between $350/hour and $575/hour for associates.) Budgeting for 20,000 hours of defense work suggests these are big investigations.
Both U.S. Attorney Preet Bharara and Manhattan DA Cyrus Vance have ongoing investigations into the De Blasio administration. We have heard about grand juries being empaneled and the Mayor himself agreeing to be interviewed by prosecutors within the next week. We think the investigations involve scandals that have dominated headlines for almost as long as the Mayor has been in office: the Rivington House deed transfer; the Mayor's fundraising for his now-defunct non-profit One New York; and his fundraising on behalf of State Senate Democrats in 2014. But we don't really know the extent of the "John Doe Investigation."
When Brian Lehrer questioned the Mayor on WNYC the other day, Mr. De Blasio showed particularly thin skin: "That's entirely inaccurate – again, I don't know respectfully where you're getting the assumption that 'most of the activity is related to the political arm.' That's just crazy."
Perhaps the Mayor is right, and the investigations will prove that there are no political pay-to-play, favoritism, or fund-raising improprieties involved. We hope that is the case. But we also believe that some transparency and a single standard are appropriate.