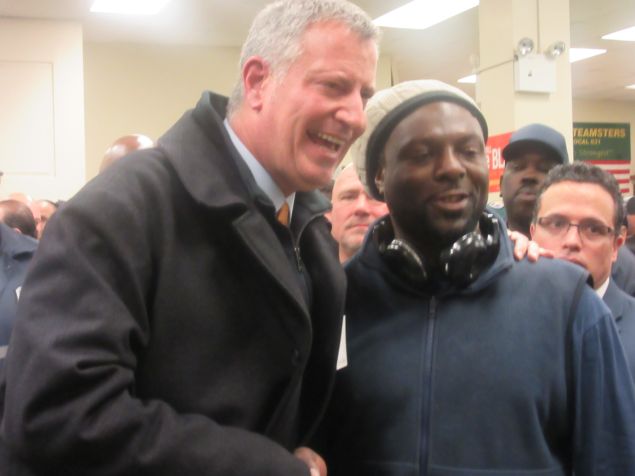 Mayor Bill de Blasio picked up his sixth organized labor endorsement from a large local branch of SEIU affiliate Workers United—the union that owns of Amalgamated Bank, the country's largest union-owned bank.
The Laundry, Distribution and Food Service Joint Board, which represents 8,500 members across the five boroughs and New Jersey, announced its endorsement of de Blasio after a unanimous vote by its executive committee. The mayor is hosting a meet and greet with Workers United members today at 12 p.m. outside Manhattan Beer Distributors in the Bronx.
"We are proud to endorse Mayor de Blasio for re-election because of his clear record of results," Wilfredo Larancuent, secretary-treasurer of the Laundry, Distribution, and Food Service Joint Board, Workers United, SEIU, said. "From raising wages, expanding paid sick days, implementing IDNYC, passing the Clean Act, or building affordable housing at a record pace, this Mayor has fought every day for immigrants and working families."
The union was a driving force behind the Clean Act, signed by de Blasio, which created new cleanliness standards at industrial laundry facilities. Amalgamated Bank—an inheritance from Workers United's predecessor, the Amalgamated Clothing Workers of America—was the first lending institution to accept the mayor's IDNYC municipal identifications as a valid credential for opening an account.
The IDNYC program, now the target of a Republican lawsuit, was designed to extend such conveniences to undocumented immigrants.
"The Laundry, Distribution and Food Service Joint Board, Workers United has fought for decades on behalf of New York City's working families, and for workers who came to our city from every country in the world seeking a better life," de Blasio said. "With immigrant New Yorkers under threat like never before, there is no better ally than the working men and women of Workers United."
So far, the mayor has received endorsements from the Uniformed Sanitationmen's Association; The Associated Musicians of Greater New York, Local 802; UNITE HERE! Local 100; 32BJ SEIU; and the Retail, Wholesale and Department Store Union.
He has also received endorsements from former Mayor David Dinkins, Brooklyn Borough President Eric Adams, Assemblyman Luis Sepúlveda, Councilwomen Margaret Chin and Helen Rosenthal and Councilmen Ritchie Torres, Ydanis Rodriguez, Brad Lander and Stephen Levin and Donovan Richards, who recently hosted a fundraiser for the mayor's reelection effort.
City Council Speaker Melissa Mark-Viverito also said recently that she supports de Blasio's reelection bid.
The string of endorsements have come as twin grand juries impaneled by U.S. Attorney.
Bronx Borough President Ruben Diaz Jr. yesterday  refused to rule out challenging de Blasio in this September's Democratic primary. Comptroller Scott Stringer is also a rumored candidate—though he has not said whether he will actually run, he has publicly criticized de Blasio's record on a number of issues, including homelessness and the city's minority- and women-owned business and enterprise program.