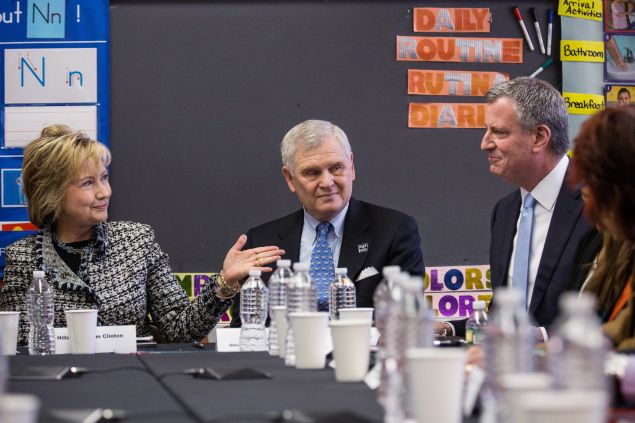 Mayor Bill de Blasio said today he's not worried about the improbable possibility that Hillary Clinton might challenge him in the Democratic primary this September—pointing to the remarks made last night by a top aide to the former secretary of state who once labeled him "insufferable."
Asked today about the idea, which generated both intense buzz and incredible incredulity, the liberal mayor alluded to the comments Center for American Progress CEO Neera Tanden made on CNN's State of the Union on Sunday. Tanden, who worked under former Clinton campaign chairman John Podesta, said she didn't believe Clinton would "ever run for any elected office again."
"To me, that puts the whole thing to bed. So, I don't, don't deal in any speculation. I think that's a pretty clear statement," de Blasio said at an unrelated press event in Manhattan today. "What Neera said is exactly what I assumed. You know, it just made total sense that that was her last campaign."
The mayor's campaign apparatus, which usually quickly retorts to any talk of a challenge with a litany of the administration's policy accomplishments, had declined to comment for several news reports on the rumor. De Blasio insisted today that reticence wasn't any indication of faltering confidence in his record.
"My general statement about what we've achieved in the last three years, I'm very comfortable going out to the people of New York City and talking about it," he said, pointing specifically to the reduction in the use of the controversial "stop and frisk" police tactic.
A federal judge ruled the NYPD's use of stop-and-frisk under former Mayor Michael Bloomberg unconstitutional in 2013, the year de Blasio won election. Once in office, de Blasio dropped his predecessor's appeal of the ruling.
The mayor refused to say whether the frenzy of  news reports about a hypothetical Clinton candidacy left him anxious last week. In fact, he asserted that he did not even bother talking to the former first lady about it, though he noted again today that she won almost three million votes more than President-elect Donald Trump.
"I did not reach out to her," de Blasio said. "I'm sure she's going to find a lot of other important things to do."
Political observers interpreted the teased challenge as an effort by Clinton or those close to her to rattle de Blasio, in retaliation for his demurring over endorsing her for president in 2015. De Blasio had worked in the Clinton administration's Department of Housing and Urban Development, played up his ties to her early in his career and served briefly as the manager of her 2000 campaign for Senate.
Tanden herself, in a private email Russian hackers shared with the site Wikileaks, called the mayor "insufferable."
Disclosure: Donald Trump is the father-in-law of Jared Kushner, the publisher of Observer Media.