Brian Jones looked like hell. Fame had not rested easily upon the golden Stones' shoulders as Gerard Mankowitz's photo of the band on the cover of Between the Buttons revealed.
The blurry portrait of the Stones shot on a brisk autumn morning at London's Primrose Hill in 1966 perfectly captured what Mankowitz later described as "the ethereal, druggy feel of the time." This was the first glimpse the public had of how quickly Brian (whose predilection for mixing booze and pills would lead him to an early grave, two years later in 1969) was deteriorating.
Standing on the edge of the photograph was Keith Richards grinning behind a pair of shades, as Charlie Watts, looking like a hit man, leaned into the wind, while the hollow-cheeked, heavy-lidded, Bill Wyman stood like a zombie, aloof in the rear. Haggard and agitated, Mick Jagger's barracuda grimace appeared as if he might eviscerate you at any moment.
Jones, the band's original leader who'd christened the group after Muddy Waters' song "Rollin' Stone," wound up odd man out in his own band while his former acolytes, Richards and Jagger moved away from playing Chicago blues numbers and began writing their own tunes at the prodding of their manager/producer Andrew "Loog" Oldham.
[youtube https://www.youtube.com/watch?v=xvZbYHKHdgY?list=PLe72e09fwqAAhY7JUu-KDhrrf5au4-vkR&w=560&h=315]
As his one-time girlfriend, the glamorous German model/actress Anita Pallenberg claimed, Brian "was writing songs constantly." But Jones tragically lacked "the confidence" to show any of his compositions to Jagger and Richards, so "he just erased them." But Brian's stamp was all over the band's latest release.
Bored with playing rhythm guitar on Jagger/Richards compositions, Jones had reinvented himself as a nimble multi-instrumentalist, intuitively adding a pallet of exotic sounds to the mix, from the sitar that helped catapult "Paint It, Black" (the lead-off single from Aftermath in the U.S.) to No. 1, to playing a delicate Appalachian dulcimer on "Lady Jane" (undoubtedly inspired by folk singer/author Richard Farina).
Jones, an avid jazz fan (who named not one, but two of his sons after his hero, alto saxophonist Julian "Cannonball" Adderly) admired vibes players like Milt Jackson and Chico Hamilton and the sparkling aural textures of mallet percussion, and had employed the marimba on Aftermath's "Under My Thumb" as well as xylophone on "Yesterday's Papers," the opening track of the British release of Between the Buttons.
More than any other British Invasion band, the Stones loved American R&B with a mad passion that inspired them to fashion their own brand of soul tunes from "Get Off My Cloud," to "Out of Time" (from Aftermath) to 1980's "Emotional Rescue" as well as their edgy covers of Motown hits "My Girl" (a rare out-take on Flowers) and "Just My Imagination" from Some Girls (1978).
Suitable for The Temptations (although producer Berry Gordy would most likely have objected to its obvious sexual innuendo) "Let's Spend the Night Together" was the first single released from Between the Buttons. A sweat-busting, soul-chugging fireball of desire, the song disappointingly peaked at No. 55 on the U.S. charts (most likely due to American DJs boycotting its lascivious lyric) and was soon eclipsed by its B-side, "Ruby Tuesday."
Whether dedicated to a former girlfriend or groupie—the tune would inspire the name of a chain of fast-food restaurants in America—"Ruby Tuesday" was composed by Keith Richards and an uncredited Brian Jones, not his usual writing partner, Mick Jagger, who, although he had nothing to do with the song's creation, claimed to "always enjoy singing it." Along with an acoustic bass fingered by Bill Wyman, while bowed by Keith Richards, Jones employed a wistful baroque recorder that gave the haunting ballad its unique sound.
Released in the U.S. on January 20, 1967, Between the Buttons was a gallery of sonic portraits of women, from the wise and powerful, in "She Smiled Sweetly" and "Cool Calm Collected," to the disposable chicks the Stones regularly ridiculed. "Who want's yesterday's girl?" Jagger snarled in "Yesterday's Paper," "Nobody in the world!"
In "Who's Been Sleeping Here?" Jagger slut-shames his girlfriend, some ditzy "Goldilocks" he suspects of screwing everyone from "the soldier, the sailor [to] the Three Musketeers." There's the "coarse and common" wench of (Jagger's favorite track) "Back Street Girl" and the "delightfully stoned," "darling of the discotheque crowd," "Miss Amanda Jones" (a thinly-veiled swipe at their unreliable, scene-hopping guitarist of the same last name). As Jagger growls, "Don't you realize the money invested in you?"
Somewhere in between fall the more "Complicated" women who alternately frustrate Jagger, while earning his respect (a theme also explored in "Ruby Tuesday").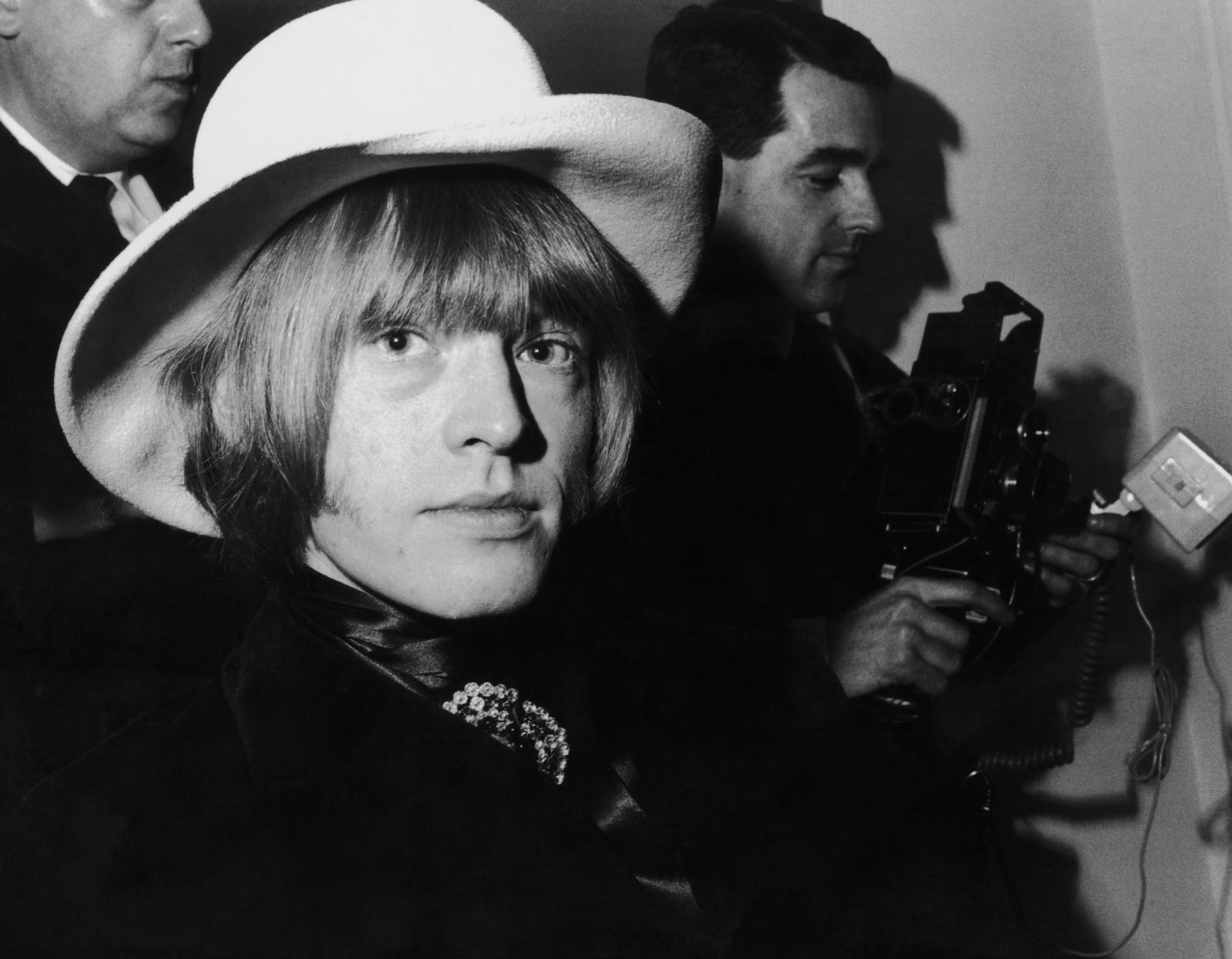 While "My Obsession" appears to be about Anita Pallenberg's complex relationship with Brian Jones, who she soon left for Keith, the lyrical twist in the last verse—"I could almost be your son"—makes you wonder. The song's emotional content is driven by the "Sixth Stone," Ian Stewart, hammering a bluesy piano while Charlie nails the beat, hard and crunchy.
But it's Bill Wyman's growling fuzz bass that gives "My Obsession" its signature sound. Over the years Keith played solid bass parts on many classic Stones songs, from "Let's Spend the Night Together," to "Jumpin' Jack Flash," "Sympathy for the Devil," "Live with Me," and "Happy," but he could ever steal Bill's thunder. Years after Wyman had left the group in 1993, Bob Dylan curiously told interviewer Bill Flanagan: "They need Bill. Without him they're a funk band. They'll be the real Rolling Stones when they get Bill back."
Between the Buttons bore the unmistakable influence of Dylan's most recent release Blonde on Blonde on "Backstreet Girl" and the organ-drenched waltz "She Smiled Sweetly" as well as the album's closing track, "Something Happened to Me Yesterday."
Beyond its enigmatic lyrics, which alluded to some unspeakable new drug or sexual experience, the vaudevillian horns and drunken sing along chorus bore striking similarities to Dylan's "Rainy Day Women #12 and 35." Adding to the ragged aura of the song is a lead vocal, the first by Keith Richards on the chorus, answering Mick's hazy verse: "He don't care if he's right or wrong."
By the time Between the Buttons was released in 1967, record albums were well into becoming the decade's most popular art form. The last track of an LP was no longer reserved for dumping some forgettable throw-away but began to serve as a weathervane of sorts, often pointing the direction the band would take in the future.
Odd as "Something Happened" was, it couldn't have foreshadowed the Stones' December '67 sprawling psychedelic disasterpiece, Their Satanic Majesties Request. It was also (for better or worse) the last track to bear the name of their producer/manager Andrew "Loog" Oldham who soon abandoned the band in the light of "musical differences," and a series of devastating drug busts that threw "England's Newest [and most debauched] Hitmakers" Jagger, Richards and Jones (briefly) behind bars.
The Stones' proclivity for provocative lyrics continued with the steady rockin' "Connection," built on a love/drug metaphor with a vocal by Jagger and Richards so entwined it was hard to tell who had the lead.
Mick later claimed Between the Buttons, the Stones' first recording on a four-track tape machine, was flawed due to obsessive overdubbing. While the album stands as the pinnacle of Brian Jones' artistic achievement, Jagger dismissed it as "a disappointment… more or less rubbish."
According to Stones lore, the album's peculiar title was inspired by an off-the-cuff remark made by Oldham when Charlie Watts asked what they were going to call the new record. Oldham replied it was still "between the buttons," a euphemism for "undecided."
Fifty years later, millions of Rolling Stones fans still remain undecided over what their favorite album is. Whether Buttons, Beggar's Banquet, Let It Bleed or Exile On Main Street, their music remains eternal. And the ghost of Brian Jones still hovers over the band's greatest moments.