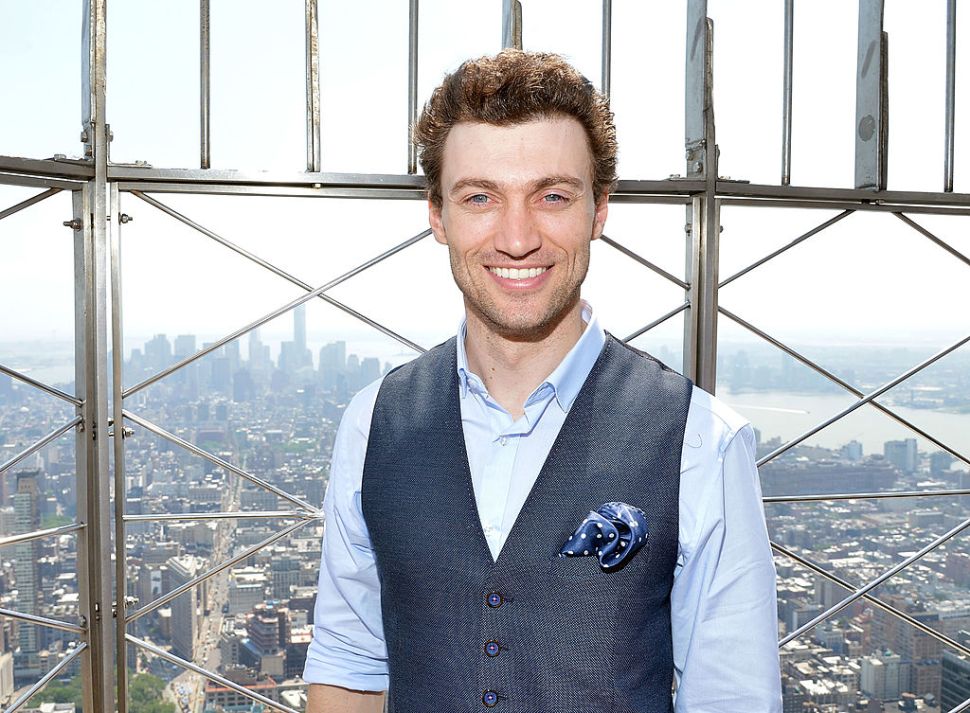 Bryce Pinkham, Broadway actor, is very hospitable.
When I arrive in his dressing room at Studio 54, where he's been starring in the new musical Holiday Inn, Pinkham offers me water, alcohol, the variety of teas and a behemoth leather chair that belonged to his grandfather (I took up on the very comfortable chair).
"There's just something about doing a show and being in this building, this creaky old building with the company every day, in a dressing room that has housed, among many others, Donna Murphy, Barbara Cook…" Pinkham says, "I was told recently, with some sadness, Carrie Fisher was in here for her show. That sort of history lives in these walls."
A wire hanger rattles against an air vent by the door ("a theater ghost we're trying to scare off," Pinkham jokes), vibrating with a tinny, percussiveness that makes it sound almost like Pinkham and I are talking by a crackling fireplace. Very fitting, considering the show, based on the 1942 film of the same name, is all about capturing a nostalgic, cozy Christmas spirit set to the music of Irving Berlin (Berlin won the Academy Award for Best Original Song for that now ubiquitous song, "White Christmas.") "The music was kind of the selling point for me," Pinkham says of his decision to appear in the show. "To be quite honest, I think I wanted to sing 'Blue Skies.' I was thinking 'Blue Skies,' and 'White Christmas,' in December, in New York, on Broadway, and that was enough for me."
Pinkham, whose blue eyes and supernatural cheekbones give off a Jude Law-vibe, stars as Jim Hardy, the role originally portrayed by Bing Crosby, a former New York City performer who opens a venue on a farm in Connecticut that will only offer shows on public holidays. Audiences got to hear a brief excerpt of his rendition of "Blue Skies" during the Macy's Thanksgiving Day Parade during a medley performance during which Pinkham also showed off his juggling chops.
"I had to juggle in a show in college so I think I learned from doing that," Pinkham says. "I also played a lot of sports growing up, so because I 'had' to learn for the show, I got really into it. Once I found the fun of it, I just wanted to keep learning. And you'll see those pins up there? Pinkham says, pointing to a trio of worn juggling pins that look as though they'd work well in a haunted circus act. "I learned how to do those also in college."
But more challenging than juggling is reprising roles by some of Hollywood's most famous and charismatic leading men. "I had to remind myself that nobody sounds like Bing Crosby, and I don't sound like Bing Crosby, and I said to [co-star Corbin Bleu] too, no one dances like Fred Astaire, so let's relieve ourselves of the responsibility of feeling like we have to do that," Pinkham says. "That said, at every turn, I was trying to tip my hat to the leading men of musicals, movie musicals of the 1940s. Gene Kelly and Bing Crosby are the two guys I'm thinking of while being in the role. But the minute you try to start to recreate the movie for people, you're going to fail."
In 2013, Pinkham became a major singing and dancing force of his own when he originated the role of Monty Navarro in A Gentleman's Guide to Love and Murder on Broadwau, for which he was nominated for both a Tony Award and a Grammy Award. Since then, he's stared in The Heidi Chronicles opposite Mad Men's Elizabeth Boss and filmed upcoming appearances in TV shows The Get Down and Mercy Street, in addition to a role in the Robert DeNiro movie The Comedian, which will be released on February 3.
"It's amazing when you meet people like that who are living legends and you realize, like, he actually wants to be called 'Bob.'  He introduces himself that way and disarms all of us who are like, 'Oh my god I'm in a scene with Robert DeNiro.'
"I sing a song in the scene, and on the day of our rehearsal, 'Bob'—you have to put that in quotes!—'Bob' and I were just standing there and he puts a hand on my shoulder,"—here, Pinkham turns his mouth downward and adopts a fairly convincing Robert DeNiro impression—"and he just says, 'You were terrific.' That's it! I'm done! I don't need to act anymore! Future grandkids: you are going to hear about that one."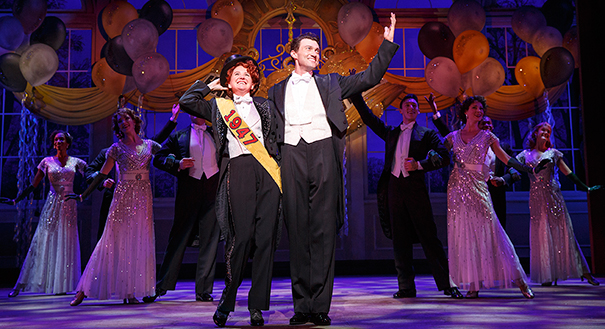 And it turns out, a compliment from Robert DeNiro is not even Pinkham's best celebrity encounter. After a bit of coaxing, Pinkham relents and tells me about his other encounter with a living legend.
"Earlier this year I filmed this show, Mercy Street with Suzanne Bertish, a series regular, who's British. I was in London after filming, and she and I got together and she said, 'Hey I have a dinner party to go to tonight, would you like to come?' And I said absolutely, and she said, 'Great, we'll be going around to Ian's later.'"
Yes. This is indeed a story about Sir Ian McKellan.
"Now, I had chosen to take alcohol out of my diet for 30 days after Gentleman's Guide finished because, I always get depressed when a show ends, so I preempted that knowing I didn't want to give my body or brain any excuse to enhance that emotion. At that point, it was June and I still hadn't had a drink, because I actually enjoyed the feeling of it so much that I started a challenge with myself.
"We get to Ian McKellan's place in London, a beautiful apartment on the river, and he takes us on a tour and we walk out onto a deck overlooking the Thames. On his patio he has a bunch of different sculptures that have been weathered by being right next to the river in the London climate—rusted and weather-beaten. And we turn the corner, and as we're walking up the stairs, I see that on each step of the stairs, outside, is a different award. It made me smile because, here is one of my favorite actors, a living legend, who's won more awards than he knows what to do with, but he's put them outside, and he keeps them in a place where things get beaten up by weather: they're both not previous, but also," Pinkham says, smiling, "There was one for every step of that walk."
"We go inside and he goes,"—here, Pinkham puts on a very good Ian McKellan impression—"'Now Bryce, I've just returned from Russia with a wonderful vodka which you simply must try.' And I looked at Suzanne who had known I was doing this no-alcohol challenge for myself, and said, 'Is this the drink that's going to be worth it?' and she said, 'I think it just might be.' So my first drink after six months was with Gandalf.
Inevitably, Pinkham's career will be taking him on-screen, then back on stage, then back on-screen again. But for now, his old-school Hollywood star vibe is put to perfect use, for only one week more, in a show that seems rooted in a joyous love of performance itself.
"Irving Berlin wrote these songs in 1940 for a world that was tumultuous and uncertain," Pinkham says, "and he wrote them for people to spend a few hours escaping all that. So I think if you find yourself feeling like you're in a similar state of mind that maybe people were feeling in the 1940's" (author's note: can't imagine why) "We have two hours and change of escape from all of that, and your smile muscles will be tired after you see our show."
Holiday Inn from the Roundabout Theatre Company is playing until January 15 at Studio 54. Holiday Inn will also be streamed  live BroadwayHD.com Saturday, January 14 at 8 p.m. ET.