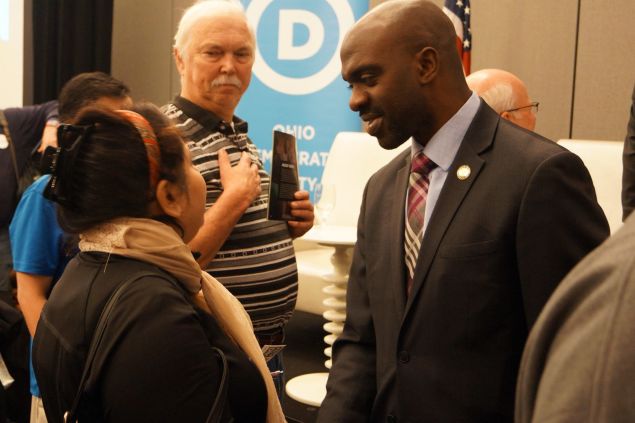 Bronx Borough President Ruben Diaz Jr.—one of the leading figures in the Bronx Democratic Party—announced that he's backing Bronx Assemblyman Michael Blake for Democratic National Committee vice chair, marking the second-term Albany pol's first endorsement from a politician linked to the County machine, which has so far been cool to him.
Blake, a veteran of President Barack Obama's presidential campaign and the White House, announced that he was running for the position last December. Diaz Jr.'s support is Blake's strongest endorsement in his home borough to date—perhaps warding off what political insiders told the Observer is wariness in the Bronx County Democratic Committee. Blake won his seat in 2014 by beating several County-backed efforts to kick him off the ballot in and defeating a machine-supported candidate.
Several insiders had previously characterized Blake as excessively self-important and ambitious for a relatively new and young lawmaker. They also suggested the assemblyman had sought his current job and the DNC post so as to position himself to run for the seat of Congressman Jose Serrano, expected to retire in the next few years.
Diaz Jr. credited Blake, who is Jamaican-American, with having a clear plan for helping to refine the party. He also endorsed Queens Congresswoman Grace Meng—the first Asian-American member of Congress from New York State, who was elected as DNC vice chair in July—saying that she has shown keen interest in the future of the country.
The 34-year-old assemblyman's platform—"Build Our Bench. Strengthen Our Party. Embrace Our Future."—focuses on bolstering dynamic candidates for local offices and recruiting top strategists in the DNC, a mentorship-based candidate support program, a quarterly messaging workshop with top party staff and officials and serving as a national surrogate for statewide and local party fundraisers, trainings and meetings.
Blake had already attracted the backing of fellow Bronx outsiders like State Senator Gustavo Rivera and Bronx Councilman Ritchie Torres, as well as Sen. Kirsten Gillibrand. He's also picked up support in middle America: current DNC Vice Chairman R.T. Rybak—the man he aims to replace—and David Pepper, chairman of the Ohio Democratic Party.
A spokesman for Diaz Jr. resisted the idea that the endorsement marked an official thawing of relations between Blake and the County machine.
"They have a friendly relationship and you know Michael has spoken thoughtfully about the future of the party and what he wants to accomplish. he's also the hometown boy," said communications director John DeSio.
The election for vice chair will take place next month among 450 DNC voting members, who elect the chair, five vice chairs, a treasurer, a secretary and a national finance chair. Former President Barack Obama's departure from office has meant the first competitive DNC races in eight years.