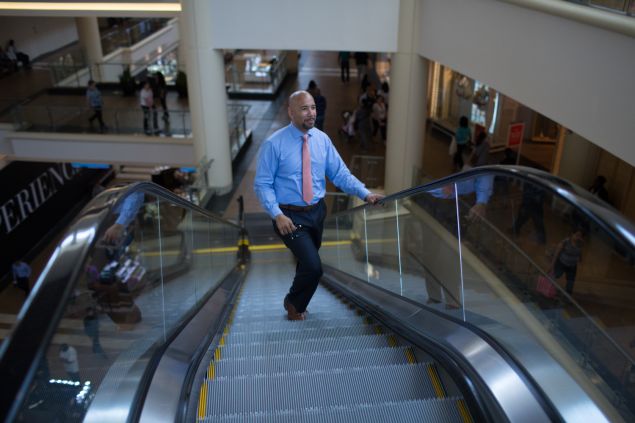 Bronx Borough President Ruben Diaz Jr., one of Mayor Bill de Blasio's foremost Democratic critics, told the Observer today that he was not willing to foreclose on the possibility of running against the liberal incumbent in this September's primary—saying that he doesn't know "right now what may or may not happen."
Speaking just prior to an unrelated event this morning, Diaz—a staunch ally of Gov. Andrew Cuomo—said he still hasn't decided whether he will launch a challenge to de Blasio this fall. Polls show de Blasio with anemic support as he battles twin investigations into his political fundraising, but he continues to outperform all potential Democratic opponents, with the sole exception of Hillary Clinton.
"I cannot say unequivocally what I'm running for at this moment today," Diaz Jr. told the Observer just before a Crain's New York business breakfast forum at the New York Athletic Club with his four fellow borough presidents. "So if I had to make a bet or if I had to make a decision, I've always said that I would run for reelection. But it, you know, we don't know. We don't know right now what may or may not happen and so I haven't made a decision one way or another as of right now."
Asked if he was suggesting that he would base his decision on the outcome of the two grand juries currently weighing whether to charge the mayor and/or his top political aides in two potential criminal schemes, Diaz Jr. quickly dismissed the suggestion.
"Nice try, nice try," Diaz Jr. said.  "I'm just saying I'm not prepared to make any decisions today."
When the Observer inquired when he would make his a decision, he simply said, "Stay tuned."
Later, when the borough presidents were asked to share advice they would give to the mayor, Diaz Jr. discussed issues such as homelessness, more educational opportunities, transportation and expediting the process when it comes to development. But he generally believes that the administration has a communication problem.
"I believe that just he can do a whole lot better in my opinion in his messaging and communication to the people of the city of New York," Diaz Jr. said.
Dan Levitan, a campaign spokesman for de Blasio, responded with the same canned statement about the mayor's first-term record that he gives to any discussion of a challenge.
"Under Mayor de Blasio, crime just hit another all-time low, jobs are at record highs, the city is building and preserving affordable housing at a record pace, while graduation rates and test scores continue to improve," Levitan said in an emailed statement. "That is the Mayor's record and that is what this campaign will be about."
Although Diaz Jr. would not say whether he is running for mayor for sure, the borough president did not hesitate to take jabs at de Blasio and his administration during the forum. He reiterated his longstanding belief that City Hall should back the long-stalled proposal to transform Kingsbridge Armory into an ice skating facility.
"I would say that the city should give the key at this time to the Kingsbridge Armory," Diaz Jr.
The project received the green light under former Mayor Michael Bloomberg's administration. But it has been delayed due a legal dispute between Kingsbridge National Ice Center, the project's developer, and the New York City Economic Development Corporation, which de Blasio controls.
The Bronx borough president praised Cuomo for announcing during his State of the State tour that under his direction, Empire State Development will provide $108 million in funding for the redevelopment of the Kingsbridge Armory.
"If folks and been paying attention over the last couple of weeks, we've heard that the governor, thanks to the governor, now folks from the Kingsbridge National Ice Center will meet all thresholds in order for them to satisfy the leasing agreement," Diaz Jr. said.
Anthony Hogrebe, a spokesman for the EDC, commended the state for its contribution and said that once Kingsbridge National Ice Center gets funding, the project can proceed.
"We appreciate the State committing funds for the Kingsbridge National Ice Center," Hogrebe said in an emailed statement. "As soon as KNIC receives funding, we'll be able to move forward together with this important community project."
Brooklyn Borough President Eric Adams attracted raucous laughter when he said he said jokingly that he thought Diaz Jr. was saying that he wanted the keys to City Hall. Adams, who recently endorsed the mayor for reelection, said that he aspires to run for mayor someday when asked what higher office he would be interested in pursuing in the future.
"First of all, my heart and my stomach when I heard him say 'keys' and 'City Hall.' I thought he was going to say he wanted the keys to City Hall," Adams said. Diaz Jr. could be seen laughing and nodded as if he to say he understood the joke and Queens Borough President Melinda Katz patted him on his shoulder.
But Adams took on a slightly more serious turn when Adams pointed out what he described as Diaz Jr.'s "love affair" with the governor, saying that he hopes that someday he can thank the governor for bringing money to Brooklyn—saying that the governor has not been as friendly to him as he has to Diaz Jr.
The governor's office did not immediately respond to a request for comment.
This story was updated to include a comment from the city's Economic Development Corporation.