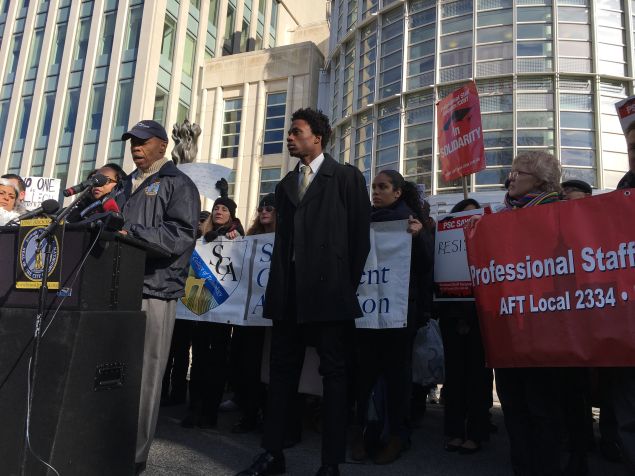 ---
Brooklyn Borough President Eric Adams and City University of New York student leaders rallied in front of the Eastern District Federal Courthouse in Brooklyn this morning to support students affected by President Donald Trump's executive order barring entry for people from seven Muslim-majority countries.
Prospect-Lefferts Gardens resident Saira Rafiee, a 31-year-old doctoral student studying political science at the CUNY Graduate Center through an F1 visa, visited her native nation of Iran and has been denied reentry into the United States as a consequence of the White House fiat issued Friday. Adams called on Trump to rescind the ban and urged schools and colleges—both public and private—to address the concerns of students, parents and guardians who are at risk from the actions of the Trump administration due to their citizenship status.
"We're here because she is representative of the countless number of students who are in a state of limbo and uncertainty," he said in front of the courthouse at 225 Cadman Plaza.
The courthouse was the site of a massive demonstration Saturday, and of Judge Ann Donnelly's decision to block Trump's Customs and Border Enforcement from deporting any person approved to enter the country under the Obama administration. Jurists in Boston determined that the administration could not keep such people in indefinite detention at an airport either.
Yesterday afternoon, Trump's Department of Homeland Security said it would comply with the court rulings.
But the administration also said that it would deny access or asylum to people from Syria, Sudan, Somalia, Iraq, Iran, Libya and Yemen who have not yet received a green card or visa.
Adams commended Donna Lieberman, executive director of the New York Civil Liberties Union and other immigration attorneys for their work in assisting individuals held at John F. Kennedy Airport over the weekend. He also stressed that he wants to make sure that the children who are here alone because their parents went to visit one of the affected countries receive the necessary resources and care that they deserve.
He also blasted a bill by Suffolk County State Senator Kenneth LaValle calling on schools to collect data on foreign students, blasting the legislation as the "wrong idea, bad idea."
"That is not what we are as a country, to compile lists of individuals," Adams  said. "I think that once a person is properly vetted and once a person has gone through the necessary scrutiny, unless there's some additional information that should prevent them from remaining in the country, they should be allowed to move to this country."
Rafiee was on vacation during her winter break to see family members in her home country and was told by customs officials in the United Arab Emirates that she would not be able to return to school in the United States. About 120 students from the seven countries are enrolled in the CUNY system.
"The media has published enough statistics during the past few days to show how irrelevant this order is to the fight against terrorism," Rafiee wrote in a statement on her Facebook page that Adams also read aloud during the press conference. "It is time to call things by their true names; this is Islamophobia, racism, fascism. We, the 99 percent of the world, need to stand united in resisting the authoritarian forces all over the world."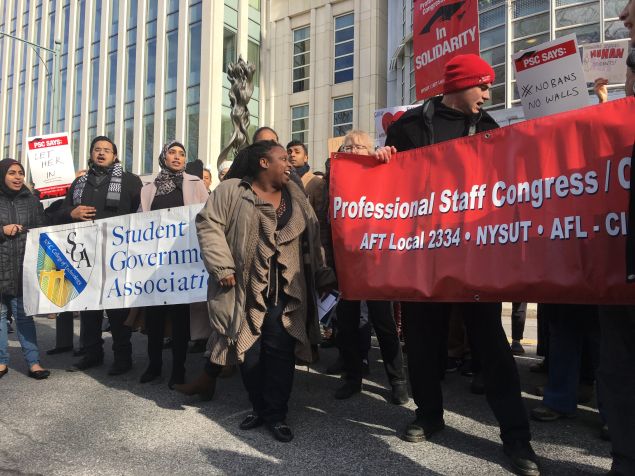 Before the press conference kicked off, students and advocates in attendance chanted slogans such as "Let Saira go back to school!," "The people united will never be defeated!" and "Hey, hey! Ho, ho! Muslim ban has got to go!"
CUNY student leaders, including members of the University Student Senate and CUNY DREAMers, also spoke out in support of Rafiee. Members of the New York Immigration Coalition and the Professional Staff Congress were also in attendance.
Hercules Reid, vice chairman for legislative affairs for the University Student Senate and a student at the New York City College of Technology, said that the president's action includes student visas and that there have been conflicting reports as to how the executive order will affect green card holders and people with dual citizenship.
"The latest reports are that green card holders will be allowed back into the country," Reid said. "The stress, the hardship and the confusion…caused by this ban will affect countless more."
Barbara Bowen, president of CUNY's Professional Staff Congress, said that she will continue to advocate on Rafiee's behalf.
"You heard her voice today," Bowen said. "You heard the quality of her thoughts and her generosity—even in her own moment of extreme need— thinking immediately of other people. You heard her courage in standing up at a time when many people might shrink back. That is a person we need at CUNY."