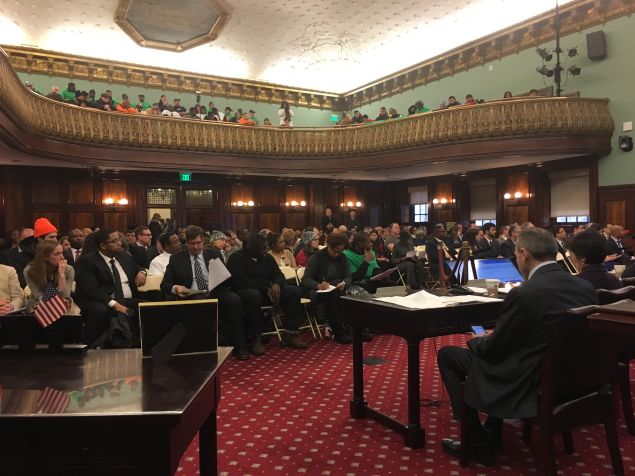 Mayor Bill de Blasio's Commissioner of the Department of Buildings affirmed at a City Council hearing today that the administration will not support a union-backed measure requiring that construction workers on city-subsidized housing developments complete an apprenticeship program.
The bill, which would obligate developers to have such a program in place before they get public assistance, is one of 21 pieces of legislation known collectively as the Construction Safety Act that went before the City Council's Committee on Housing this morning. Brooklyn Councilman Jumaane Williams, the committee's chairman, co-sponsored the bill among a rash of deaths on construction sites, most of them non-union laborers who had received relatively little instruction in using protective equipment.
Chandler said that the mayor and his agency support requiring some additional safety training for workers, including expanding the number of workers required to have federal Occupational Safety and Health Administration certifications.
"The department recognizes the need to improve safety training for workers on construction sites and as such supports a number of initiatives to do so," he said. "However we do not support requiring apprenticeship programs for all workers. While apprenticeship programs have safety components, they are primarily focused on teaching a trade."
But he warned the law could pose unfair barriers to immigrant workers and small firms, including minority- and women-owned businesses and enterprises. Most apprenticeship programs, Chandler said, last between two and five years and require a GED, English proficiency and passing an entry exam.
"While the department supports worker training, requiring registered apprenticeships can prevent local talent from being able to participate, particularly the nearly two million New Yorkers who lack English language proficiency, a high school diploma, or both," Chandler continued.
And he added that apprenticeship programs take significant time to create and register with the State Department of Labor, and are geared toward workers just entering the construction industry—which could exclude non-union workers in the middle of their careers. He insisted that safety programs work when they are constantly reinforced through refresher trainings and efforts to promote "a culture of safety" at the job site.
De Blasio said at a recent press conference that he does not support the apprenticeship requirement for construction workers. But when asked about the subject during a radio interview, the mayor maintained he generally believes in apprenticeship programs and has supported them in many ways.
More than 60 New York City Housing Authority tenant presidents who represent more than 100,000 residents signed a letter opposing the bill, arguing that it would prevent black and Hispanic public housing residents from getting construction jobs—including those stemming from NYCHA's ongoing capital improvement projects.
But labor leader Gary LaBarbera, president of the Building and Construction Trades Council of Greater New York, praised the measures in his testimony.
"These programs not only teach the skills needed for a particular trade, they also teach job site safety," LaBarbera said.
A Crain's New York report found that six of the 17 construction deaths the federal government recorded in the five boroughs in 2015 were not counted by the city.  The DOB count was 12 deaths.
Chandler asserted that DOB appropriately tracks construction accidents in New York City and is in regular contact with the Occupational Safety and Health Administration regarding incidents under their scope. He said that while federal law grants OSHA the authority to regulate worker safety, the DOB is tasked with ensuring the protection of the public and property.
"I can understand that there has been some confusion concerning the different counts we provide and those provided by OSHA," he said. "As such, the department will be posting on its website both the department's and OSHA's data, with an explanation as to how they differ."
City Council Speaker Melissa Mark-Viverito said that the hearing is an important step in the process of making construction safer for all New Yorkers.
"I also expect that there will be disagreements over what the city needs to do and what the city should do," Mark-Viverito said. "But I think we can all agree that we've seen too many lives destroyed. The last two fiscal years have seen more construction accidents, injuries, and deaths than any other year since the city adopted the modern Construction Codes in 2008."
Another union-backed bill, introduced by Councilwoman Elizabeth Crowley, requires that recipients of financial assistant pay all covered contractors a prevailing wage on their projects. It is one of eight pieces of legislation that generally relate to construction site safety and prevailing wage.
Chandler said that all public works construction projects are already covered by new prevailing wage requirements and that he does not think the legislation will improve construction safety. In 2015, Alicia Glen, the city's deputy mayor for housing and economic development, said that prevailing wages would cost the city 17,000 affordable apartments.
"This administration has previously expressed concerns that this bill as written could create significant challenges for the development of affordable housing and other essential city projects and priorities, particularly given the current fiscal uncertainties around federal funding," he said.