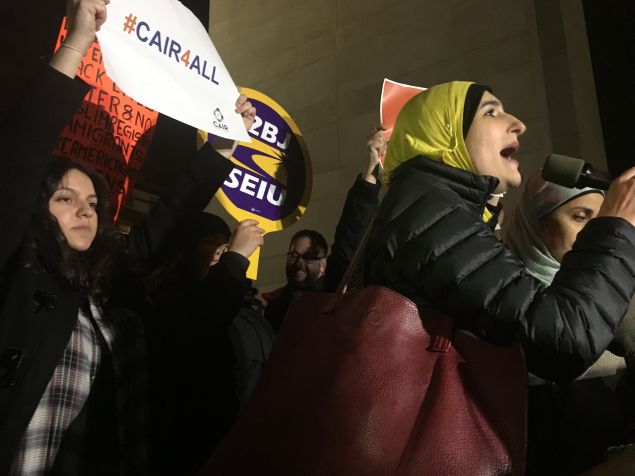 A massive demonstration convulsed the Greenwich Village less than 24 hours after word surfaced that President Donald Trump was planning to implement, in part, the ban on Muslim immigration he proposed on the campaign trail—and following his signing of two executive orders targeting undocumented immigrants.
The "emergency rally," organized by the New York chapter of the Council on American-Islamic Relations, had among its speakers an array of elected officials, faith leaders and advocates representing different races, ethnicities and religions. Attendees shouted "Stand up, fight back!" and "No ban, no wall!"—referencing the president's plans to both severely curtail the movement of people from some 30 majority Muslim nations, should they refuse to cooperate with American intelligence, and to construct a barrier along the Mexican border.
"We have to make sure that every elected official is on point with this because what some people don't get on the federal level and elsewhere is that all elected officials are servants of the public," Afaf Nasher, CAIR-NY's executive director, who served as the rally's emcee, said to roaring applause from the crowd.
The New York Immigration Coalition, to which New York's electors donated their salaries last year, helped coordinate the rally. Public Advocate Letitia James and Councilman I. Daneek Miller also spoke.
Prominent Arab-American activist Linda Sarsour, fresh off co-chairing the half-million strong Women's March on Washington on Saturday, asked the crowd what to do when Muslims, immigrants, black people, Native Americans, LGBT individuals and women are under attack—each time, the crowd yelled, "Stand up, fight back!" She said that what people need to learn from the opposition is "consistency and persistency."
"We gotta be really careful 'cause the opposition is ready but what they don't know is that we're ready, too," Sarsour said, the crowd cheering loudly as she spoke. "While they are united around hate and divisiveness and racism and homophobia and xenophobia, we are united by solidarity and love, unity."
CAIR-NY came up with the idea to hold the emergency rally Tuesday night when news reports of the planned executive orders began to break, according to Albert Cahn, CAIR-NY's director of strategic litigation.
Cahn, who is Jewish, said that the goal of the rally was to "create a show of solidarity" against the executive orders and to send a message to Trump that the city is an "open place where we stand in solidarity with our Muslim and undocumented neighbors." He also indicated, in a phone interview with the Observer shortly before the event began, that the rally was just the beginning.
"We're still contemplating a variety of measures including grassroots mobilization, advocacy, engagement with local and state officials and even litigation to oppose what we view as unlawful and discriminatory executive orders," Cahn said.
Council Speaker Melissa Mark-Viverito, who made an emotional appearance at City Hall this afternoon following the president's immigration actions, also spoke.
"I am here to say that I add my voice to the resistance," the Puerto Rico native said, as attendees cheered. "I am a part of the resistance. We all need to take that beautiful energy of coming together this past Saturday, a beautiful array of energy, diverse energy."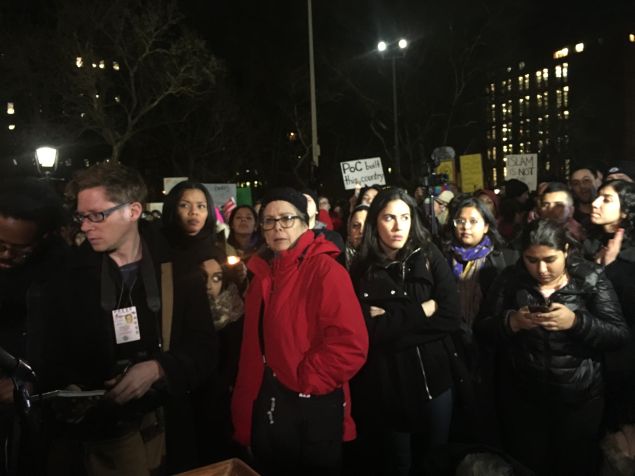 Brooklyn Councilman Jumaane Williams riled the crowd up with his speech, yelling and raising his hands in the air as he reminded attendees that Trump's rhetoric and actions reflected longstanding attitudes in American society—but insisted still that "this is not who we are." He asked people not to "cower to fear" and "be the people who let America live up to its ideals."
He even got the crowd to repeat after him after he chanted that the "brightest stars shine when it's darkest" and saying that though Trump "has made it dark," the city will "shine bright" and "be those lights."
"Look at your neighbor and say I'll be your light and you'll be mine," Williams continued, as the crowd repeated after his every word. "We are gonna guide each other through this darkness. We are gonna be the ones that history is gonna look back and say 'who the hell is Trump?' but 'thank God for the people in Washington Square Park.'"
Kavita Pawria-Sanchez, assistant commissioner of Mayor Bill de Blasio's Office of Immigrant Affairs, reiterated the mayor's earlier assertion that Trump's proposals will not change the city's policies.
"The mayor just said in the last hour that what's happening with the executive action and what we expect to come in the coming days, months, years runs contrary to our character as a city and as a country," Pawria-Sanchez said, attracting raucous cheering. "A stroke of a pen in Washington doesn't change who we are, it doesn't change how we govern."