Keith McNally relisted this Greenwich Village house.
Compass
McNally bought the home in 2000.
Compass
The home is a "French country" aesthetic.
Compass
The master suite takes up the entire third floor.
Compass
The guest suite includes a kitchenette.
Compass
The windowed shower.
Compass
The kitchen is beautiful, of course.
Compass
Ideal entertaining space.
Compass
McNally first put the home on the market in February last year.
Compass
Keith McNally is both confident and very successful at opening fashionable eateries; he recently opened his fourteenth restaurant, Augustine, at the Beekman. However, that confidence seems to waver when it comes to his Greenwich Village townhouse.
McNally has put 105 West 11th Street on and off the market a few times in the past few years, and has even offered the place as a pricy rental. Alas, he has (seemingly) decided that it's now truly time to say goodbye to the 4,600-square-foot house, which he bought in 2000 for $2.5 million. The five-bedroom, 5.5-bath home is back on the market—asking nearly $14 million.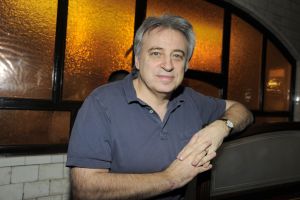 The 21-foot-wide Greek Revival-style home features wide plank oak floors, casement windows, Venetian plaster walls and imported timber beams throughout.
There are 11-foot ceilings and two wood-burning fireplaces on the parlor floor, where one also finds a "true chef's kitchen," per the listing shared by Compass brokers Nick Gavin and Josh Doyle. We'd hope that the man who brought us Minetta Tavern, Morandi and Cherche Midi would have a lovely kitchen, and it doesn't disappoint—it's a "French country aesthetic," with a farmhouse sink and a 10-person indoor dining area complete with a wood-burning brick hearth.
There's also a guest suite with a kitchenette, bath and wood-burning fireplace, while the master suite takes up the third floor and contains two wood-burning fireplaces, a dressing room, private study and a bathroom with a floating cast iron tub and separate windowed shower.
If you're not quite ready to cough up the full amount for the price, consider a temporary arrangement—the home is also offered as a marked-up $32,500 a month rental.