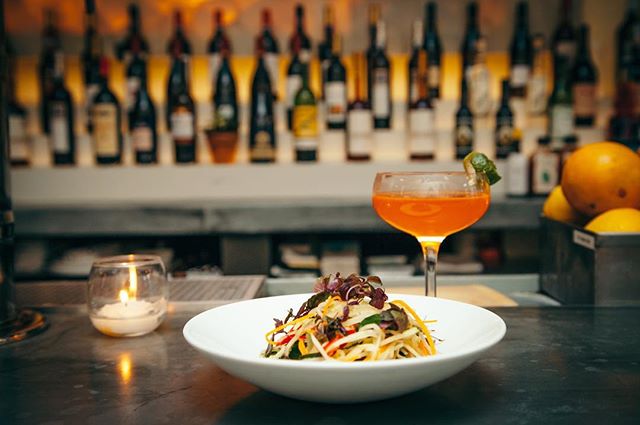 When I moved to New York from New Orleans, I was surprised to find fewer Vietnamese restaurants. Of course, there are pho offerings in Chinatown (my personal favorite is Pho Vietnam 87, which has an enormous train inside for Instagram purposes, but isn't exactly chic) and trendy spots on the Lower East Side, but I had trouble finding a go-to spot. With the opening of Chao Chao, an authentic and creative restaurant in the East Village, patrons eat imaginative Vietnamese food. Even better, they offer the chance to peruse a record collection. There's also an extensive cocktail list to consider, along with the traditional Vietnamese coffee service.
Owner and Executive Chef Stephan Brezinsky grew up in nearby Stuyvesant Town and is a self-described neighborhood boy. When he decided to open up a restaurant and cook some of his mother's best recipes, it made sense it would set up shop a few blocks away, something his mom has taken advantage of. She's frequently spotted offering advice to Brezinsky about his cooking, from her perch inside.
While Brezinsky cooks authentic, family recipes, Chao Chao doesn't exclusively offer bowls of piping hot pho or spring rolls. Instead, the menu is trendy and fresh, with Taro Tots and Squid Salad. The Cauliflower Three Ways is a particularly inventive dish, with pickled and fried options that would all be worth ordering on their own, but are even better combined.
Surprisingly, the most original portion of Chao Chao is actually the bathroom. The restaurant was formerly Studio 171A, where the Beastie Boys recorded their first album. To commemorate the group, the bathrooms all play Beastie Boys tunes nonstop. The wallpaper is a custom Brooklyn toile created by Mike D., with images of Coney Island, Hasidic Jews and Notorious B.I.G.
For the true music lovers who made reservations to stop by the bathroom, there's a record player by the bar where patrons can put on the band of their choice. I went with The Cars, but of course you could play the Beastie Boys outside of the bathroom, as well.