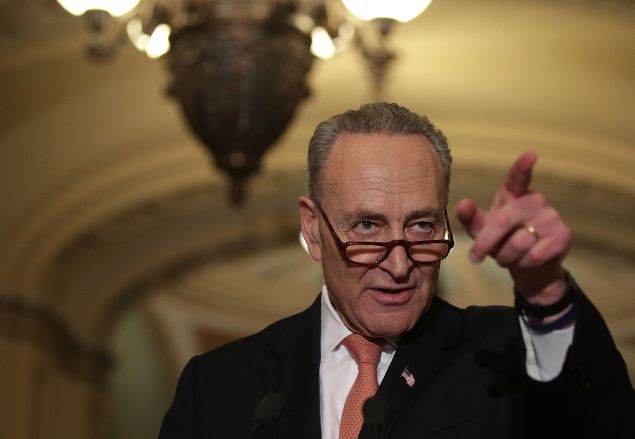 WASHINGTON, D.C.—Senate Minority Leader Charles Schumer, the most powerful Democrat in nation's capital under the new GOP order sworn in today, used his address at the inauguration ceremony to celebrate a number of groups President Donald Trump has attacked in the past—immigrants, the disabled, religious minorities and the free press.
Assuming the podium at the West Front of the Capitol moments before Trump's swearing-in, the senior senator from New York acknowledged the "challenging and tumultuous" nature of the present moment. He even at times echoed the anti-elitist sentiments that fired the GOP nominee's populist campaign.
But he seemed to disparage the tone of Trump's bid for the White House, and his proposals to create a registry of Muslim citizens, to "open up the libel laws" to make it more difficult for journalists to publish critical articles, to appoint Supreme Court justices who might reverse the recent gay marriage decision and—of course—to deport millions of undocumented immigrants
"A rapidly changing economy that benefits too few while leaving too many behind. A fractured media. A politics frequently consumed by rancor. We face threats foreign and domestic. In such times, faith in our government, our institutions and even our country can erode," he said. "Whatever our race, religion, sexual orientation, gender identity, whether we are immigrant or native-born, whether we live with disabilities or do not, in wealth or in poverty, we are all exceptional in our commonly held yet fierce devotion to our country."
The line "immigrant or native born" drew a few boos from the Trump supporters scattered across the National Mall.
"Today we celebrate one of democracy's core attributes: the peaceful transfer of power. And every day, we stand up for core democratic principles enshrined in the Constitution: the rule of law, equal protection for all under law, freedom of speech, press, religion. The things that make America, America," the senator continued.
The Brooklyn-native pol said drew hope only from a belief in the U.S. populace at large, a departure from the willingness he voiced immediately after the election to make common cause with Trump on certain issues.
"I stand here today confident in this great country for one reason: you, the American people. We Americans have always been a forward-looking, problem-solving, optimistic, patriotic and decent people," he said.
Schumer quoted at length from a letter Union Army officer Sullivan Ballou penned to his wife during the Civil War, a week before his death at Bull Run. He seemed to suggest that nation faced a similarly divisive period ahead, and called for Americans to remember Ballou's sacrifice.
"That spirit lives on in each of us: Americans whose families have been here for generations, and those who have just arrived. And I know that our best days are yet to come," he said. "His words give me solace, strength. I hope that they will give you the same."
Under current rules, the GOP majority will need at least six votes from Schumer's 48-member Democratic conference to close discussion on most major matters. This means Trump, Senate Majority Leader Mitch McConnell and Speaker Paul Ryan will almost certainly have to negotiate with the Empire State senator to pass new policy legislation.