This week has already been quite notable for Christian Slater. Aside from becoming an epic GIF due to his totally warranted reaction to Tom Hiddleston's out-of-touch Golden Globes speech, the Mr. Robot star also sold his longtime New York pied-à-terre.
Slater purchased the two-bedroom, two-bathroom condo at 445 West 54th Street for $882,000 back in 2005, around the same time he was trying to get rid of a Los Angeles property.
The Heathers and True Romance actor put the 1,067-square-foot Hell's Kitchen apartment on the market in May 2016 for $1.35 million. The buyers, Louis, Celia and Timothy Diep, managed to shave off a bit of the price tag, paying $1.11 million for Slater's abode.
The apartment is one of 29 in The Lloyd 54, and features an "expansive" living room and two north-facing bedrooms, says the listing shared by Keller Williams NYC brokers Charlie Panoff and Sean Jadidian.
"It was an investment for him," Panoff told the Observer. "When he got the role on Mr. Robot, and was filming in New York, he moved in. Then he needed more space and moved out," Panoff added, noting that once his wife and children (and dog) were spending more time in the city with him, the apartment became rather cramped.
The master suite includes two walk-in closets, while the newly renovated kitchen is equipped will all stainless steel appliances, with a SubZero refrigerator and vented microwave. It seems Slater also added a breakfast bar, as an extension to the granite countertops.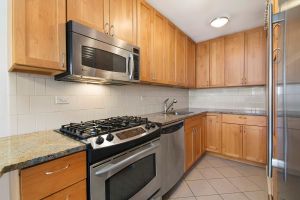 It seems the new buyers aren't particularly interested in living in Slater's former residence—they've already put the condo back on the market, as a $5,500 a month rental, and Panoff told the Observer the new owners "bought it as an investment."
As for Slater, he decamped back to the neighborhood where he grew up. "They moved to the Upper West Side, and that's that," Panoff confirmed.
Sadly Slater didn't win that Golden Globe for Best Supporting Actor this year, but creating some quality Internet content and also selling an apartment is nice, too!